Local
Rare blue lobster found in Gloucester
The New England Aquarium predicts one in 2 million lobsters is blue.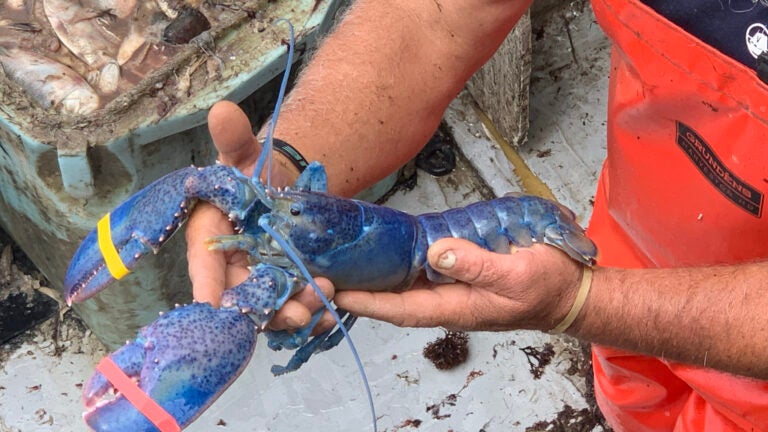 The ocean wasn't the only thing blue off the coast of Gloucester yesterday: on Saturday morning, a local lobsterman found a rare bright blue lobster in his catch.
Toby Burnham, a Gloucester lobsterman at Captain Joe and Sons Lobster Company, said the bright blue color appeared to be "glowing" from the trap, especially while surrounded by the standard dark brown lobsters.
"I thought it was a fish flapping around in there but when I looked, it was a lobster," Burnham said. "He was really blue, so I took him. I snatched him right out of the trap."
The New England Aquarium predicts about one in every 2 million lobsters is blue. The blue color is caused by a genetic defect that produces an excess amount of one protein that gives the lobsters a blue shell, according to the University of Maine Lobster Institute.
Joey Ciaramitaro, co-owner of Captain Joe and Sons, said he sees a true blue lobster every two to three years.
"A lot of lobster people say they catch blue lobsters, and they're really kind of brownish-green – like a normal colored lobster with a little hint of blue around an edge or something," Ciaramitaro said. "But about every two or three years, one of our lobstermen brings in a legit blue lobster, and this was one of these lobsters he brought it in."
Toby said he caught one other blue lobster before, but the lobster was not as bright. He said it was also illegal due to its size, so he could not take it.
"When you first take them out of the trap they are a lot brighter," Burnham said. "I don't know why but once you put it in the tank it's kind of like an octopus and they change their color."
Ciaramitaro also said he runs the popular blog Good Morning Gloucester, where he regularly posts pictures of mutant lobster found in their traps. In addition to previous blue lobsters, the blog shows pictures of speckled lobsters, three-clawed lobsters, and albino lobsters.
"The albinos are the most rare," Ciaramitaro said. "100 percent they are the most rare and more rare than the blue ones."
About a half-hour after the catch, Burnham threw the lobster back where he found it. While Ciaramitaro said other lobstermen have brought the mutant lobsters to the Gloucester Marine Genomics Institute or the Maritime Heritage Center, Burnham seemed inclined to throw it back after taking some pictures.
"I think it's kind of like feeling that it's a special lobster and it shouldn't be in captivity," Ciaramitaro said. "It should go back to the ocean."
"Well, it's one in a million lobster, so you know we can throw one back," Burnham said while chuckling. "I threw it back where it was so he got his chance to go back and to his hole."
Newsletter Signup
Stay up to date on all the latest news from Boston.com