Local
Striking new mural unveiled in Chinatown celebrates history, community
"It's kind of a response to the gentrification in Chinatown, that this place is where people actually belong."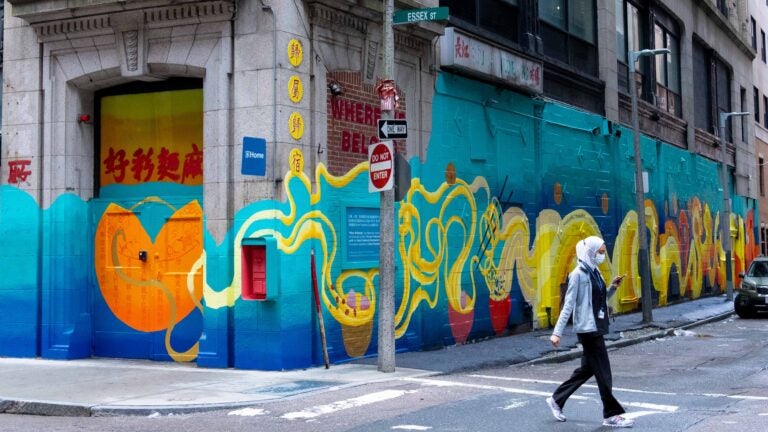 A colorful, community-inspired, 150-foot-long mural has been unveiled just a few blocks from the Chinatown MBTA stop.
The mural, titled "Where We Belong" wraps around the side of 79 Essex St., the former site of Ho Toy Noodle Company, onto the Oxford Street side. It was designed and executed by artist and landscape architect Ponnapa Prakkamakul in partnership with the Asian Community Development Corporation and Oxford Properties Group, which now owns the building.
"I like how [the name] is a question and almost a statement at the same time…it's 'I believe I belong here' but still have that sense of really searching," Prakkamakul said. "It's kind of a response to the gentrification in Chinatown, that this place is where people actually belong."
The Oxford Properties Group worked with ACDC to commission a mural for the wall. ACDC was already working on extending Chinatown's "cultural footprint" along the neighborhood's northern blocks.
"Our goal is to preserve the neighborhood's identity, foster a sense of belonging, and create vibrant, joyful spaces for residents," ACDC wrote in a statement to Boston.com. "This site presented a fantastic opportunity to further extend Chinatown's footprint and create an additional cultural anchor along Chinatown's northern edge. …We saw a great opportunity to collaborate…to activate this corner of Chinatown with imagery that celebrates Chinatown's identity, community stories and the history of the Ho Toy Noodle Company."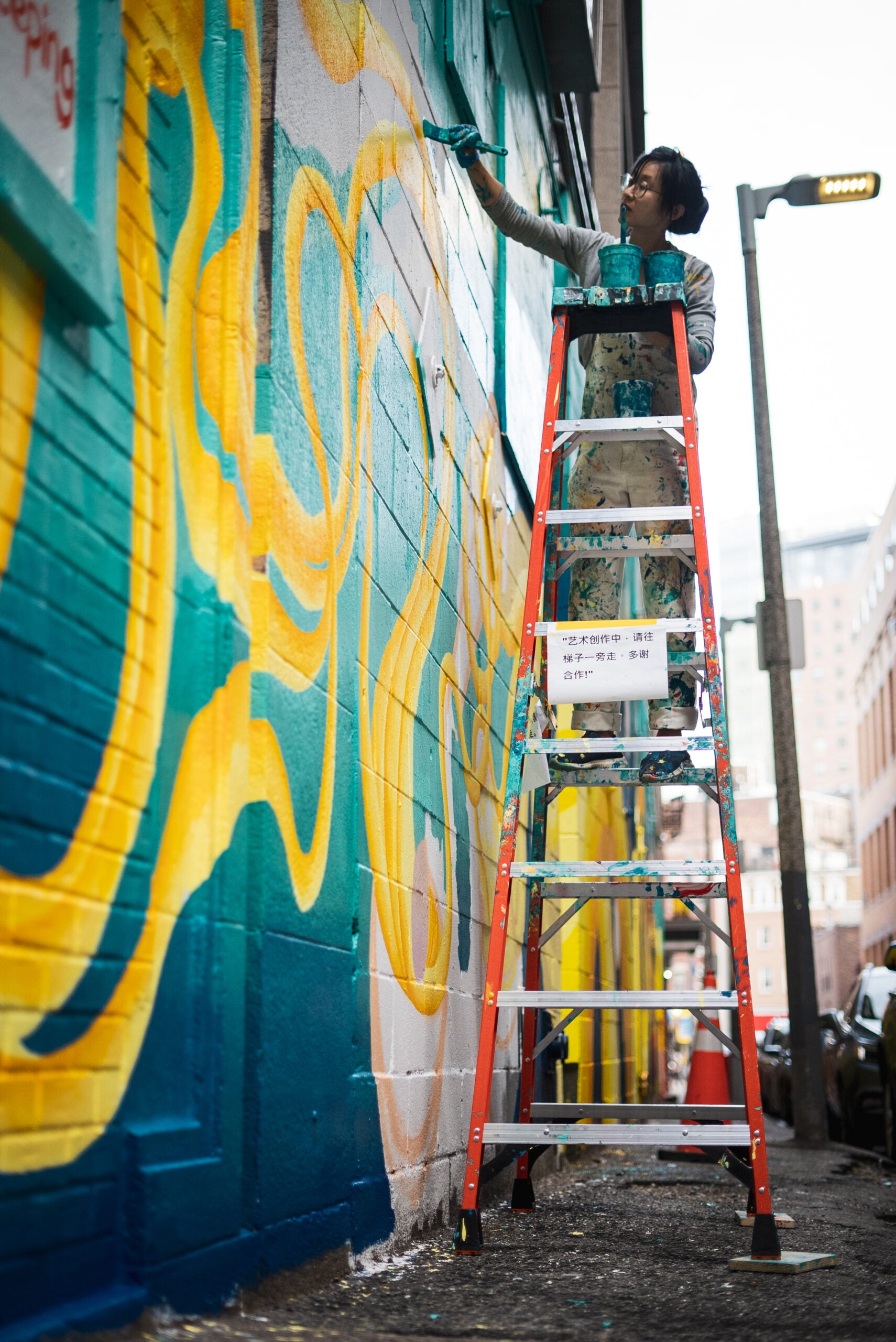 Prakkamakul sought to honor the noodle company and it's beloved owner, Jeff Wong. She looked up Yelp reviews to get a sense of what the business meant, and spoke with locals about Wong. Prakkamakul took her ideas to a youth storytelling workshop she hosted with ACDC's A-VOYCE program, and based her design on their sketches and feedback.
"I wanted to know how noodles are shaping culture domestically right now," she said. "Some talked about traditional noodles like wedding noodles, or New Year's noodles, how there's a home version and a restaurant one, and then there's birthday noodles… I selected some of the quotes from the workshop and these are written on the wall, so hopefully people who read these will feel connected to their own memory of noodles."
The design features various noodles and a red dragon representing Wong, intertwined among messages written in English and Chinese calligraphy. The colors too are meaningful.
"When I was painting, some people came and told me the factory used to have a sign which they feel connected to – everytime they see the sign they know they have reached Chinatown," she said. "The sign was taken down after the building was sold, so the sign I made for 'Where We Belong' in Chinese had the same color as the old sign. So, hopefully this can be a new landmark they can connect to."
This was Prakkamakul's first outdoor mural, it took about three weeks of eight to ten hour days to create. Though it was a challenge some days, she, ACDC, and Oxford Properties are happy with the outcome.
"We believe murals like Ponnapa's are vital to fostering community pride, especially in historic neighborhoods like Chinatown," Mark McGowan, vice president of development at Oxford Properties Group told Boston.com. "Ponnapa connected with the community and its history on such a deep level; incorporating their memories, vision and aspirations into her final piece. It's important to us that the community sees themselves reflected in the mural, and Ponnapa's work has done that."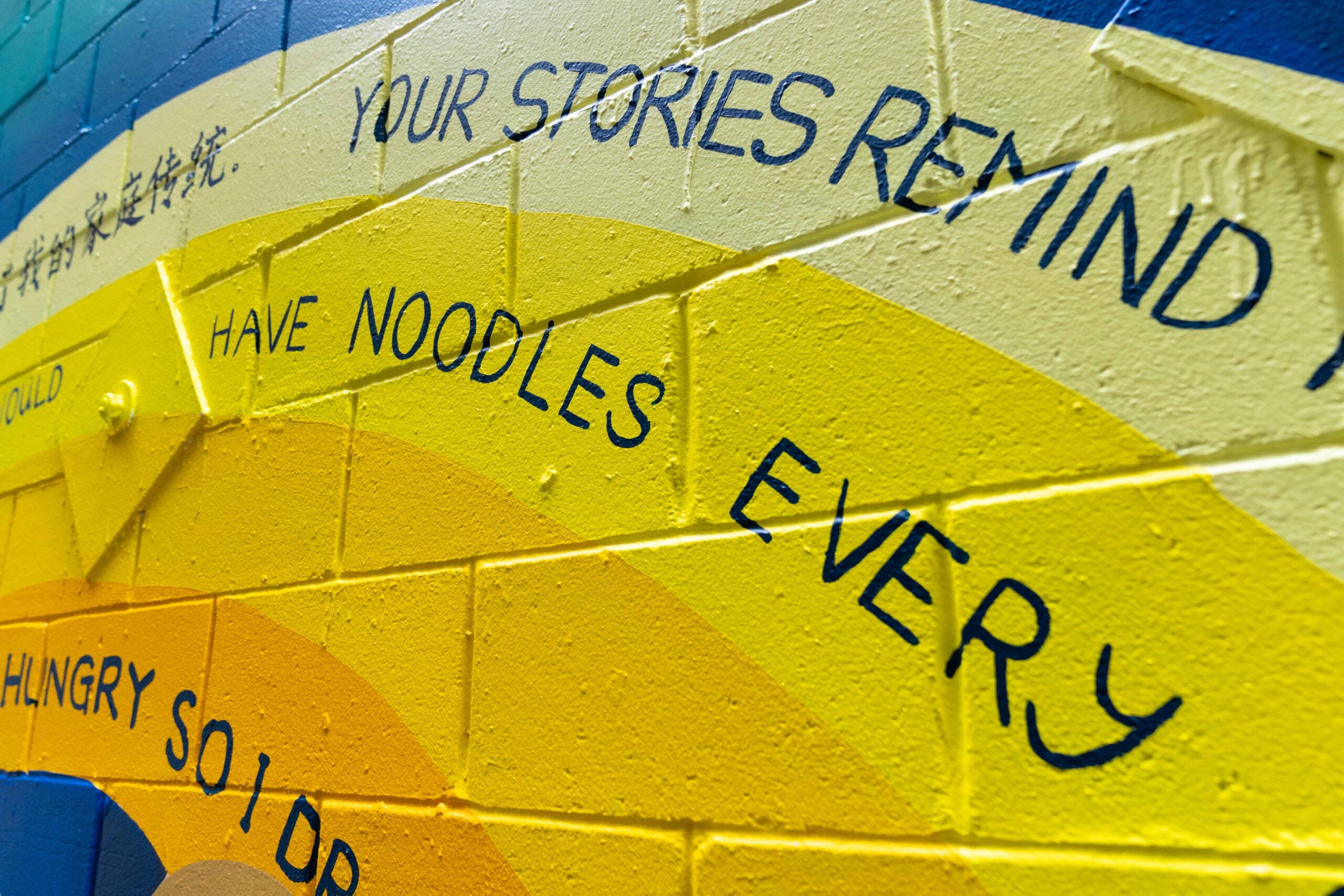 ACDC helped Prakkamakul compose a traditional Chinese four-letter poem for the mural's name: 歸屬,歸宿 "gui shu, gui su." The first part means to belong, or a sense of belonging, and the second part means home, a place to return to, or a destination/support.
"This beautiful artwork by Ponnapa will undoubtedly start new conversations about what Chinatown means to the working-class immigrant residents here; we also hope it will uplift and connect our community after a particularly tough year," ACDC wrote. "We believe that this mural will help people feel more at home in Chinatown and that they have a stake in its future."
Newsletter Signup
Stay up to date on all the latest news from Boston.com