Local News
Local traffic delays expected to last for 'the next several months' after I-93 overpass is struck in Medford
All I-93 southbound lanes may fully reopen by Wednesday, but travel across the bridge is expected to be impacted for several months.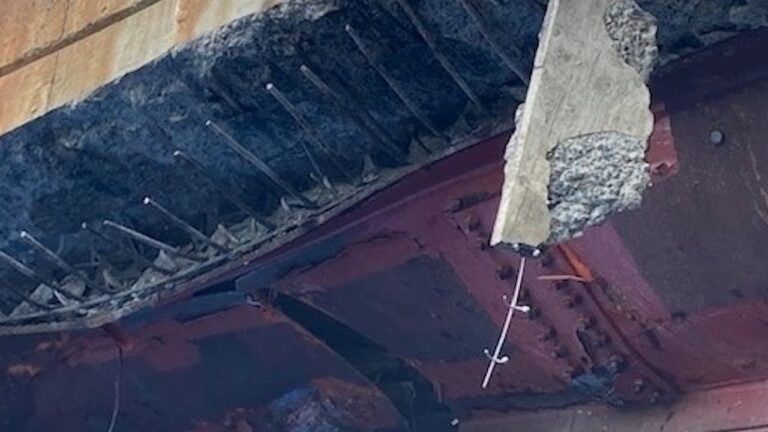 Transportation officials are warning of "major delays" on some local roads in Medford for the next few months after a truck struck an I-93 overpass on Monday, causing "extensive bridge damage."
Demolition of a portion of the overpass continued on Tuesday with only two southbound lanes of I-93 open, and that could extend into Wednesday, officials said. All I-93 southbound lanes may reopen then, but travel across the bridge will be impacted much longer.
The oversized truck hit the Roosevelt Circle Eastbound Overpass at Exit 24 around 3:20 p.m., leading to major traffic backups on both sides of the interstate there.
Two lanes of I-93 southbound were reopened for the Tuesday commute as crews worked to demolish an outside beam on the overpass that extended across the highway's two right travel lanes. That beam, plus a 7-foot-wide portion of the bridge, will need to be demolished from the west abutment to the center pier, which runs above the highway. As work continues, traffic is planned to be shifted to the right lane and shoulder, according to the state Department of Transportation in a press release.
The northbound side of I-93 is not affected by the work.
"Our first priority is to safely stabilize the structure, which is underway," Highway Administrator Jonathan Gulliver said in the release. "Drivers are urged to avoid the area and consider public transportation options until I-93 southbound can be fully reopened. Travelers who use Roosevelt Circle should expect restricted lanes for several months until permanent repairs can be made."
The work means ongoing traffic woes for the next few months for those who use the nearby roadways, including Route 1 South, Route 16, Route 28, and Roosevelt Circle, the release said.
State police are continuing to investigate the crash, which involved a truck registered to Dove Transportation in Lincoln, Alabama, David Procopio, a state police spokesman, said in a statement.
A 57-year-old man was driving the truck, and a woman, 54, also of Alabama, was a passenger. The passenger was taken to Massachusetts General Hospital for minor injuries, Procopio said. The truck was pulling "a large metal structure that sustained significant damage," he said.
"The ongoing investigation will determine if the operator or company were in violation of any state laws or federal motor carrier regulations," according to Procopio.
Newsletter Signup
Stay up to date on all the latest news from Boston.com