Local News
Some I-93 southbound lanes now to remain closed until Thursday; truck driver cited
The driver of the truck, a 57-year-old Alabama man, faces civil fines for striking the overpass in Medford.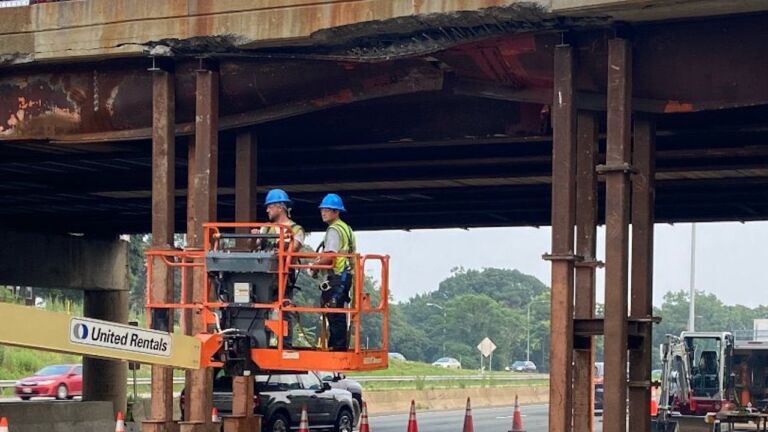 With additional damage to the bridge found Tuesday night, all lanes on I-93 southbound in Medford are now planned to fully reopen at some point on Thursday as crews continue to make repairs to the Roosevelt Circle Eastbound Overpass at Exit 24, which was struck by an oversized truck Monday afternoon.
The state Department of Transportation said via Twitter Wednesday afternoon that the southbound side of the highway is currently operating with two lanes open; this has been the case since repairs began. Officials had initially said that the plan was to fully reopen the highway sometime on Wednesday. I-93 northbound remains completely open.
"Stabilization work of the overpass, which began on Monday, is still ongoing and we continue to take a deliberate and systematic approach to ensure that the structure is safe," Highway Administrator Jonathan Gulliver said in a press release on Wednesday. "Crews working overnight identified additional damage that risked destabilizing the structure further and we have modified our approach accordingly. Commuters should expect and plan ahead for continued traffic impacts on I-93 southbound on Thursday."
Workers have been demolishing damaged portions of the bridge "carefully" and the work is "being done by strategically cutting structural elements to relieve tension and disconnect them from the rest of the bridge structure," the release said.
"As part of work activity on Tuesday night crews discovered additional damage that created an unsafe cantilevered section of concrete bridge deck that must be addressed before more conventional demolition methods can be employed on the remaining portions of the bridge," the release says.
State officials say they also anticipate reopening the eastbound rotary bridge on Thursday as temporary work is finished. Two lanes of Roosevelt Circle are also planned to reopen Thursday, though there will be "some lane restrictions" as permanent repairs continue, which could last "several months."
Traffic is expected for the next few months along nearby local roads, including Route 1 South, Route 16, Route 28, and Roosevelt Circle as work continues, a press release from Tuesday said.
Civil fines issued against truck driver
Meanwhile, state police say the 57-year-old Alabama man who was driving the oversized truck has received civil fines for infractions related to the bridge strike. The fines include one related to being over the permitted height and one for violating a MassDOT permit. Each fine is $105, for a total of $210.
The truck load stood at 14, feet, 9 inches tall, though it was only permitted for 14 feet, police said. The truck also should have had flag cars with it, and it was also not supposed to be traveling on I-93 that day. The permitted route was "Interstate 84 at Connecticut state line to Route 20 to Interstate 395 to Interstate 290 to Interstate 495 to Route 3 to Interstate 95 to Route 1 to Route 99 with a permitted destination of Everett," according to state police.
The large blue object the truck was towing was a water clarifying tank, and it's used in wastewater treatment, police said.
"The metal tank being hauled came into contact with the first and second structural beams of the underside of the bridge; the first beam was split in two and the second was bowed from the impact," police said. "The tank and the trailer sustained significant damage. The tractor appeared to sustain minor damage."
The truck was registered in Alabama and is owned by Dove Transportation of Lincoln, Alabama, according to authorities. The strike happened around 3:20 p.m. on Monday, and while the driver refused medical attention, a female passenger, 54, also of Alabama, was taken to Massachusetts General Hospital with possible minor injuries.
Newsletter Signup
Stay up to date on all the latest news from Boston.com