Local News
A local gleaning organization is buying a farm. Food bank officials say the move could be a 'game changer.'
"That's just a win-win for us."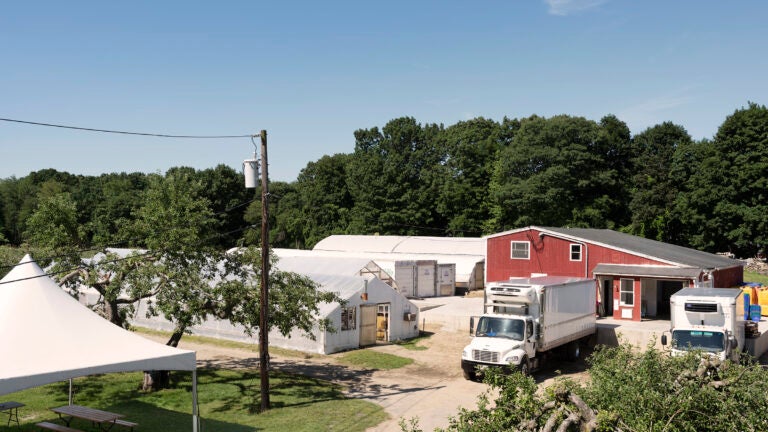 In just 27 days, a local nonprofit dedicated to food rescue and hunger relief raised more than $85,000 in donations to purchase a farm in Acton.
Boston Area Gleaners, or BAG, began working with farmers in 2004 to collect and harvest surplus crops from fields, an age-old practice known as "gleaning." When it was first founded, BAG was a volunteer-based organization focused solely on gleaning. But in recent years, the organization has expanded, launching numerous programs focused on hunger relief and food insecurity.
Partnering with recipient agencies, BAG provides a system where gleaned produce is delivered to food banks and pantries located throughout eastern Massachusetts. Currently, the nonprofit remains the only on-farm gleaning organization in the region.
BAG currently holds a lease on the Acton property, Stonefield Farm, and with its purchase, the 51 acres of land will be placed under an agricultural restriction. The Town of Acton will also contribute $1.2 million in community preservation funding, a portion of the purchase price, in order to protect the property and keep it for agricultural use in perpetuity.
A small portion of the land will serve as the main operation base for the Gleaners, where their offices, loading docks, cold storage, and some greenhouses will be located.
"We needed a facility that has that capacity, but we also really wanted to be on a farm, and it gives us lots of opportunities to think creatively about our programming — and think long about how we are an agriculturally-based organization and how we can use and protect farmland," Usha Thakrar, the nonprofit's executive director, told Boston.com.
BAG will close on the farm on July 30.
While the nonprofit has not yet decided on the main purpose of the farm, Thakrar said the group will bring together agricultural and food systems leaders within the food insecurity world to help them make a decision sometime in the fall or winter. For the current season, the farm's previous owners will continue to harvest the remainder of their crops, which BAG will help sell and distribute.
Although undecided, Thakrar has several ideas on what BAG could do with the farmland.
"Going forward, we want to make sure that we are developing programming on the farm that is consistent with our mission," she said.
One program could be to help support young and emerging farmers who are landless by giving them capital resources, such as a lease for part of the farm. Following the organization's mission statement on hunger relief, BAG could also begin growing crops on the farm that could then be sold through one of their programs, Boston Food Hub.
According to Thakrar, the Boston Food Hub has evolved over the last few years as a revenue-generating arm of BAG's operation. Although the nonprofit is committed to working with farms to reduce food waste by gleaning, she said they also have learned from years of building relationships with farmers that donating surplus produce is not an ideal outcome for the farms financially. The food hub program instead provides more opportunities for farmers to sell their produce to different markets, which both reduces food waste and increases revenue opportunities.
BAG having their own farm will be a "game changer" for the recipient agencies, Tim Cavaretta, operation manager of Food for Free, said.
For emergency food systems, produce can be difficult to get, especially during the off-seasons. He said during the winter months, Food for Free has access to some produce, such as root vegetables like potatoes. But if BAG were to grow their own produce, the farm would continue to have supplies into the late fall and early winter, which they could provide to recipient agencies like Food for Free, Cavaretta said.
Catherine Lynn, senior director of communications and public affairs at the Greater Boston Food Bank, another one of BAG's recipient agencies, said the Gleaners acquiring the farm may potentially be their transition from a gleaning-only organization to more of a localized hub for food rescue and distribution.
"That's just a win-win for us, because oftentimes it's difficult for us to contract with all these smaller farms," Lynn said. "But if there's sort of one centralized hub, we can have a larger commitment."
Food banks and pantries in eastern Massachusetts saw demand rise heavily during the COVID-19 pandemic. Food insecurity in eastern Massachusetts increased 30%, and the Greater Boston Food Bank distributed about 60% more food to meet the demand, according to Lynn.
Even though local economies are reopening and the state has seen COVID-19 infections fall from the height of the pandemic, food banks like the Greater Boston Food Bank and Food for Free have not seen a significant drop in the number of people seeking assistance. With the available coronavirus-related economic resources fluctuating, food banks and pantries will continue to see a steady amount of people utilizing food and resources in the system, Cavaretta said.
"Unfortunately, in Massachusetts, we have a very short growing season here so there's only so much that we can do in-state," Lynn said. "But if partners like the Boston Area Gleaners can make it easier to get that local food into these larger systems — like the emergency food system — I think the better off we'll be in the long run."
Newsletter Signup
Stay up to date on all the latest news from Boston.com