Local
I-93 South to fully reopen Thursday after area of bridge damaged by oversized truck removed
The southbound side of the highway has been down to two lanes in Medford since the truck strike Monday.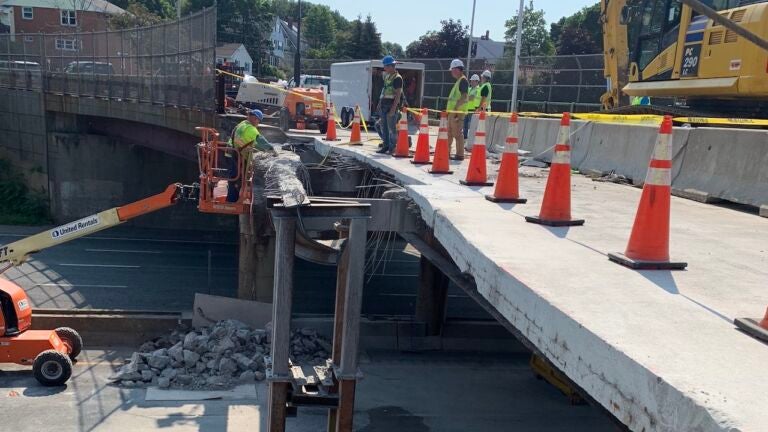 All lanes on I-93 southbound in Medford are planned to reopen Thursday afternoon following a grueling week of lane closures after the Roosevelt Circle Eastbound Overpass was damaged by an oversized truck strike Monday afternoon.
As of around noon on Thursday, MassDOT Highway Administrator Jonathan Gulliver said during a press conference that workers had removed "most of the damaged material" and would be working to clear the highway lanes beneath the bridge.
"The biggest problem that we have run into on this bridge is stabilizing the damaged portion of the bridge," he said. "The bridge was extensively damaged by this overheight vehicle and required that we put in shoring towers and then relieve a lot of the tension that was in the existing beams so that as we demolished it, it wasn't causing further damage to the existing structure."
Crews pushed through that work overnight Wednesday into Thursday, Gulliver said, and the interstate was closed at one point to allow the work to proceed.
There could be some night work along I-93 southbound and potential lane closures then, but the highway should return to four lanes most of the time, Gulliver said. I-93 northbound has not been impacted by the repairs.
For Roosevelt Circle, the contractor plans to continue cleaning the area through Thursday night. Two lanes are planned to be restored Friday, but one lane will have some restrictions "for several months," according to Gulliver. He said it could be about eight months or more, noting that a new design will be devised for the bridge. He called the damages "catastrophic."
About 800 square feet of bridge deck had to be removed, he said.
In terms of the cost of repairs, Gulliver said he couldn't place an estimate on the damage, but said the department is looking to hold the trucking company responsible for the repairs so that the cost doesn't fall on taxpayers.
In the past, MassDOT has said the work could impact local roadways, including Route 1 South, Route 16, Route 28, and Roosevelt Circle for the next few months.
The driver of the oversized truck, a 57-year-old Alabama man, has received civil fines totaling $210 related to operating the oversized truck on the highway. He also deviated from the truck's permitted route, which didn't include I-93. The truck was towing a tank typically used in wastewater treatment; the cargo was damaged in the incident.
"It's been a very difficult few days," Gulliver said. "We're glad to have it behind us and we're looking forward to restoring traffic."
Watch the full press conference:
Newsletter Signup
Stay up to date on all the latest news from Boston.com