Local
Boston is eliminating fares on one of its busiest bus routes next month
The city is committing $500,000 to the three-month pilot.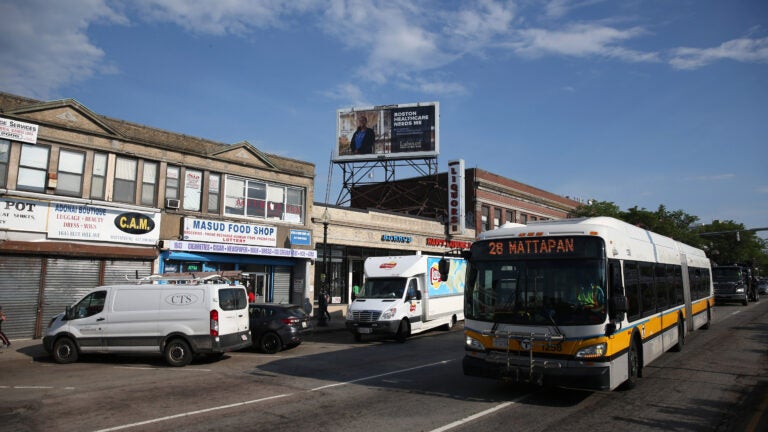 Riders of the MBTA's Route 28 bus can leave their cash and CharlieCards in their pockets when they board beginning later next month.
Acting Mayor Kim Janey announced Monday morning that a pilot program to eliminate fares on the 28 bus — connecting Mattapan Square through Dorchester and Roxbury to Ruggles Station — will begin on Aug. 29 and run through Nov. 29.
During those three months, Route 28 riders will be able to board buses at all doors without needing to pay any fare. The experiment will be funded by $500,000 from the City of Boston to offset the MBTA's lost fare revenue.
In a statement, Janey said the new pilot "demonstrates the City's commitment to making transportation accessible and affordable for residents and commuters."
Her office said the goal is to provide direct benefits to Boston communities that have been hardest hit by the pandemic. According to the MBTA's most recent systemwide survey, two-thirds of 28 riders are classified as low income.
The potential benefits are twofold. In addition to providing financial relief, officials say the fare-free pilot will speed up boarding and, as a result, overall travel times on the route, which frequently runs behind schedule.
The Boston Transportation Department and the MBTA will jointly manage the pilot program and monitor its impacts on travel times, on-time reliability, rider experience, and overall ridership.
"We look forward to evaluating it and learning more about its impacts on ridership and the transit network," MBTA General Manager Steve Poftak said.
Prior to the pandemic, the 28 route had the third highest ridership of any MBTA bus, with roughly 12,880 riders every weekday.
As of last month, ridership had climbed back above 7,000 weekday riders — making the 28 bus currently the second-busiest bus in the system — as public transit ridership slowly recovers in the wake of the pandemic.
In addition to providing service along the economic corridor of Blue Hill Avenue and Nubian Square, the 28 bus is a "vital" connection to the rest of the MBTA subway, bus and commuter rail system through Ruggles and Roxbury Crossing. However, as the city website notes, 28 bus riders will still have to pay to transfer onto those other services (for those with a CharlieCard or CharlieTicket, the MBTA already provides free transfers between buses and subways).
Shortly before the pandemic's onset, Janey had floated making the 28 fare-free alongside fellow city councilor and mayoral candidate Michelle Wu, who first proposed the idea in early 2019.
An outspoken advocate for more sweeping fare elimination across the MBTA system, Wu's office released an analysis shortly before Janey's announcement Monday calling for additional fare-free pilots of the 66 bus route from Harvard through the Longwood medical area to Nubian Square and the 116 bus from East Boston to Chelsea and Revere.
"Today's announcement shows that free bus service is possible in Boston when we organize to make it happen, but we don't just need one free route through Election Day — we need a system that reaches across our city," Wu said.
All of the remaining five mayoral candidates have expressed support for some degree of MBTA fare elimination. City Councilor Andrea Campbell has pledged to eliminate fares on all Boston buses, which would cost tens of millions of dollars a year. City Councilor Annissa Essaibi George has said she supports eliminating fares of select routes in underserved communities, like the 28 bus. John Barros, the city's former economic development chief, has floated eliminating fares to low-income riders across the MBTA system, as opposed to targeting specific lines.
Janey recently told Boston.com that she hopes the fare-free 28 bus pilot leads to "more opportunities for fare-free buses," though she acknowledged the MBTA's long-term financial challenges coming out of the pandemic.
"I'm hopeful that this will help move us in the right direction," she said.
Newsletter Signup
Stay up to date on all the latest news from Boston.com