Local
Mass. highway official says it will cost around $1 million to fully repair Medford bridge damaged by I-93 truck crash
"This is going to take some time."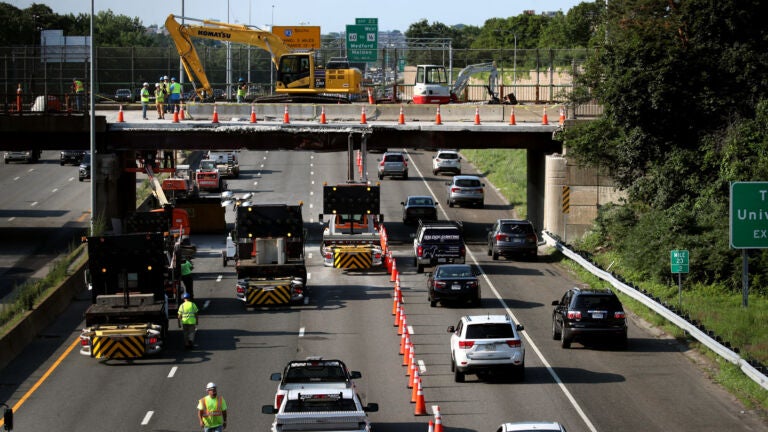 It could take up to a year and around $1 million to fully repair the Medford bridge above I-93 that was struck by an over-height truck last week, according to Massachusetts Highway Administrator Jonathan Gulliver.
During a MassDOT board of directors meeting Monday afternoon, Gulliver said it will take "eight to 12 months" to design and construct a permanent repair for the Roosevelt Circle overpass, after officials implemented a temporary fix.
The crash last Monday afternoon — in which a truck driver carrying a large blue water tank deviated from his permitted route and rammed into the low bridge — left an "incredible amount of damage," particularly to a 75-foot beam that Gulliver said was "completely flattened" and "nearly torn in half."
"It left the bridge in a very unstable condition," Gulliver said. "Effectively, that bridge beam … had no carrying capacity left, and it was really being only held in the air by the fact that it was attached to the bridge deck."
Gulliver said that crews had to remove the beam, as well as part of the bridge deck that had been damaged by the crash, without further damaging the rest of the Roosevelt Circle overpass. That required closing two of I-93 South's four lanes for over three days.
Following a grueling week of delays for I-93 commuters, MassDOT fully reopened all four lanes of I-93 South along the stretch Thursday evening. Officials were also able to fully open Roosevelt Circle — but with "much narrower lanes," Gulliver said.
According to Gulliver, the costs of immediately stabilizing the bridge are expected to approach $500,000, "maybe even a little bit more."
Officials do plan to restore Roosevelt Circle back to its former capacity, but those long-term repairs are likely to lead into next year and cost an additional hundreds of thousands of dollars.
"This is going to take some time — probably in the neighborhood of eight to 12 months — before we get that permanent repair designed and into construction," Gulliver said.
All in all, he estimated that total costs are "talking in the million dollar range."
Similar to smaller-scale crashes, MassDOT doesn't plan to be the ones paying that bill. Gulliver said their "accident recovery team" is working with insurance and bonding companies "to ensure that they recover the funds associated with doing the full repair of that crash."
"They have a great track record," he said. "Right now they are working with legal. They have already contacted the carrier's insurance company, and they're starting that process now."
Gulliver noted that process itself will likely take months, as officials work out the design of the repairs.
Last week, MassDOT said that it intends to hold the trucking company, Dove Transportation, legally and financially responsible and would be reviewing the company's eligibility for obtaining future permits in Massachusetts.
The 57-year-old Alabama man who was driving the truck has already been fined $210 for carrying a load that was above its 14-foot permitted height and deviating from his approved route.
Newsletter Signup
Stay up to date on all the latest news from Boston.com