Local
Over $200,000 raised to support family of deceased WBZ-TV editor Jim Murphy
Murphy died suddenly at the age of 44 from a heart attack.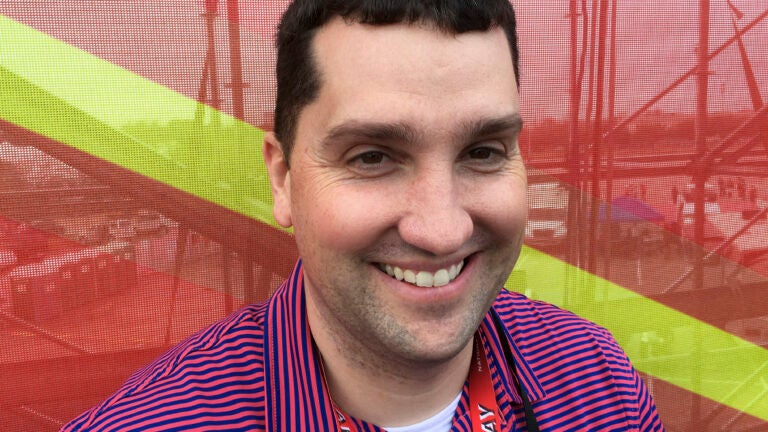 Jim Murphy, an award-winning editor at WBZ-TV, passed away suddenly from a heart attack on July 20 at the age of 44. Since then, those who knew and loved Murphy have donated over $200,000 to support his family.
Murphy, who lived in Duxbury, is remembered by family, friends, and colleagues as a devoted dad and family man, and an incredibly talented and accomplished editor.
"To know Jim is to love Jim," the GoFundMe reads. "Jim showed up for not only his own friends but anyone who could use a helping hand, a ride to a game, or encouragement on the ball field. He was often the go to grill guy at the beach and everyone swooned over his famous brussels sprouts on the grill. He never missed a chance to edit someone's sport reels to create a memory or snap the absolute best photo of the sunset at just the right moment."
Murphy graduated from Haverhill High School in 1996 and was a proud "Hillie," according to an obituary published in the Cape Cod Times. He went on to earn a degree in communication and media studies from UMass Amherst in 2000, and started working at WBZ just two years later. As an editor with WBZ, most recently the video editing crew chief, he won three Emmy awards and witnessed the Patriots play in the Super Bowl multiple times.
"Jim adored being part of the action and working with his colleagues whom he called dear friends," his obituary reads. "Jim loved helping people. He could always be counted on to lend a helping hand to anyone who needed it. His friends and colleagues at WBZ/CBS Boston said it best 'Everything Jim touched, he made better."'
Murphy leaves behind his wife, Stacy, and their two young children, Gavin, 10, and Quinn, 9.
"He shared a love with his wife Stacy that is unparalleled," the GoFundMe reads. "They could always be found together. They were a husband and wife that were more than just in love – they were best of friends and partners in every.single.way. …He was the type of father that other Dads looked to as an example of how a 'DAD' should live his life. He wouldn't miss a game, a day at the beach with the kids or spending time with Stacy, Gavin and Quinn in any capacity. He was the epitome of a family man."
Over 1,200 people have made donations large and small. New England Patriots owner Jonathan Kraft donated $18,000, and Robert Kraft sent a Patriot's jersey to Murphy's family with the number "1" and his name on the back.
Other colleagues have also been remembering Murphy.
A funeral mass was held Monday at the Holy Family Church in Duxbury. In lieu of flowers, the family is asking for donations to the GoFundMe.
Newsletter Signup
Stay up to date on all the latest news from Boston.com