Local
The first Massachusetts VaxMillions drawings happened Monday. Here's what to know.
"The names have been pulled."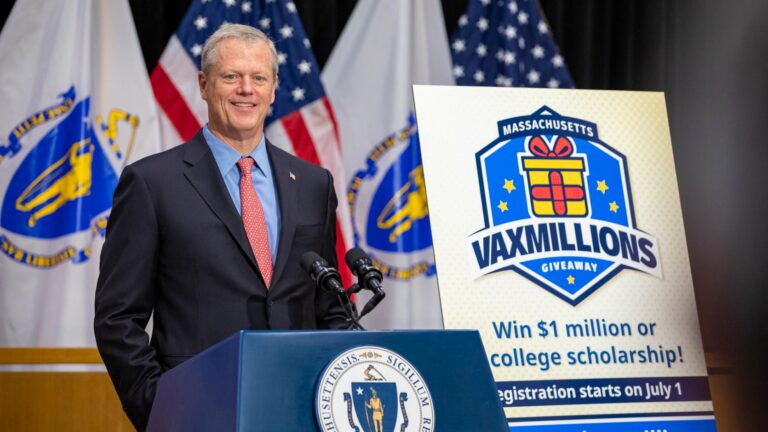 And now we wait.
The first potential winners of the Massachusetts VaxMillions Giveaway were drawn as scheduled Monday, a spokesperson for Gov. Charlie Baker confirmed.
However, it will be a few more days until the public finds out who they are.
Officials are holding off on announcing the winners until Thursday, as they work to track down the individuals and verify their vaccination status.
"The names have been pulled," Baker told reporters Monday afternoon. "They're currently being vetted and we'll make the announcement on Thursday."
The selection Monday is the first of five weekly drawings scheduled this summer as part of the lottery-style sweepstakes intended to encourage more residents to get vaccinated.
State officials will award $1 million cash prizes to five fully vaccinated adults and five $300,000 scholarship grants to residents between the ages of 12 and 17. In order to be eligible, individuals must register on the VaxMillions website and be full-time Massachusetts residents who got all their required shots in the state.
The deadline to register is four days before each of the drawings (and if you missed one of the deadlines, you can still register for subsequent drawings).
The drawings are being conducted by the Massachusetts State Lottery, which is using a random number generator to select a winner for each prize, plus a number of alternates.
After the drawings happen, Department of Public Health officials will reach out to the entrant whose number was selected with a phone call, text, or email (depending on which option the entrant chose when registering) to verify their eligibility details, including vaccination status.
And here's the important part: residents who are lucky enough to be selected must respond to the DPH with a phone call within 24 hours of being contacted (for those aged 12 to 17, their parent or guardian must make the call). If they fail to respond to DPH within 24 hours as instructed, the potential winner will forfeit the chance to win any prize and officials will offer the prize to an alternate.
According to the state's website, such disqualifications are not subject to appeal.
As of Friday afternoon, a total of 2,124,872 people had signed up for the VaxMillions drawing — including 1,989,986 adults and 134,885 between the ages of ages 12-17 — as NBC Boston reported. That's just less than half of the state's fully vaccinated population of over 4.3 million people.
It's unclear what effect the giveaway has had on vaccinations; Massachusetts has continued to see the rate of vaccine doses administered each day decline since VaxMillions was announced on June 15, from 24,827 to 4,556 last Friday.
This Thursday is also the deadline to register for the last four drawings, which are set for Aug. 2, Aug. 9, Aug. 16, and Aug. 23.
Newsletter Signup
Stay up to date on all the latest news from Boston.com