Local
Trash truck tips over, spilling load in Charlestown
The mess happened near the Alford St. and Main St. split at the Sullivan Square rotary.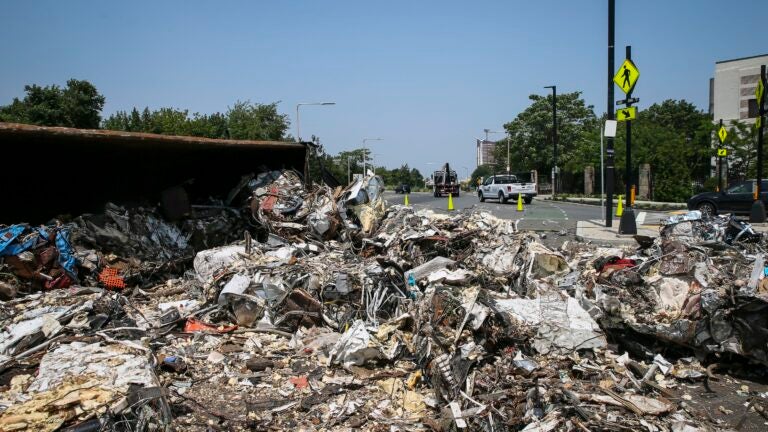 The trailer of a trash truck tipped over in Charlestown on Monday – leaving its contents spilled along the roadway near the Sullivan Square rotary.
Police said the incident occurred around 11:34 a.m. in the area of 485 Main St. At the scene, the truck could be seen partially on its side with trash spewed across the rotary near the Alford St. and Main St. split.
The Boston Globe reported that the city's Public Works Department was contacted afterward. Images and videos circulated on Twitter shortly after the crash show the spilled debris.
"Truck spilled it's load in Sullivan Square. Charlestown," one Twitter user wrote. "Trailer looks like it twisted around the rotary."
Traffic reporter for WBZ NewsRadio Kevin Brennan reported traffic delays on Route 195 East before exit 10 and Route 495 South.
"#Charlestown Rolled over trailer that spilled trash debris in the Sullivan Square rotary causing big delays in the area," Brennan tweeted at 12:41 p.m.
Police said no one was injured and the road was cleared around 3:10 p.m. Officials believe the load tipped while the truck was turning around the rotary, causing the debris to fall out.
Newsletter Signup
Stay up to date on all the latest news from Boston.com