Local
Air quality alert remains in place for parts of Massachusetts due to smoke from western wildfires
Officials say the advisory remains in effect for much of northern Massachusetts through midnight.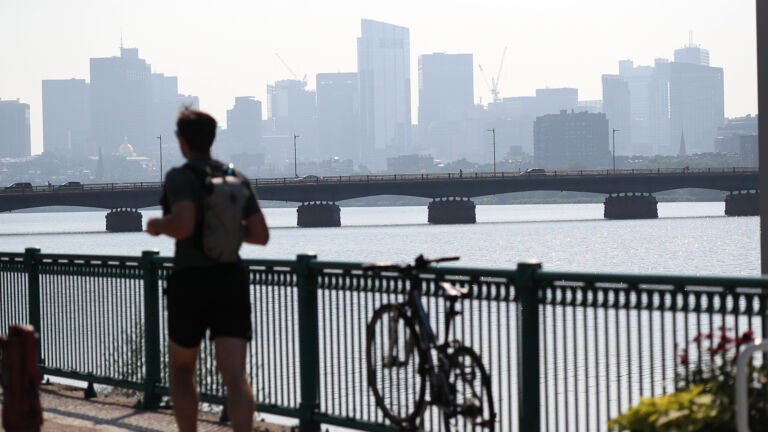 For the second straight day, Massachusetts residents are being cautioned about poor air quality due to smoke from western United States and Canadian wildfires that has blown across New England.
The state's Department of Environmental Protection issued an air quality alert Tuesday morning through noon for "all" Massachusetts counties. And according to a spokesman for the department, it will remain in effect for some parts of the state for the rest of the day.
According to MassDEP spokesman Ed Colletta, the air quality alert will remain in effect through midnight in northern Worcester, northwest and central Middlesex, and Essex counties.
Air quality alerts were also issued Tuesday for all of Rhode Island, New Hampshire, and Maine, as well as parts of Connecticut and Vermont.
The advisories come after a haze from the wildfires encompassed much of Massachusetts on Monday; not only was it visible on the horizon, but many residents reported smelling the odor of smoke or burning plastic.
Massachusetts officials said the plume was primarily from the widespread wildfires in central Canada.
"While much of the smoke is aloft, some of the plume is mixing down to the
surface and increasing fine particle levels," MassDEP officials said in the advisory Tuesday morning, warning that the levels were expected to reach into a range that is "unhealthy for sensitive groups," such people as people with heart or lung diseases such as asthma, older adults, children, teenagers, and people who are active outdoors.
MassDEP advised those groups to "reduce prolonged or heavy outdoor
exertion; take more breaks and do less intense activities and follow asthma action plans and keep quick relief medicine handy."
"Watch for symptoms such as coughing or shortness of breath," officials said.
After the particularly poor air quality Monday, conditions do appear to be improving Tuesday. With potential thunderstorms forecast for Tuesday evening in southern New England, the change in air mass will at least temporarily push the smoke north, according to the National Weather Service.
By around 12:30 p.m., all of MassDEP's air quality monitors were reporting good or moderate conditions.
Newsletter Signup
Stay up to date on all the latest news from Boston.com