Local News
If Boston builds more protected bike lanes, cyclists will come, advocates say
One local road saw a sizable change in cycling activity after a protected bike lane was introduced, a study found.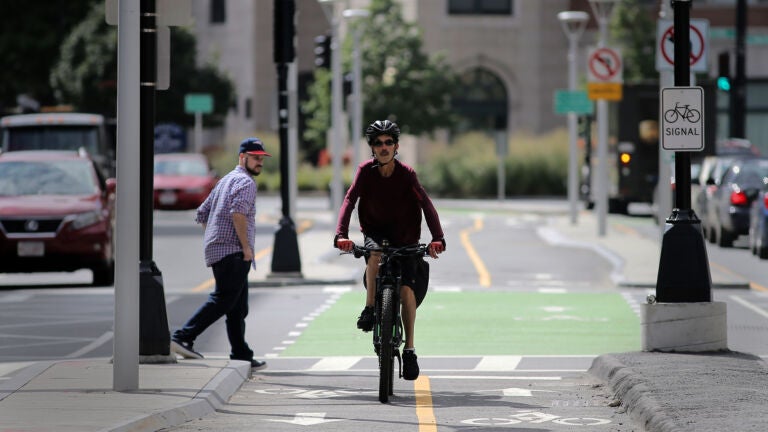 When Salem announced the launch of Bluebikes in the city in June, August Blake wanted to be the first person to take the ride-share bike from Salem to Boston. And he did exactly that: starting at Salem Willows Park, and three hours and approximately 27 miles later, reaching the farthest apart dock possible at Spring and Powell streets in West Roxbury.
Throughout the ride, Blake noticed that some of the cities had a network of bike infrastructures where bikers could feel safe while still being on the road. However, there were significant gaps that could use improvements.
At one point, he found himself finding safety in the parking lanes as he biked down Center Street in West Roxbury. The street, with multiple lanes of fast traffic, was one of the worst parts of the ride, he said.
"I would say overall Boston is one of the better bike cities in the country, but there's still plenty of work to do," Blake recently told Boston.com. "While there's some great corridors for bike infrastructure, I think a good thing to do right now would be to connect those and turn the corridors into a network."
Many other Bostonians echo Blake's sentiment.
In May, the Boston Cyclist Union garnered support from over 1,550 people for their #BostonBikeBudget petition to add funding for 10 miles of protected bike lanes in the 2022 fiscal year city budget. The petition also called for adding bike lanes in several other corridors around the Greater Boston area.
"Change needs to continue in order for people to be able to make the switch between people who want to bike, but can't, if their whole route, from wherever they're starting to ending, is not physically separated from cars," said Eliza Parad, director of organizing at the Boston Cyclist Union. "Until we get that network, we're not going to see a significant overall shift."
A poll by MassINC Polling Group conducted in June showed 75% of Bostonians supported creating bike lanes separated from cars, even if it meant less space for vehicles on the road.
And one local road has seen a sizable change with these protected bike lanes.
A recent case study by Elizabeth Karpinski, a senior data scientist at MITRE, found that Bluebike ridership on Commonwealth Avenue increased significantly after a protected bike lane was introduced in 2019.
The study, published in July, analyzed Bluebike data from before and after the completion of the protected lane on Comm. Ave., which now takes up approximately six-and-a-half feet of the road with a three-foot buffer separating the lane from parked cars. The main question, Karpinski said, was whether offering cyclists more protection and separation from motor vehicle traffic would increase demand for cycling and boost the amount of cycling activity.
"I would say this research is really answering that and saying, it really looks like this kind of bike lane can really increase activity, and help people get around," she told Boston.com.
Ridership on Comm. Ave. tripled since the lane was introduced, the study found. The separated lanes were placed as part of the $20.4 million Commonwealth Avenue Phase 2A plan that was under the Vision Zero goals in 2016. Now, the city is planning phase three and four that will focus on the stretch of road between Packard's Corner and Warren/Kelton streets, as well as the Commonwealth Avenue and Harvard Avenue intersection.
"I think Boston's a really interesting example of a city in the U.S. that has really been intentionally trying to transform itself to be more friendly to alternative modes of transport, especially because it's such a dense population center and you have very limited space available for automobile infrastructure," Karpinski said.
In just the past decade plus, Boston launched the Complete Streets initiative in 2009, the Hubway bike system in 2011, now known as Bluebikes, and Go Boston 2030 in 2014 to promote a more adequate transportation system in the city. The most recent, Go Boston 2030 aims to build efficient transportation networks, including safer and more accessible streets for biking.
The Go Boston 2030 plan includes completing 15 miles of protected bike lanes, making improvements at 15 corridors, and building "Neighborhood Slow Streets" zones for traffic-calm residential streets, according to its website.
The city has also expanded the Bluebikes program through new locations, as well as subsidized, or in some cases free, Bluebike passes during the pandemic. Bluebike celebrated its 10th anniversary July 26 and set a new single trip record Saturday with 15,355 rides in one day; ridership has significantly increased since its introduction to the city.
But there are still many areas inaccessible with bikes, especially in the Greater Boston area.
With the possible return of workers to offices looming, many former MBTA commuters may opt to shift to driving into the city for various reasons, including COVID-related safety or unreliable public transportation. Public officials are worried this will lead to high congestion levels, especially on highways.
This would also directly go against the city's efforts to shift away from cars. Although biking would be a sound solution, the lack of bike lanes or paths is still an obstacle for many wanting to make the shift, advocates say.
"[The Boston Cyclist Union] supports the city's goals to reduce car trips in half by 2030," Parad said. "We're not going to do that without some really bold progress on a bike network."
Newsletter Signup
Stay up to date on all the latest news from Boston.com