Local
Here's how many could face eviction in Mass. – and what some advocates are trying to do about it
Census data shows that thousands of Bay Staters believe they "very likely" could be evicted in the next two months.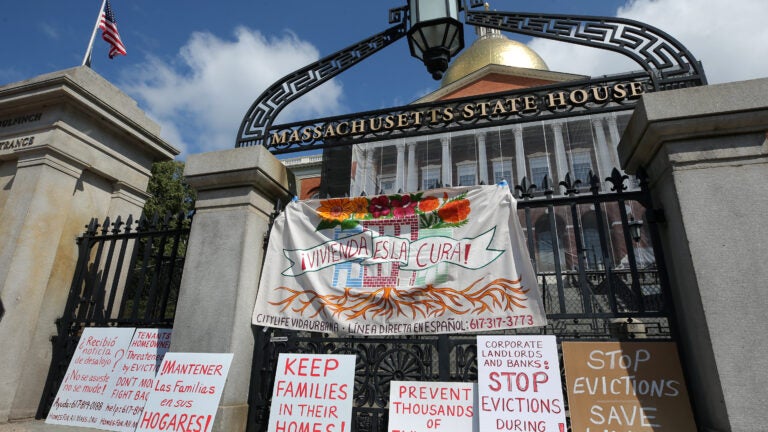 A rally was held in front of the Massachusetts State House Friday morning in support of the pandemic-era eviction ban that has kept many tenants in their homes as job losses skyrocketed.
The federal moratorium is set to end as July turns to August, following President Joe Biden extending it for one month. The ban has been in place for almost a year – the U.S. Centers for Disease Control and Prevention instituted it last September.
Now, some state lawmakers are backing a bill that would work to stop foreclosures and evictions, "and promote an equitable housing recovery."
In a letter to Gov. Charlie Baker, Speaker of the House Ronald Mariano, and Senate President Karen Spilka, dated July 21, dozens of organizations signed on to support the bill, noting that there are over 18,000 eviction cases pending since last October, and this issue could intensify as the federal eviction prohibition ends, according to the Homes For All Massachusetts website. The group is a collection of organizations working to promote the bill, among other housing issues.
"We have welcomed statements of solidarity from elected officials over the past year, affirming their commitment to combating the economic disparities and systemic racism exposed by the COVID-19 pandemic and unprecedented civil rights mobilizations," the letter says.
"But," it reads, "those words will ring hollow if our Commonwealth does not take action to protect against the displacement of groups disproportionately harmed both by the pandemic and by evictions and foreclosures: people of color, lower-income and working class households, and frontline and low-wage workers."
Census data shows that nearly 12,000 people in Massachusetts believe they "very likely" could be evicted in the next two months, while an additional 17,411 say they "are somewhat likely" to face eviction.
During Friday's rally, the bill was promoted as a potential solution to the housing woes of many. Some supporters stood on the State House steps with signs such as "Stop Evictions, Save Lives" and "Keep Families In Their Homes."
Some of the protections that come with the proposed law include making sure that landlords look into and work with programs that help with rent before evicting a tenant, and halting evictions if it could lead to the tenant becoming homeless, or if those possibly being evicted include a child, a person with disabilities, or someone with a higher risk of contracting COVID-19.
Baker also signed a law back in June that would allow courts to provide "temporary continuances to tenants who have filed applications for rental assistance," until April 2022.
That law also also provides mechanisms to facilitate negotiations between landlords and tenants, includes provisions aimed at helping tenants who are facing possible eviction understand their legal options.
Material from the Associated Press was also used in this report.
Are you facing eviction? Share your story below.
Newsletter Signup
Stay up to date on all the latest news from Boston.com