Local
Smelly whale remains are plaguing residents near a private beach in Plymouth
"It's so bad and it just carries in the air and in the wind."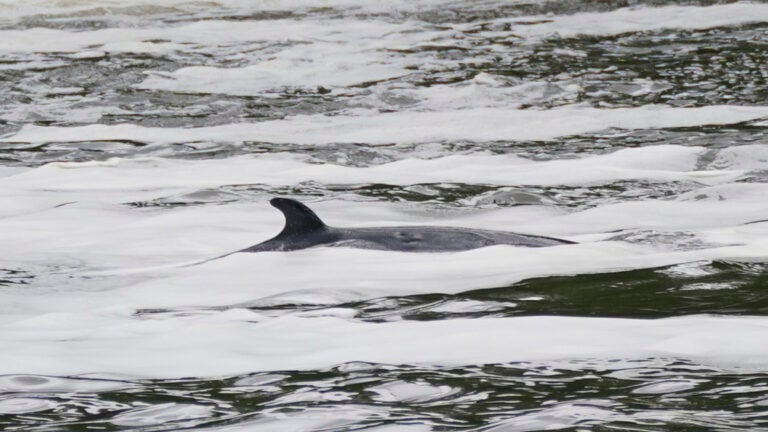 A dead minke whale washed up on a private beach in Plymouth about two weeks ago, and since then the smell of decomposition has been seeping into neighbors' homes.
The whale was found on the beach near the Ocean Aire Estates on July 18, according to WHDH.
But because the beach is private, the homeowners association has to coordinate the disposal of the remains. This has left the 20-foot-long mammal to begin decomposing in a picturesque location on hot summer days, according to the National Oceanic and Atmospheric Administration.
"If it was on a town or a state beach, the town would have responsibility, or the state would have responsibility," Ainsley Smith, a regional marine mammal stranding coordinator with the NOAA, told Boston.com.
NOAA, along with the International Fund for Animal Welfare, has been keeping tabs on the whale. Smith said NOAA is working with the HOA to coordinate the whale's disposal; the landfill in Bourne has already agreed to take it.
Part of the concern has also been disease. Members of the IFAW went to do an external exam on the carcass the weekend after it washed up, according to Smith, but since the disposal wasn't lined up, they couldn't perform a full necropsy. Now, performing the necropsy isn't possible at this late stage.
While officials think the whale may have been hit by a vessel based on what they could see, minke whales do carry disease.
As for the neighbors, they've shut their windows due to the odor. However, the strong stench has begun invading their homes anyway.
"It's so bad and it just carries in the air and in the wind," Michelle Rosenker told WHDH.
Others are worried some frustrated residents may take matters into their own hands.
"People might take it to the next level of trying to get rid of it themselves by burning it or cutting it up, so I do think that becomes a public health concern," Laura Leone told the news station.
Newsletter Signup
Stay up to date on all the latest news from Boston.com