Local
'Sincerely sorry': Restaurant patron who became angry sends letter of apology — with $100 tip
"You never want to be 'that guy' and that day I was 'that guy.'"
It's a difficult time to be in the restaurant industry, whether it's a lack of help or talks over vaccine mandates.
Then there's the angry patrons who aren't used to waiting perhaps a bit longer than usual for service.
There's been many of those this summer in particular, according to Tammy Stirk Ramsey, who has worked at Union Bluff in York, Maine, for roughly 25 years.
What she didn't expect was that one of those angry customers, who cursed at her, would send a letter of apology — and a sizable tip.
Ramsey recently received a letter from the anonymous patron, who apologized profusely for his behavior and enclosed $100. In the letter, he describes how he was at the restaurant on July 5 between 5 and 6 p.m., and he and the large party with him had been waiting "longer than I thought."
At one point, the man wrote that he said, "This is b*******."
"This is coming from a guy who tells people to be kind to service staff and tip big, post pandemic — how hypocritical," he wrote.
"Pre dinner cocktails before getting to the Bluff may have contribued — No excuse…" he also said.
The man said he plans to apologize in person.
"You never want to be 'that guy' and that day I was 'that guy,'" he wrote. "Sincerely sorry."
When Ramsey received the letter, she said it gave her goosebumps.
"I was just overwhelmed," she said, noting that she split the tip with a coworker who was working with her that day.
Ramsey also shared a photo of the letter in Seacoast Eats, a Facebook group dedicated to area eateries. Her post had received roughly 2,000 likes and over 300 shares as of Friday afternoon.
This summer has been especially challenging in terms of customers becoming frustrated or angry.
"There's been so many instances," she said.
It's a stark contrast from last summer, when people were just excited to go out and eat when restaurants reopened after the pandemic forced them to close.
"Everybody who came was just so happy," Ramsey said. "They didn't care if they had to wait two hours."
Along with upset customers, the restaurant has also contended with finding help, something that isn't unique to Union Bluff. Far fewer of the regular summer help returned.
"We've had a terrible time hiring," she said.
To those who may be frustrated while waiting to be seated at a restaurant, Ramsey says patrons should plan on things potentially not being as fast moving as before.
"I would just say give yourself time," she said. "Be patient, be kind."
Read the full letter: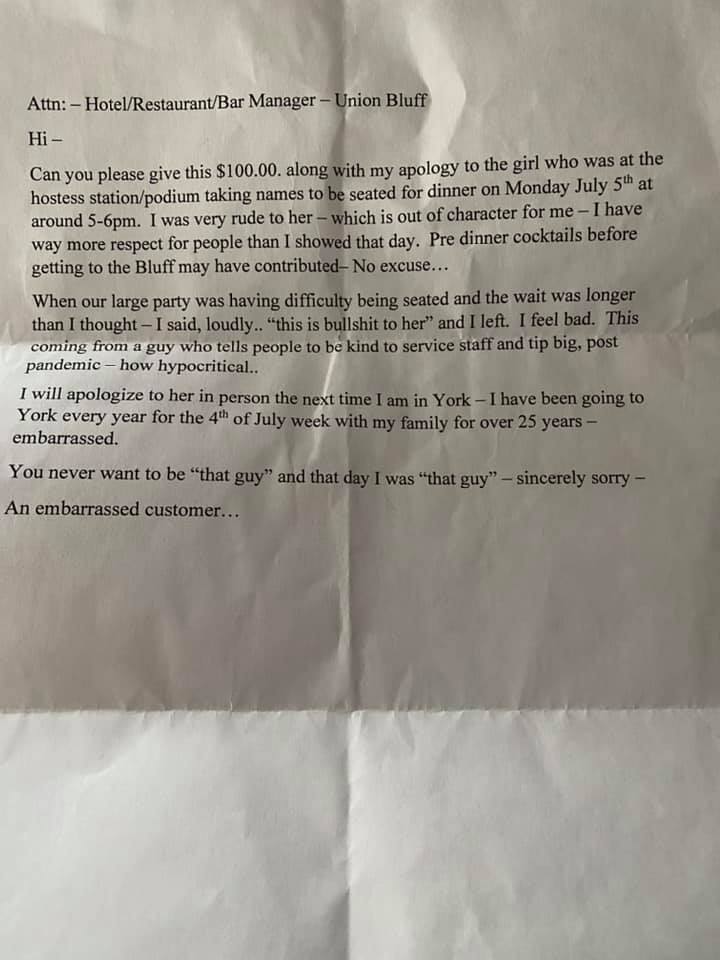 Newsletter Signup
Stay up to date on all the latest news from Boston.com