Local
It turns out Oliver, the Children's Museum snake, is actually female
Boston Children's Museum science educator Alissa Daniels was shocked by the discovery.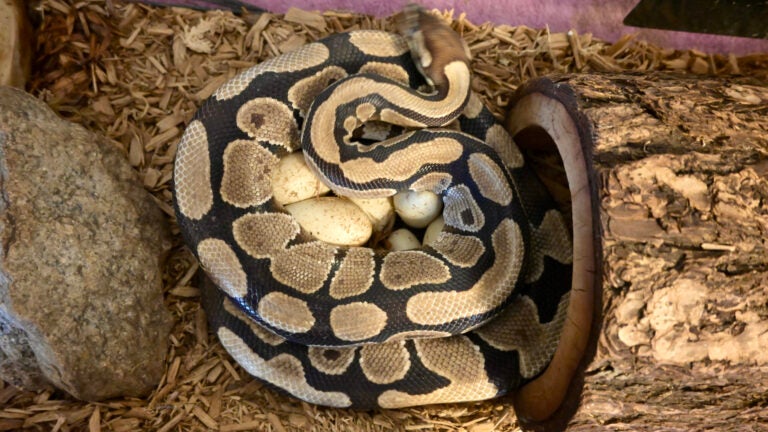 When Oliver (now Ollie) first arrived at the Boston Children's Museum 12 years ago, they had been told by Rainforest Reptiles Shows that the ball python was a male. The rescue group and longtime friend of the museum had received Ollie from owners who did not want the snake anymore, and who had misidentified her as a male.
But this summer, Ollie laid nine eggs, which were found by the museum's science educator, Alissa Daniels. Daniels has been taking care of Ollie at home since the initial outbreak of the COVID-19 pandemic in March 2020.
Daniels first began noticing a change in Ollie's behavior when she was hiding under her log, which usually happens when snakes are about to shed. But Daniels noted that Ollie had shed three weeks before and was not ready to shed yet. She also noticed a lack of appetite and movement, even though Ollie is usually a curious snake.
"Ollie had been hiding under [her] log … and she was not moving, budging, or doing anything, so I got concerned," Daniels told Boston.com. "And one day, I just had it, and I stomped in there, and I said, 'I want to know what is going on with you, and I've had enough of this.'"
To her shock, Daniels found Ollie wrapped around nine eggs underneath the log.
The sex of a snake is hard to determine, Daniels says. The external differences such as the length of the tail are subjective, and the museum had no reason to conduct an internal exam on Ollie, which is uncomfortable for the snake. Some reptiles have the capability to reproduce asexually, which would explain the eggs even though there is no record of Ollie having contact with other snakes, according to the press release.
Although there were nine eggs, all of them were determined to be slugs or not viable by Daniels, who used a candling technique to observe the insides.
Ollie has been the museum program animal for several years, working to educate visitors about snakes during the Creature Feature program. After having not been in the museum for many months, Ollie will return to the museum, Daniels hopes, this weekend.
"She's a great program animal, she's got a super disposition, and I'm looking forward to getting back to work with her," Daniels said.
When the museum shut down in March, while others were figuring out how to work remotely from home, Daniels was "frantically calling around" to find a caretaker for the turtles and snake. She figured that the best person would be herself since she had prior knowledge and experience with snakes as well as the space.
Almost a year-and-a-half later, Ollie is almost ready to return to the museum. She was held back a few weeks due to the eggs but has been given the green light from the veterinarian after returning to a normal routine and appetite.
"I'm fond of Ollie, but I am also ready for her to vacate my guest bedroom and come back to the museum to do her job," Daniels said.
Newsletter Signup
Stay up to date on all the latest news from Boston.com