Local
City Hall Plaza renovations half finished, according to architect
Project aims to transform the 7-acre space into a more inviting civic destination for a variety of events and recreational activities.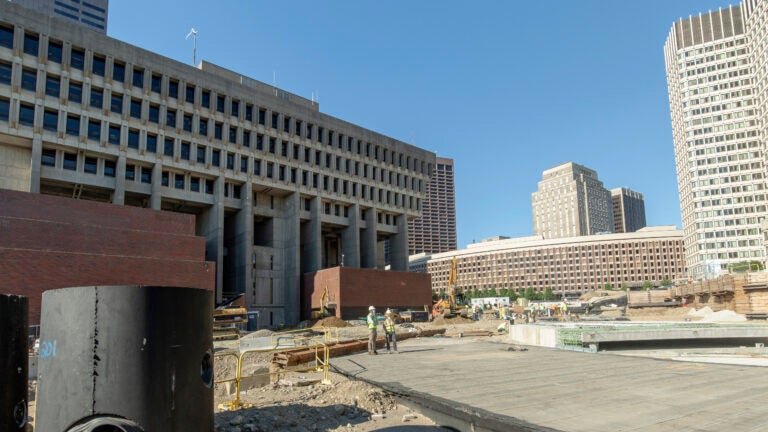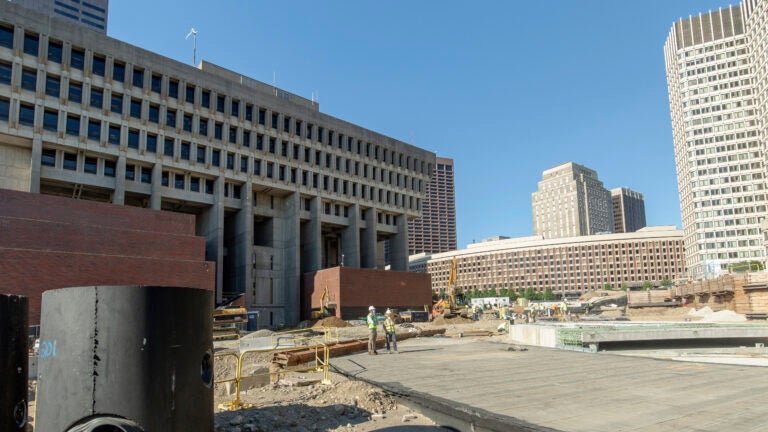 It's been a year since former Mayor Marty Walsh announced the start of renovations to City Hall Plaza and work is about halfway complete, despite unexpected obstacles.
The roughly $75 million project aims to transform the 7-acre plaza from what some deemed a cold and barren front yard to City Hall, into a more inviting civic destination for a variety of events and recreational activities. It also promises to be completely accessible, with a sloped promenade to help visitors navigate the plaza from Congress Street to Cambridge Street.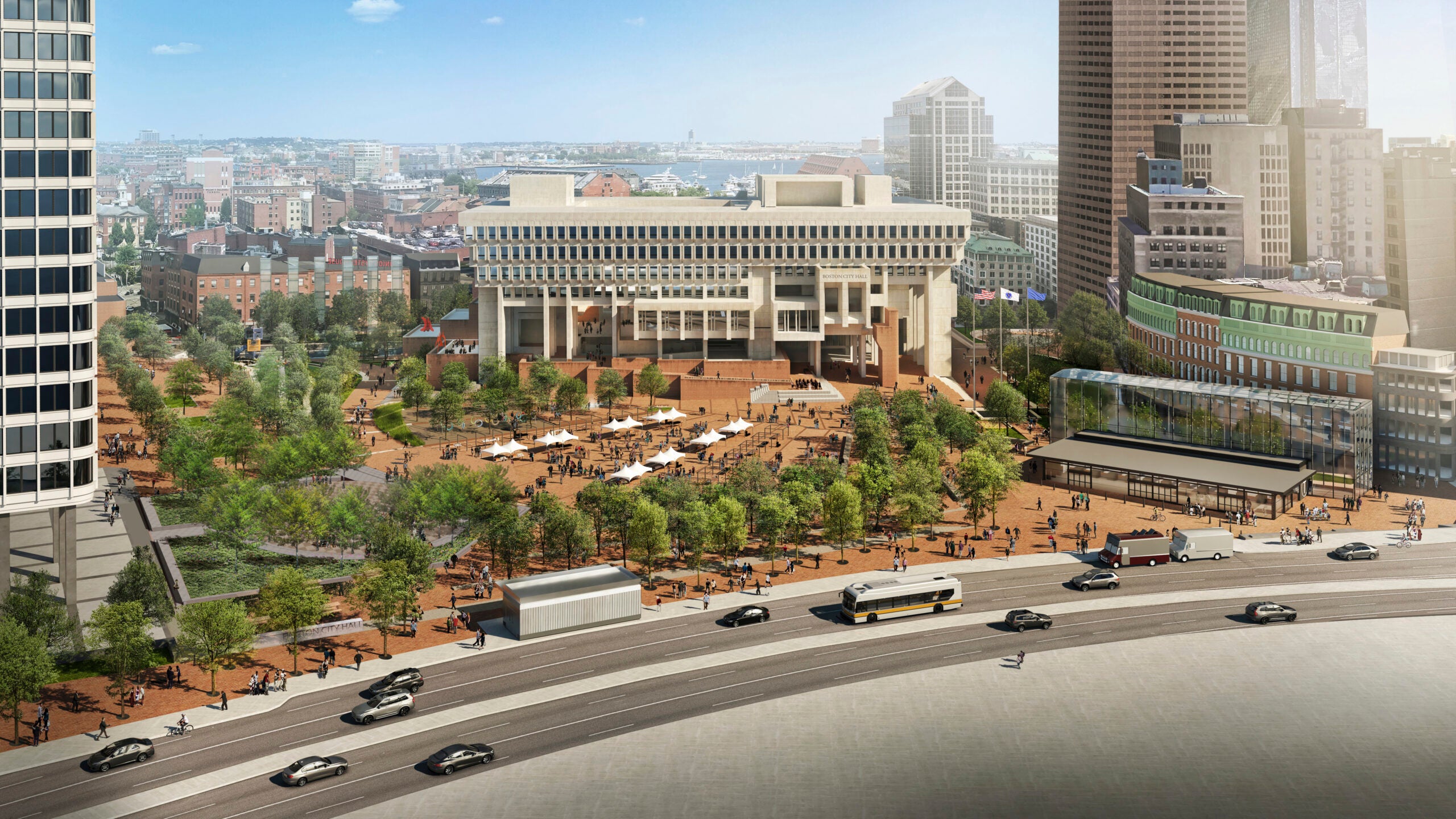 Accessibility upgrades to the building's north entrance, closed after 9/11, are on pace to be completed in September, ahead of the upcoming mayoral election. Much of the other work nearing completion is at or below grade, including work to protect 123-year-old MBTA subway tunnels beneath the plaza that have complicated redevelopment of the site, said Fiske Crowell of the Watertown-based design firm, Sasaki, the project's architect.
"It's involved a very carefully orchestrated structuring process," Crowell said.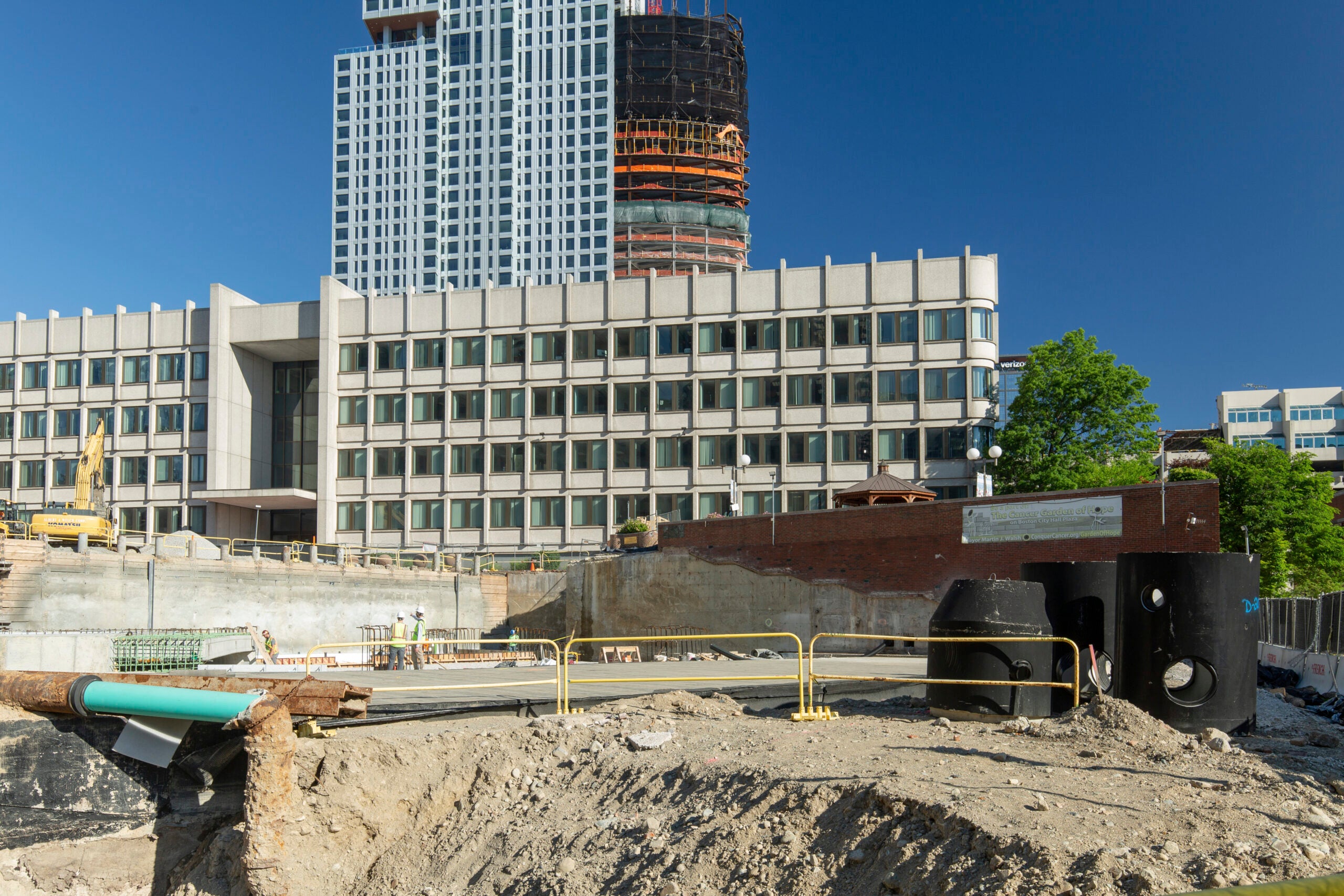 "We actually had to build a below-grade bridge over the Green Line tunnel in order to protect it from unanticipated loads. It's a little fragile and wasn't designed to take all of the rework of the plaza that is underway now," he said.
Another obstacle workers came across was the buried remnants of infrastructure, including roads, sidewalks and coal storage rooms, that were built over during the construction of Government Center in the 1960s.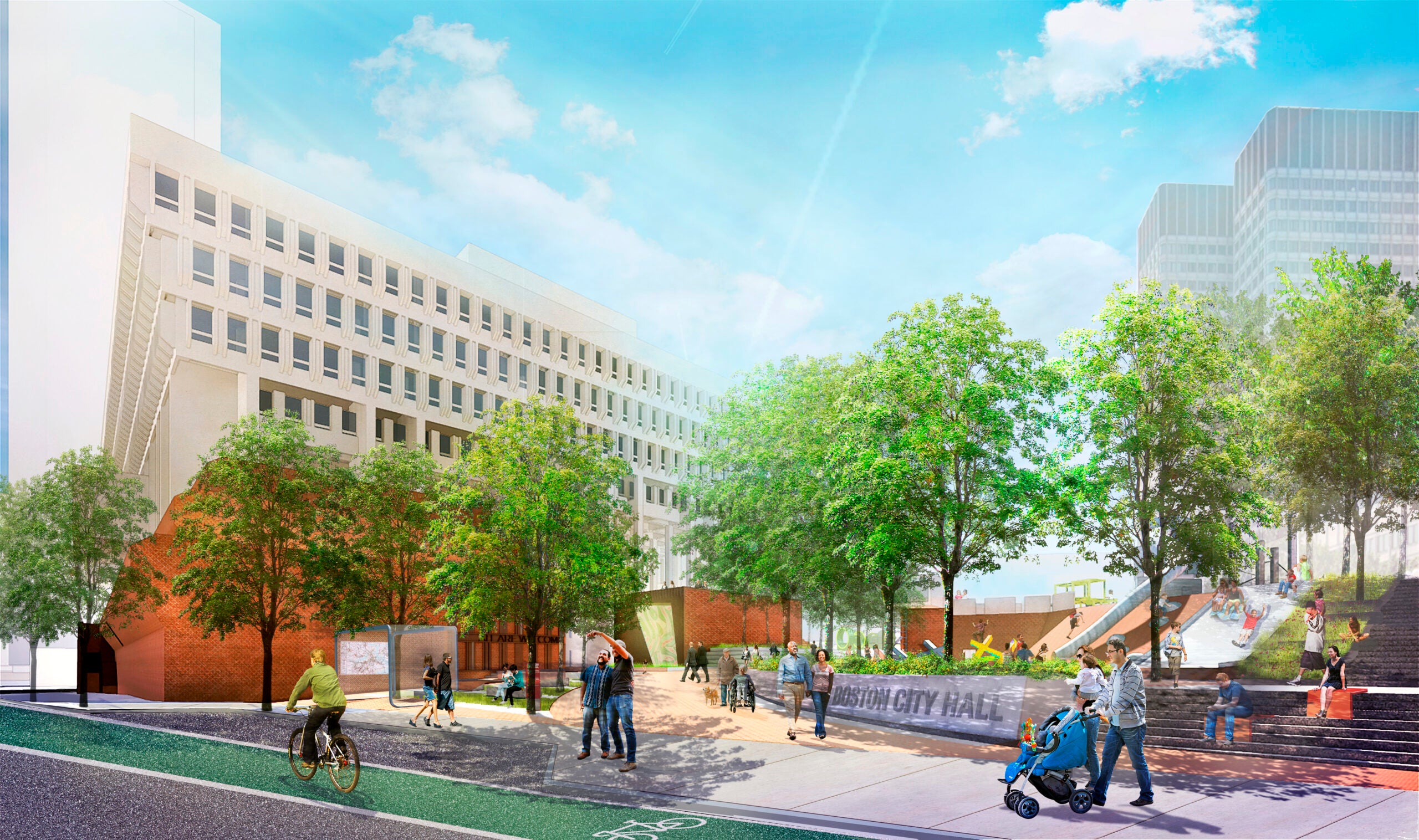 City Hall Plaza lies at the epicenter of Government Center in downtown Boston, surrounded by City Hall, courthouses, state and federal office buildings.
While some architectural critics praise the Brutalist style of City Hall, completed in 1968, many Bostonians have long considered it a fortress-like boil on a city known for its dignified historic structures. The late longtime Mayor Tom Menino once proposed demolishing it. The current crop of mayoral candidates vying for the corner office differ in opinion on the building's merits, from describing it as "beautiful" to labeling it the "coldest building" in Boston.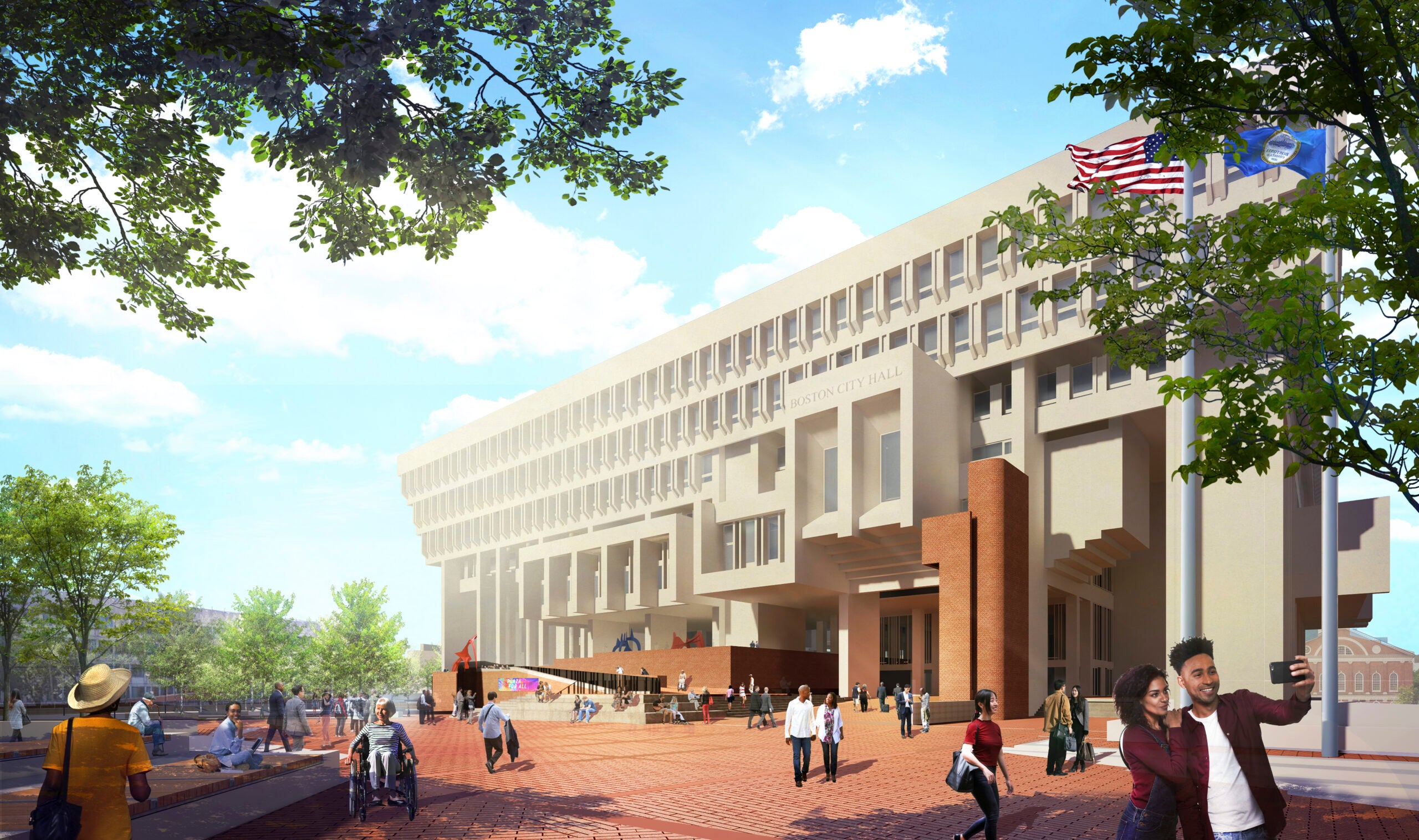 The plaza makeover is designed to make Government Center a more welcoming space for everyday use by adding 3,000 seating spaces; 12,000-square-feet of playscapes for children; and 11,000-square-feet of terraces for interactive public art. Shawmut Design and Construction of Boston is managing the construction.
"We were looking to develop a variety of outdoor spaces that would address the needs of a broader population in the city," said Crowell.
Nearby businesses such as the Starbucks on Court Street, below the famous Steaming Tea Kettle, said all the construction work hasn't hurt business too much.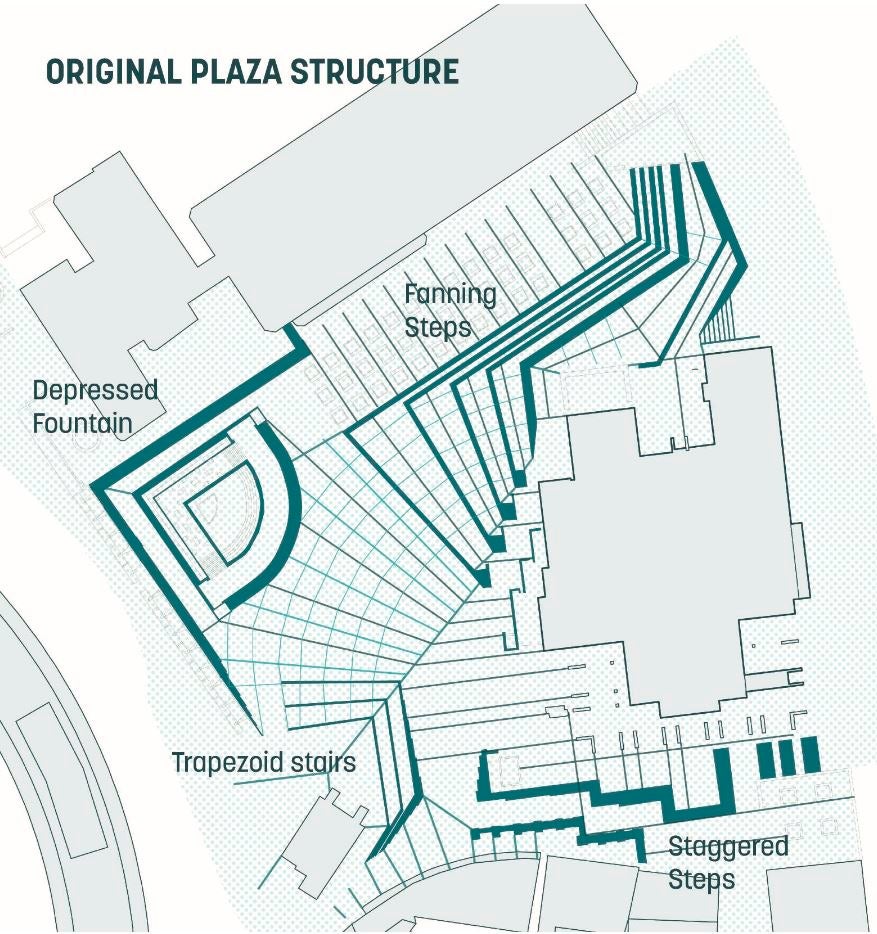 "The construction hasn't impacted it that dramatically," said one Starbucks employee who declined to provide his name because he was not authorized to speak on behalf of the company.
While the project is planting 100 new trees and reducing existing concrete and brick paving, critics think it doesn't have enough green space. But Crowell said the design had to meet programmatic requirements for outdoor events like concerts, for which grass would be unsuitable. He also said the space is not meant to be a public park.
"We think we've achieved a very good balance," said Crowell.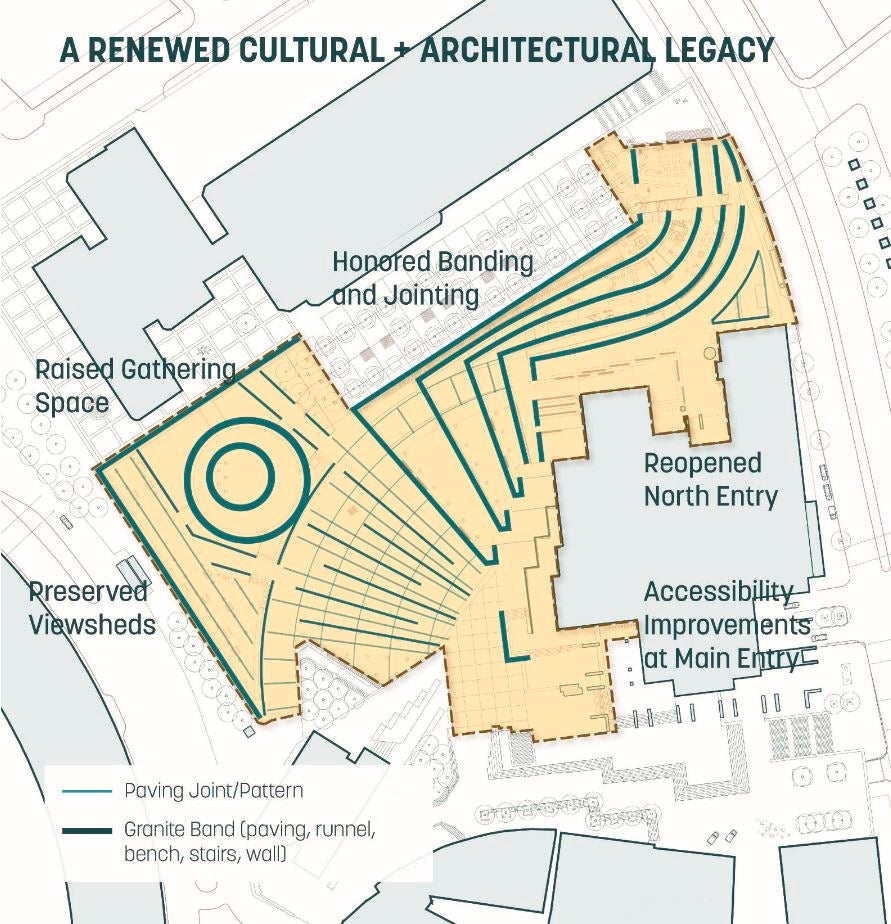 Workers are scheduled to finish the remaining renovation work over the next several months. Work remains on the Congress Street civic pavilion, which will support public gatherings. The terrace near the John F. Kennedy Federal Building is in the process of redevelopment. Granite is currently being fabricating for walls and the new trees that will dot the plaza are being selected from nurseries around the country. And paving is a significant part of the work left to be done, said Crowell.
He said officials hope to complete the project by the end of May.
Newsletter Signup
Stay up to date on all the latest news from Boston.com