Local
Watch: Cape Cod man catches Great White Shark
"Fish took bait, shark took fish."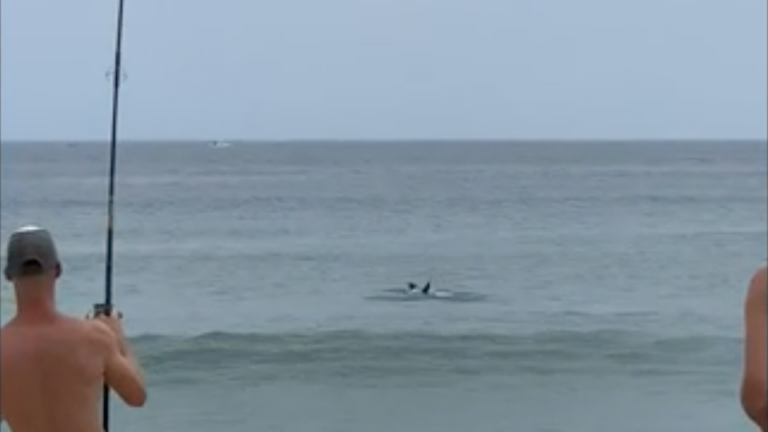 When Matt Pieciak couldn't surf because the tide was too high, he decided to fish instead. He said he was fishing for a bass or blue fish.
Instead, he caught a shark.
In a Boston Globe article, the 25-year-old Orleans resident said he had been camping on the beach since Saturday with his girlfriend. He was playing cornhole at Nauset Beach on Sunday afternoon with friends and family, when he saw his fishing line moving.
"I said 'Dude, hold my beer,' and grabbed the rod," Pieciak told the Globe. "And it all kind of happened quickly from there."
When he came over, he said he saw a large shadow in the water. As Pieciak started to reel in the line, two large sharp fins splashed the water – fins that were too big to be a bass or blue fish.
"Is that a shark?" someone said in a video of the event, which was later posted on Instagram and Twitter.
The Atlantic White Shark Conservancy later confirmed it with the Globe: Pieciak had caught a shark.
Pieciak's dad was the one who brought the mackerel to try fishing, the Globe reported. They set up a fishing pole and waited for a catch.
But he may have got two catches: Pieciak told the Globe he thinks he caught a fish, which the shark caught afterwards.
"It was just the food chain," Pieciak told the Globe. "Fish took bait, shark took fish."
The shark reportedly swam away once Pieciak pulled on the rod. Pieciak told the Globe he was surprised how close the shark was to the beach.
"People had been surfing there, I had been surfing there that day and the day before," Pieciak said. "We spent the whole week surfing right where that happened."
"Great White robbed us while fishing off Nauset Beach yesterday!" Pieciak wrote in his Instagram post.
Newsletter Signup
Stay up to date on all the latest news from Boston.com