Local
Meet Munchkin — the Dunkin' loving duck with millions of fans on TikTok
"This duck just loves Dunkin' — she knows what she was named after, and she loves it."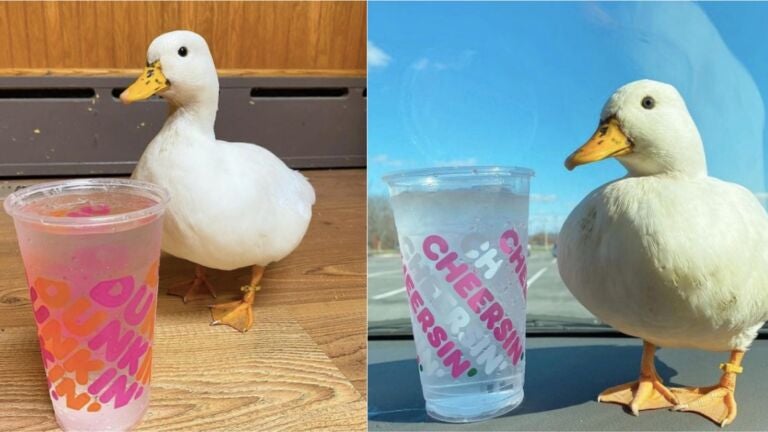 Munchkin, a 4-year-old white call duck, loves drinking ice water from Dunkin' cups, and, apparently, the world loves to watch Munchkin.
After videos of Munchkin enjoying her favorite treat went viral, Munchkin and her owner, Krissy Ellis, 20, amassed millions of social media followers.
Ellis takes Munchkin to the drive through Dunkin' near her small hometown of Milford, Penn., and films brief videos of Munchkin clicking her beak and sipping the water.
Munchkin's regular order? A medium water in a plastic cup, extra ice.
Ellis told The Boston Globe she's been raising ducks since she was 5, but got Munchkin when she was 16. She started making videos almost right away, and began finding fame when she shared videos of ​​Munchkin's enthusiasm for Dunkin' ice water.
"I thought it was hysterical how crazy she went over this Dunkin' ice water I ordered her. She had never gone crazy for water at home like that," Ellis told the Globe. "So I started filming it."
Now, the two have over 2.7 million TikTok followers and 200,000 Instagram followers. Ellis, who uses the handle @dunkin.ducks also shares videos of other ducks and animals she cares for, including Munchkin's two ducklings, Dunkin and Donut.
"She got 40 million views in a week of her drinking Dunkin', and that's how I ended up with 2 million viewers on TikTok," said Ellis. "Now it's kind of been my job since then to bring my duck to Dunkin' and film it. …I never thought I would be a duck's caretaker for a living. But if it works, it works."
Ellis has always been obsessed with Dunkin, and since Munchkin is a miniature breed of duck she decided to name her after the chain's doughnut holes. The two have even gone on a road trip to the original Dunkin' location in Quincy.
Ellis told the Globe that she is not sponsored by Dunkin', which a spokesperson confirmed but also said Dunkin' appreciates "all of our wildly passionate, dedicated, and loyal fans across social media."
Munchkin, of course, is a fan of ice water, but Ellis showed it went further than that. She posted a video of Munchkin sampling and rating ice waters from various spots in town, and even tried to trick her with tap water in a Dunkin' cup.
"People just love duck videos," said Ellis. "I think a lot of people like it because it's something that's happy on the Internet. Just watching a duck drinking water is very calming."
Dunkin' is, and always has been, Munchkin's favorite.
"This duck just loves Dunkin' — she knows what she was named after, and she loves it," said Ellis.
Newsletter Signup
Stay up to date on all the latest news from Boston.com