Local News
'What they did was so wrong': Sisters of woman shot by Saugus police say officers did not have to kill her
Stephanie Gerardi needed help because her mental illness "was progressing," her sister said when she called police.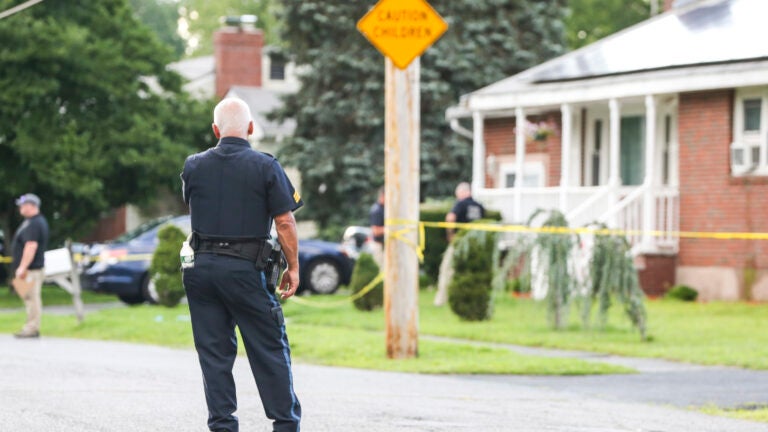 The 38-year-old woman shot and killed by police in Saugus on Saturday was a mom of two who suffered from mental illness, her family said. Her sisters called the police hoping to get her back into psychiatric care, and are now left reeling.
Gerardi's sisters, Stacey and Deanna Gerardi, told The Boston Globe she'd been diagnosed as having bipolar schizophrenic tendencies about 15 years ago, and has been committed several times under Section 12, a state law that allows authorities to hospitalize people with mental illnesses against their will.
That's what Stacey wanted to do when she called the police on Saturday afternoon, and left the house with Gerardi's two children. She didn't call 911, she said, because it wasn't an emergency. Deanna, Deanna's boyfriend, and their 13-year-old son were home with Gerardi when the police arrived.
A trio of Saugus police officers responded to 3 Alfred Rd. around 4:32 p.m. for "a female family member in distress." When they arrived, officers "were confronted" by Gerardi, who had a knife, according to the Essex District Attorney.
Deanna described a situation that quickly deteriorated. She told the Globe she opened the doors for officers and gestured them in towards Gerardi's room.
"My back was turned for a moment," Deanna said. "Stephanie had come walking down the hallway and approached the cops. She said, 'How are you doing?' and they said, 'I'm OK. How are you doing, Stephanie?' She said, 'I'm great. You're very nice-looking. Can I give you a hug?' "
Deanna said the officers told Gerardi to keep her distance and not touch them, which she believes escalated the situation. After that, Stephanie ran into the kitchen and grabbed a knife.
"Then I heard three shots go off," she said.
Deanna told the Globe she was also in the kitchen and ducked down instinctively; she was so close she heard the shell casings fall to the ground.
"After they shot my sister, she face-planted onto the ground," Deanna said. "I freaked out and I ran to my room."
Deanna added police drew weapons on her boyfriend and ordered him to the ground when he became upset about what had happened. Officers told them they had to leave, Deanna said.
"We had to step over my sister's dead body to get out of our home," she said. "I keep seeing it replay in my head. Me seeing her face down on the ground in a puddle of blood."
The Essex County DA's office reported that an officer fired his service weapon three times and struck Gerardi, who was pronounced dead at the scene. The officer who fired the fatal shots has been placed on administrative leave, which is the department's policy. The DA's office promised to release its report on the incident to the public once it is finished.
The sisters described Gerardi as their protector, and said she grabbed a knife for protection when she didn't know why police were in her home. Stacey and Deanna can't understand why lethal force was used.
"Why didn't they defuse the situation?" Stacey asked. "They knew my sister's history. They could have maced her. Shot her in the toe. They could have done so many other things. They did not have to kill her."
An online fundraiser set up to benefit Stephanie Gerardi's children and family said that Gerardi began suffering from mental health issues after high school. Gerardi's two children are 7 and 8 years old, according to the GoFundMe page. The day she was killed, she needed help because her mental illness "was progressing."
"Stephanie was a gentle, caring and devoted soul," the fundraiser said. "She would do anything for anyone."
As of Monday night, the GoFundMe had taken in $17,550 with a stated goal of $100,000.
Newsletter Signup
Stay up to date on all the latest news from Boston.com