Local
Where Boston's mayoral candidates stand on renaming Faneuil Hall
The issue remains controversial, with few of the five major candidates — all of whom are people of color — willing to answer where they stand on the matter.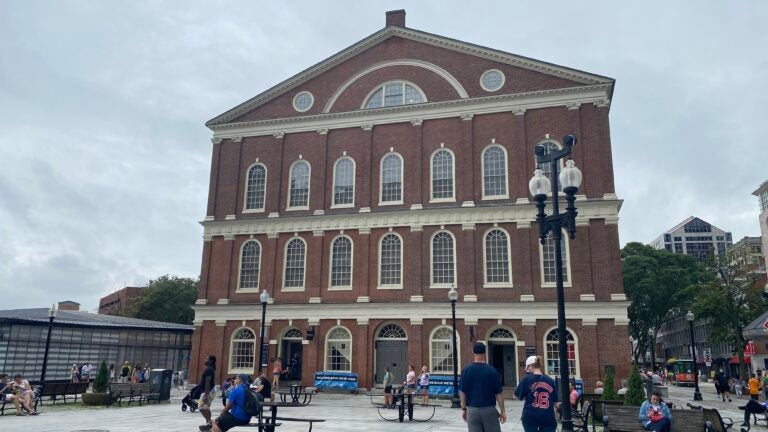 More than a year after renewed calls to rename one of Boston's most famous landmarks, the issue has proven to be a political hot potato for candidates in the upcoming mayoral election.
For years protesters have called on the city to rename Faneuil Hall, a historic marketplace and meeting hall that traditionally draws about 20 million annual visitors, because its namesake profited in the ownership and trade of Africans.
Former Mayor Marty Walsh declared his opposition to the idea before leaving office last spring, despite a nationwide reckoning over racist monuments and symbols.
Though the renaming effort dates back at least four years, renewed interest followed the death of George Floyd, a Black man killed by Minneapolis police last summer.
Local activist Kevin Peterson, founder of the New Democracy Coalition, a grassroots civics organization, is planning another protest to bring attention back on the matter.
"I will be going back on a hunger fast at Faneuil Hall, perhaps next week," he said in an email on Tuesday.
More than 2,600 signatures in support of renaming Faneuil Hall have been collected on the website Change.org.
The issue, however, remains controversial in Boston, with few of the five major candidates in the mayoral race — all of whom are people of color — willing to answer where they stand on the matter.
That includes Acting Mayor Kim Janey, who did not respond to requests for comment on whether she supports renaming Faneuil Hall. Janey, the city's first Black person to become mayor after Walsh resigned to join President Joe Biden's cabinet, has attempted to rebrand Boston as diverse and "all-inclusive" in a $2.5 million marketing campaign to boost post-COVID tourism.
But rebranding a building built by and named for Peter Faneuil, a wealthy 18th-century merchant and slave trader, into a "Cradle of Liberty" is something Bostonians have done for over 200 years.
On Friday, thousands of summer visitors traversed the building originally completed in 1742, perusing T-shirts, postcards, and other souvenirs celebrating Boston's revolutionary history.
Besides a placard within a larger display in the second-floor meeting hall, they encountered little about the connection to slavery that made the structure possible. Faneuil Hall is owned by the city and operated by the National Park Service.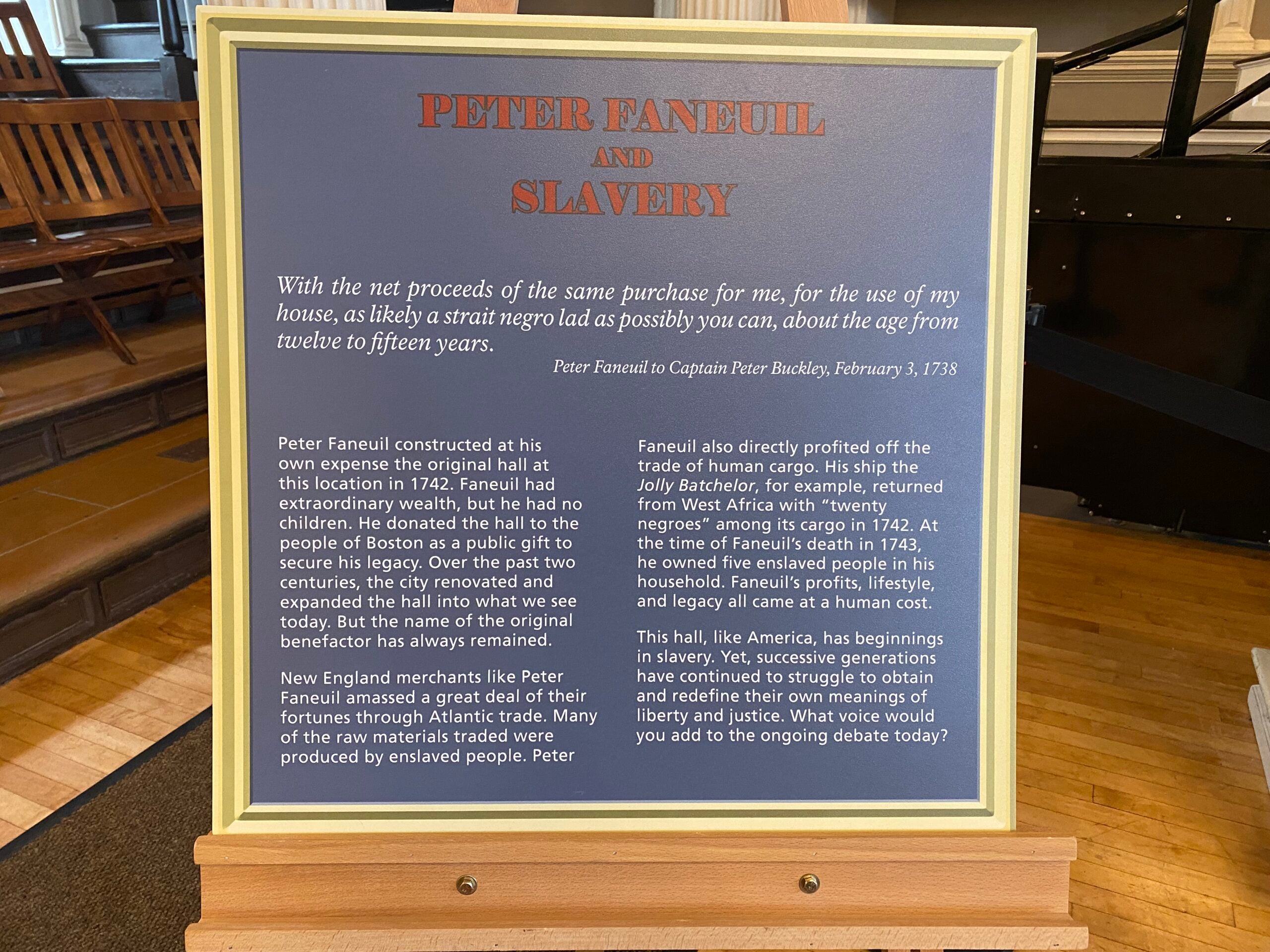 The other two Black mayoral candidates, City Councilor Andrea Campbell and former chief of economic development, John Barros, also did not respond to requests for comment about Faneuil Hall.
City Councilor Michelle Wu, who is Asian-American, has previously called for more to be done to highlight the city's diverse history. For example, she moderated a panel discussion about monuments and equity in 2017. However, she stopped short of endorsing a name change when asked about the landmark's namesake.
"We have a long way to go to reckon with our city's past and dismantle systemic racism in all its forms," Wu said in a statement. "In addition to a full conversation on Boston's monuments, memorials, and place-names, we need concrete actions to eliminate the racial disparities that have persisted for far too long."
During her three terms in office, City Councilor Annissa Essaibi George has called for better representation of women and women of color in naming public art, places, and landmarks. Nonetheless, Essaibi George, who identifies as Arab-American, likewise did not commit one way or another on renaming Faneuil Hall, though she said she was open to a conversation about it.
"I recognize that the fight to rename Faneuil Hall isn't just about changing the name — it's about acknowledging the systemic racism and inequities that exist throughout our city," she said in a statement.
Boston has struggled to shake its identity, whether deserved or undeserved, as a racist city. New census data released this week revealed the city continues to lose its Black population, which dropped by 3.3 percentage points in the last decade.
In some other major cities, the push to rename landmarks tied to white supremacy has been welcomed by elected officials. Eric Adams, New York City's presumptive next mayor, has been outspoken about replacing controversial monuments.
Opponents to renaming argue that the Faneuil Hall brand has become something close to a living monument to freedom for younger generations, despite its less than desirable origin. After all, it's hosted countless orators, from abolitionists to human rights advocates, who have fought for greater equality.
Yet others see a connection between national identity and public spaces, which have long memorialized and prioritized the stories of a select group of people, some of whom have backgrounds considered problematic in today's world.
In a 2002 scholarly article in The New England Quarterly, historian Jonathan Beagle of Western New England University wrote that Peter Faneuil's involvement with slavery was controversial even in early 19th century Boston, when his background was often revived during debates about race and ethnicity.
He quoted abolitionist Wendell Phillips, who in an 1852 address before the Massachusetts Anit-Slavery Society at the meeting hall, said, "Peter Faneuil's ancestors were themselves fugitives from an edict almost as cruel as the Fugitive Slave Law…A Huguenot built this hall, who was not permitted to live on the soil of this own beautiful France, and it may naturally be supposed that he dedicated it to the most ultra, outside idea of liberty."
A preliminary mayoral race to narrow the field of seven candidates to two contenders is scheduled for Tuesday, Sept. 14. The general election is set for Tuesday, Nov. 2, making it almost certain that voters will elect a person of color to run the city for the first time.
Newsletter Signup
Stay up to date on all the latest news from Boston.com