Local
'It's so much more than employment': Pine Street Inn's longest serving employee reflects on 45 years of service
"I'm certainly grateful for all the stories and the connections that I've had with so many people."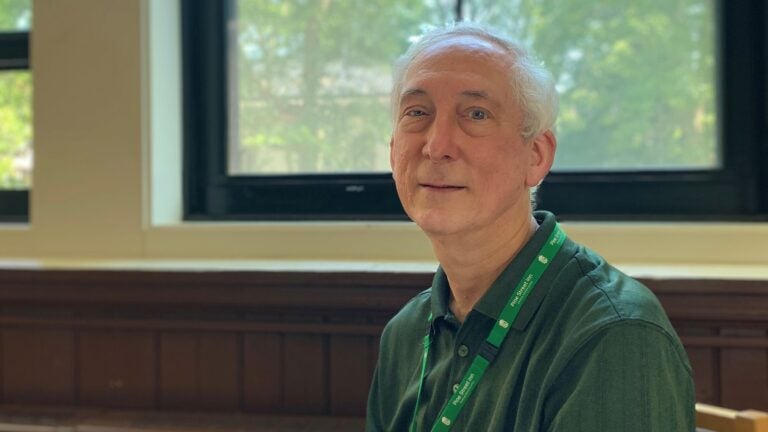 Ralph Hughes moved to Boston in the 1970s after graduating from New Hampshire University and took up several jobs in customer service. But in his mind, he knew he wanted to work for something more meaningful.
Inspired and influenced by Dorothy Day, a co-founder of the Catholic Worker Movement, Hughes began volunteering at Haley House, a homeless shelter and soup kitchen in the South End. He also began volunteering at the Pine Street Inn, helping to serve food and offering clothing to those in need of a reprieve from the street.
It was the start of his 45 years working in service of the city's unhoused residents.
In June, Hughes retired from the Pine Street Inn as its longest tenured employee.
"What's been really meaningful for me has just been to work with such a talented, dedicated staff, a community of persons at all levels of the organization who are motivated, committed, and compassionate," Hughes told Boston.com. "For so many people who work at Pine Street, it's so much more than employment. It's the commitment to the mission of the organization and to the people that we serve."
When Hughes first began working at the Pine Street Inn as a volunteer, he supervised the evening shift for men in the shelter — they did not serve women at the time. He provided the men with a meal before they used the showers and headed to their dormitories for the night.
In the following years, he went on to hold several positions at the nonprofit, including serving as supervisor for the live-in staff, director of housing, director of property management, and interim executive director. At the time of his retirement in June he was serving as senior project manager.
Pine Street Inn, which is now the largest homeless service provider in New England, has grown significantly during Hughes's tenure from its beginnings providing only necessities such as food, clothing, shelter, and basic medical care. In 1984, it began building its own housing to provide more permanent supportive housing.
Currently, the nonprofit has around 850 units of permanent supportive housing and it aims to build 1,000 more.
Over the last 30 years, Hughes has led the organization's Rapid Re-Housing program, which provides permanent housing to formerly homeless people, setting them up with leases, and working with other supportive services to secure homes for individuals.
"I'm certainly grateful for all the stories and the connections that I've had with so many people who have had such challenging lives and have become homeless, and been grateful to see so many of them move on to housing and to a better life," he said.
Hughes saw several changes that affected those struggling with homelessness in Boston during his time with the Pine Street Inn, starting with the shuttering of mental institutions across the country in the 1980s, which resulted in many individuals with chronic mental illnesses living unsheltered on the city's streets.
He recalled times when shelters were so overcrowded that 700 people were crowded into spaces with only 350 beds, resulting in individuals sleeping on the floor, benches, or wherever they could find some space.
Over the years, Hughes and his colleagues at Pine Street Inn have continued to provide shelter and housing opportunities in the face of numerous new challenges including the housing crisis, gentrification, and the opioid epidemic. The organization aims to help those without housing not only by providing them with temporary shelter, but by helping individuals find stability and a more permanent pathway out of homelessness.
For a time, Hughes said, there was a misperception that people chose to be homeless.
But nothing could be further from the truth, he said.
"One of the wonderful things I've been privileged with while working at Pine Street Inn has been to get to know many of the homeless men and women over those years, just the resiliency of their lives, and all that they've been through …It's been wonderful for me to hear," Hughes said. "And for them to share their stories of how they came to be homeless and their love, desires, and hopes for the future."
After he takes some time for himself in retirement, Hughes said he will continue to give back to the community, but this time for a different cause.
For the last year and a half, Hughes, who is a dog lover, has been working with an organization that trains service dogs. He recently trained a golden retriever that was matched to work at a school for children with disabilities.
Hughes said that he also hopes he will stay connected with the Pine Street Inn in his retirement, possibly going back to his early roots in the field by volunteering in his free time.
"I still have a great commitment to the staff and to the people that we serve at Pine Street and hope to stay, in some way, connected with the organization," he said.
Newsletter Signup
Stay up to date on all the latest news from Boston.com