Local News
'They've created a mess': Community leaders have mixed feelings about permanent closure of Mass. & Cass 'comfort station'
"They don't have long-term plans, they just react."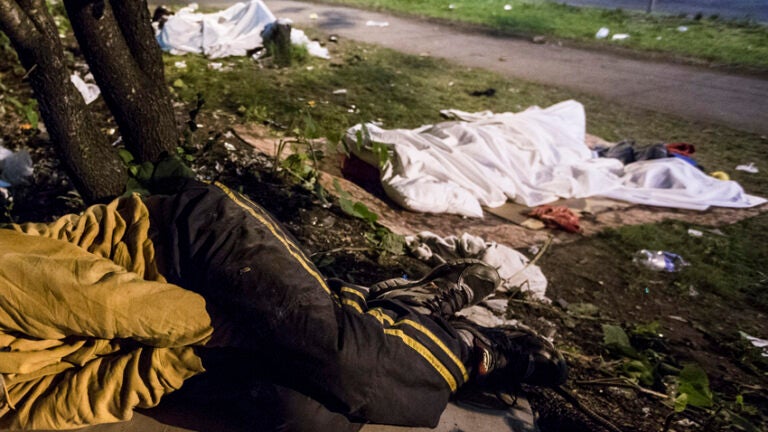 The City of Boston permanently shuttered its "comfort station" in the area of Massachusetts Avenue and Melnea Cass Boulevard at the end of July over what officials said were "security concerns," but local neighborhood leaders and community advocates are concerned that it remains unclear what next steps officials will take to address the still worsening situation around "Mass and Cass."
Acting Mayor Kim Janey's office said in a statement that the station on Atkinson Street — an enclosed area with tents, portable toilets, hand-washing stations, and outreach services — was closed on July 29. It was originally created in 2020 under the administration of former Mayor Marty Walsh to address the increased demand and need for services around Mass. and Cass, which has become the epicenter of the overlapping crises of mental health, homelessness, and substance use disorder in the city. The pandemic exacerbated the opioid epidemic across the region and worsened conditions in the area by causing disruptions to supports and shuttering resources relied on by those struggling with addiction and homelessness.
Since its creation, the station became a flashpoint in the debate over how to best address the deteriorating conditions around Mass. and Cass. The acting mayor's move to permanently close the station has drawn criticism from her competitors in the mayoral race, with at least two of her fellow candidates accusing Janey of not taking enough action to address the crisis around Mass. and Cass.
Janey temporarily shut down the station in late March, citing escalating violence, but it reopened in May with changes city officials said aimed to address issues of safety and overcrowding.
David Stone, president of the Blackstone Franklin Square Neighborhood Association and a member of the Mass./Cass Taskforce, supported reopening of the comfort station in May. Seeing it permanently closed now, he told Boston.com he is "discouraged" because he supported the idea that a low threshold space for people struggling with addiction was needed in the area.
But he accepts that purpose may no longer have been possible because of the changes in the area.
"Under current conditions, where the atmosphere on Atkinson Street, Topeka Street, and Southampton is one of near anarchy, and the explosion of tents and parks and outdoor living and sort of 'anything goes' atmosphere, I can believe that it may have become untenable," he said of the station. "Just due to the sheer amount of disorder it is surrounded by."
The search for a 'a real, equitable solution'
Yahaira Lopez, founder of the South End – Roxbury Community Partnership, has been demonstrating and calling for city and state leaders to take action to address the impacts of the overlapping crises on the surrounding communities. Lopez, a resident of Randolph, grew up in the South End and her mother still lives in the neighborhood.
In the spring, she and members of her group asked the city to keep the comfort station closed until an "equitable public safety plan that does not exclude community safety" was put forward alongside the efforts to provide treatment and recovery services to people in need.
With the station's now permanent closure, Lopez said she's not happy — but she's not "mad" either.
"It's 50/50," she said. "Because I think as one of the organizers, we're continuing to ask for decentralizing — we also know that some of the services on Mass. and Cass have been successful in getting people into recovery and treatment services and they have also saved many lives."
But she said it's clear more and more people come into the area for help every year, which is one of the reasons why she and others are pushing for services to be decentralized.
"We've been asking for the comfort station to be closed and calling for the city and the Commonwealth of Massachusetts to figure out a real, equitable, solution that allows for services to be decentralized to as many communities as possible … it needed to happen until somebody actually thinks about how to help individuals have access to treatment and recovery services throughout the Commonwealth of Massachusetts," Lopez said.
'They don't have a plan'
George Stergios, president of Worcester Square Neighborhood Association, said when he learned of the station's closure at the end of July he assumed the city would reopen it, as it had done before, or that some other proposal would be put forward.
Instead, in the weeks since it closed more and more tents have gone up on Atkinson Street, he said.
"It's what the city's good at — thinking short term but not having a long-term plan," he said. "And that's Walsh and that's Janey. They don't have long-term plans, they just react."
The comfort station's mission, to keep people alive and offer an opportunity for harm reduction amid COVID-19, worked, he said.
But the neighborhood leader said he believes it also became an attractive destination for people from across and outside the state, becoming known as an informal safe injection site where people could use drugs with people nearby to help if they overdosed.
"Now they're going to close it and all those people are already here, so they don't have a plan for what they're going to do with all the people they attracted with their short-term plan earlier," Stergios said.
Since the station was closed due to security concerns at the end of July, violence in the area has continued, including fatal stabbings on Aug. 8 and Aug. 23.
According to Stone, the circumstances in the area are "by far the worst they've ever been."
"The level of disorder, chaos, and human misery is unprecedented in that immediate area," he said. "And that says a lot, because it's been a tough scene for years."
The number of unhoused individuals at Mass. and Cass has "exploded" in the last six weeks, Stone said. He estimated that across Atkinson, Topeka, and Southampton streets, there are more than 100 tents.
"There's something going on," Stone said. "The issue has been around for years, but there's something that's going on right now that's causing people to feel like they're able to stay outside."
Concern over what happens next
The worsening conditions are also being felt in surrounding residential areas.
Domingos DeRosa, who runs the Boston Bengals Pop Warner out of nearby Clifford Park, has been raising concerns for years about the impact of the crisis on his players and kids in the park, witnessing overdoses and being exposed to improperly discarded needles in the field.
He told Boston 25 News this week the football program may have to close with safety concerns affecting enrollment.
"We went from 300+ student athletes down to 30, and it's all because of what spills over from Mass. and Cass," he told the station. "Parents keep pulling their kids out, and I understand why."
Stergios is concerned about what happens next now that the station is closed.
"They've created a mess, they sort of corralled it into one spot," he said. "And now having closed it, these people are going to be all over the place without access to services, without anything."
Lopez said it also remains unclear to her what is being done by the city or service providers in conjunction with the station's closure.
She said she's hearing worries and concerns that without the station, the surrounding residential areas will see even more impacts — improperly discarded needles, human waste, refuse, and open drug use — move away from the center of Mass. and Cass, either as individuals change locations on their own or because of "sweeps" by the city.
Talk of such city action have been circulating across the neighborhoods in recent weeks, according to both Stergios and Lopez.
They agreed that simply removing the tents and pushing people out of the area, as the city did in 2019 with "Operation Clean Sweep," isn't the right solution.
"There is a sense that finally the community's being heard but there's also the sense of, 'Guys, although we've been complaining or advocating, we're also asking that you do things the right way,'" Lopez said. "Don't close things down and then we have another crisis because you guys are like hey, they're complaining, we're just going to shut it down and the next thing we know, you don't even have a plan for the other stuff."
When Boston.com reached out to the Boston Public Health Commission, which operated the city's comfort station, for information about how the city is handling any potential impacts from the loss of the services at the station, a spokesperson pointed to the statement previously released by Janey's office.
"The Engagement Center adjacent to the comfort station remains open 7 days a week, and continues to provide a safe space inside and outside for people to get services and essential needs," the statement from Janey's office read.
'Their policy has been failing for several years now'
Stone said worsening impacts to surrounding neighborhoods is a long-term concern following the station's closure.
"But at the moment, I think that things are such a free-for-all in the immediate area of Southampton Street that people are just going to stay there because that's the easiest place to be," he said.
He said he believes the most important immediate next step for the city is to remove the tents and encampments that have sprung up in the area to address safety concerns.
The goal should be to get people into services and shelters.
"Boston has enough shelter space, unlike many other cities, to be able to achieve that," Stone said. "Obviously these are super complicated people, there are reasons why they are not in shelters, but living outdoors can't be an option. And it certainly can't be an option at the scale that it's currently occurring at now."
Something has to be done to create more order in the area, Stergios agreed.
But it's such a mess he said he doesn't see an immediate solution.
"The reason we have to take immediate action is because their policy has been failing for several years now … What they should have been doing — the city and the state for years now — is opening up other facilities in other neighborhoods in other towns, and we wouldn't have gotten to the point that we have gotten to," he said.
While Lopez said while she and others aren't happy to see the station gone, given the purpose it served, she said her group is encouraged by feeling as though state and local leaders are beginning to hear their calls for decentralization of services.
She is hopeful addressing the conditions around Mass. and Cass will continue to be a state-wide conversation — that no one will be able to run away from taking responsibility for the epidemic.
"I just hope that they have a plan to really address this, versus closing it down and not putting systems in place to get people into recovery and treatment services," Lopez said of the station. "Because that's not going to be fair to those individuals who are navigating addiction. And it's also not going to be fair and safe for communities who are now going to end up having to wear the hat of clinicians and first responders in trying to aid people — and how is that going to work?"
Newsletter Signup
Stay up to date on all the latest news from Boston.com