Local News
Woman recalls flood waters rising into her vehicle on Storrow Drive as region recovers from Ida
"That's my first thought — I'm going to drown in my car."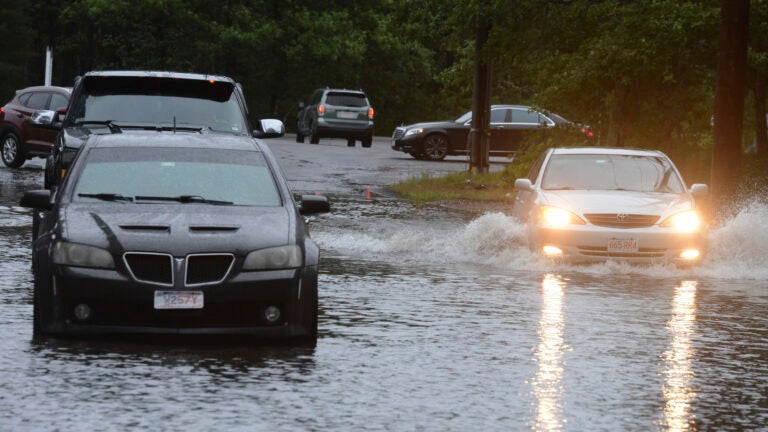 Nancy Shack was headed to work early Thursday morning when the car in front of her on Storrow Drive slowly made its way through some flood water left brought by the remnants of Hurricane Ida.
"I didn't realize the water was rising so fast, and as I drove into the underpass, the water started coming up, and I couldn't make it across," the Brookline resident told WBZ. It was around 3:30 a.m.
The car stalled and Shack called 911; she was directed to state police. By that time, the water had reached her steering wheel. She started to panic, she said, according to the news station.
"That's my first thought — I'm going to drown in my car," Shack told WBZ.
Luckily for her, state police arrived shortly afterward; the water had reached her chest when they pulled up, according to WBZ.
Holding flashlights, troopers made their way to her car. Firemen were able to help Shack out the back of the vehicle, and they walked and swam to safety. Her car, meanwhile, is a total loss, the news station reported.
Ida battered the northeast Wednesday afternoon into Thursday. At least 46 people died across the region; 23 of them were in New Jersey. The storm also caused a tornado in Dennis, Mass.
Minus Providence, the National Weather Service Boston said its climate sites "received more rain during the first two days of the month than we typically see all September."
There have been four tropical storm systems that have gone through Massachusetts this year, and all together they've dropped at least 10 inches of rain, and caused six tornados, according to meteorologist Cindy Fitzgibbon of WCVB.
Newsletter Signup
Stay up to date on all the latest news from Boston.com