Local News
Massachusetts traffic is back. It's also different. Is it about to get worse?
"We don't want to, all of a sudden, turn on all the faucets, and flood."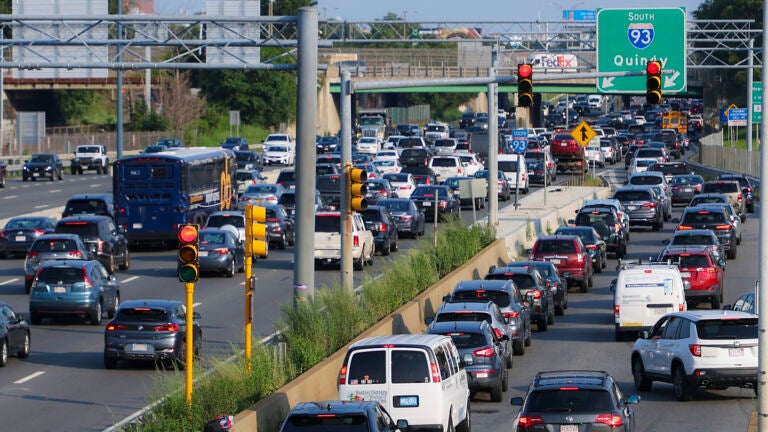 You probably saw the headlines this summer (or you've seen it up close). For all intents and purposes, Massachusetts traffic is back.
However, as state Highway Administrator Jonathan Gulliver recently said, it's "different" than it was before the COVID-19 pandemic, more dispersed throughout the day and generally less intense during rush hour.
At least for now.
"We are expecting a surge," Neil Boudreau, the state's assistant administrator for traffic and safety, recently told Boston.com.
According to Boudreau, traffic in Massachusetts has historically gotten "really bad" after Labor Day, before settling back into the usual, if still bad, patterns.
"The first couple of weeks in September are usually a disaster … and then I think people figure out their schedules and their timing and stuff like that, and then it seems to get better," he said.
This year, however, is a bit less predictable.
In addition to students returning to class in full force, many workers are returning to the office for the first time in 18 months this fall. A significant number of them are also now taking cars rather than public transit; according to a MassInc poll in June, 27 percent of Greater Boston residents said they plan to drive more — more than twice the number that said they'd drive less — while around a third said they would take the MBTA less. Ridership on the MBTA's subway system remains down by more than half, according to state data.
At the same time, traffic volumes have gradually crept up across the board this summer to within 5 percent of 2019 volumes as of last month, suggesting that many people have indeed shifted from public transit to personal vehicles.
The trend worries transit advocates, who say Boston's nation-leading congestion from before the pandemic could somehow get even worse if that shift holds as workers return to the office. Boudreau is concerned about a "major crush," too.
"We obviously didn't build more road capacity during the pandemic. We still have the same number of lanes coming in and out," he said, later adding, "We don't want to, all of a sudden, turn on all the faucets, and flood."
However, it's possible that the better metaphor is a slow drip-drip rebound in traffic (or perhaps a frog in boiling water).
"It's going to be a slow, gradual recovery," says Mark Burfeind, the global communications director at the traffic analytics company INRIX.
As the delta variant in COVID-19 has driven an increase in infections, a growing number of large companies in Massachusetts have again delayed plans to return to the office until later this fall, if not 2022. And a state-commissioned report by McKinsey and Company this summer estimated that 90 percent of businesses will incorporate some degree of remote or hybrid work into their plans for good.
Additionally, the traditionally high-traffic roads still have room to absorb the increase.
Burfeind says travel times at 5 p.m. in the Boston area are still 33 percent faster in 2021 than they were in 2019, "which is extremely significant," but in line with trends seen in peer cities like San Francisco. Travel times are also 15 percent faster in the morning, he said.
"The morning peak is still considerably down," Burfeind said. "The afternoon peak is still down. And so even if we were to turn on a few of those faucets, there's still quite a bit of wiggle room, or still some capacity in the system."
According to INRIX, overall vehicle miles traveled in Suffolk County also remain down 15 percent compared to pre-COVID-19 levels. Traffic volumes in nearby Middlesex and Norfolk counties are down 15 percent and 9 percent, respectively.
Most other counties, with the exception of Bristol, have reached or surpassed pre-COVID-19 traffic volumes; Barnstable traffic is even more than double its January-February 2020 baselines, amid the busy summer tourist season.
Still, Burfeind says the increases in those more rural counties don't result in much "traffic congestion," compared to Boston where small percentage increases could spell gridlock.
Boudreau says most highways in the Boston area aren't close to that threshold point.
For example, traffic on the Mass. Pike between I-95 and Boston remains down by more than a quarter in all directions during both the morning and evening peaks. It's also between 11 percent and 26 percent lower on I-93 north of Boston.
"It's busy during those times now," Boudreau said. "But it's not busy to the point where you've got so much traffic that there isn't the ability for the road to handle all that traffic … We're not seeing those huge long backups yet."
One glaring exception is the Southeast Expressway, where an increase in reverse commutes has created longer travel times in the opposite direction during rush hour, compared to 2019, while those driving north to Boston in the morning and south in the afternoon are only seeing slightly shorter trips.
And though the dispersion of traffic throughout the day has made traditional off-peak times more busy, Burfeind doesn't expect rush hours to reach their pre-pandemic intensity this fall. During a MassDOT meeting in July, Gulliver stressed that traffic patterns aren't expected to settle until November or December.
Over the coming months, Boudreau hopes that delayed returns to the office, remote work, and schedule flexibility softens the edge of the traditional rush hours, especially for those who still need to work in-person 9 a.m. to 5 p.m.
"By having other people take that flexibility, it gives them the opportunity to get in," he said.
If and when the crush of gridlock does return, Boudreau also thinks that harsh reality will incentivize more commuters back onto public transit.
"The flexibility of having your car … as that goes away, then people will make decisions that benefit themselves," he said.
Of course, one other big difference about traffic compared to 2019 is that it may not be the most pressing concern at the moment for many residents, compared to other return-the-office issues like COVID-19 and managing child care, Burfeind noted.
"When things are going good, you worry about traffic," he said.
Newsletter Signup
Stay up to date on all the latest news from Boston.com