Local
Cambridge School Committee member says her family was racially profiled, accused of stealing during visit to Connors Farm
"It just wasn't right. Period."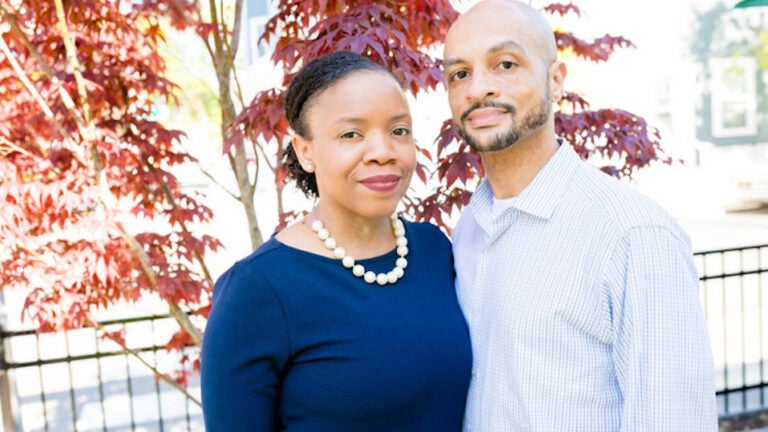 A member of the Cambridge School Committee is speaking out after she says her family was racially profiled and accused of stealing when they visited Connors Farm in Danvers this week.
In a letter posted online Wednesday, Manikka Bowman, who is vice-chair of the School Committee, and her husband, Jeff Myers, who works in real estate, shared details of the "traumatic experience" they had on their Labor Day trip to the Danvers farm with their two young children, a 7-year-old and 18-month-old.
"The day started off with family fun then turned into trauma we will never forget," Bowman wrote on Facebook. "My purse was searched and when we challenged what was happening to our family, Connors Farm called the police on us."
Connors Farm did not immediately return a request for comment on the incident from Boston.com on Thursday.
According to Bowman and Myers, it was the family's first time at the business, and they "instantly loved it."
They paid for all-day admission, fruit picking, and food and drinks while they were there, totaling more than $100, they wrote. They were considering holding their daughter's birthday party at the farm and already planning when they could return.
"Throughout the day, the staff was gracious and helpful," the couple wrote. "But that dramatically changed as we were approaching the end of our day."
As they left the orchard area and were heading to the farm store where they planned to buy apple cider doughnuts, Bowman said she checked the bag they'd been given for fruit picking to ensure the apples and peaches they'd harvested could fit in it.
"I realized that our little ones, in their apple-picking excitement, had picked up a few more apples than fit in the bag," she wrote. "I assumed we'd have a chance to pay for the extras in our final checkout. With families being primary customers, surely, we couldn't be the first to have excitedly over-picked by a few apples—six in our case."
But before the family got into the farm store, a security officer stopped them for having too many apples that were not in the apple bag, the couple said. The bag, which they'd placed in the bottom of their stroller, had fallen over and some of the fruit had fallen out, they said.
Two security officers escorted the Cambridge family into the farm store building where Bowman's purse was searched for more fruit, the couple said.
"I asked the person why were we being treated this way? And did they treat other guests this way?" Bowman wrote. "As it became apparent that the security guards, along with a third employee who was located in the farm building, were accusing our family of stealing, our outrage at the false accusation and the embarrassment and confusion it was causing us grew stronger. We asked to speak to the manager."
The farm stand employee then identified himself as the manager, according to their letter, and Bowman and Myers asked for contact information to speak with the owners, a request they said was refused with the employee then calling the police.
"The police officer was tempered," Bowman wrote. "However, despite our visible frustration and attempts to explain the situation, he never took our position seriously. Rather, his actions and words assumed that the manager's narrative was accurate and then accused us of 'playing the race card.'"
During the confrontation, Bowman said their 7-year-old daughter burst into tears that "lasted well into the evening."
"What made them suspect us of stealing?" Bowman wrote. "Had our skin color influenced their thinking? Were we presumed guilty because we are an African American family? Why hadn't they taken a much simpler, customer-friendly route and presumed our innocence with a simple reminder on what to do with any fruit that did not fit in the bag?"
In the end, the family paid for the extra apples, the couple said. But when they got home, they found that the bag they paid for was not filled to full capacity.
"As a result, Connors Farm overcharged us for extra fruit," Bowman wrote. "What would those six extra apples have cost? A total of about $4.00. We are left wondering, was it ever about the apples?"
Connors Farm did not respond to a request for comment, but on Thursday morning they posted a video of their orchard on their Facebook page with a message that referenced their "right to inspect all backpacks, bags and strollers" exiting the orchard.
"We are going to have beautiful weather this weekend," the business wrote. "Our orchard is overflowing with apples. Everybody is welcome at Connors Farm. Come on down, purchase one of our apple bags, fill it up and enjoy the day. Just a friendly reminder that we reserve the right to inspect all backpacks, bags and strollers that exit our orchard. We look forward to seeing you soon!"
Update: Shortly before 4 p.m. Thursday, Connors Farm posted a statement on its Facebook page, saying it regretted the incident and "extended our personal apology to the family." It also said staff would undergo "diversity, equity and inclusion training" and deleted the video from Thursday morning.
The statement in full:
"We regret the incident that happened this past weekend. We have extended our personal apology to the family. We do our best to train our employees to handle all customer issues with courtesy and respect at all times. We are taking further steps to ensure that staff will undergo diversity, equity and inclusion training. Please know that everybody is welcome on our farm."
Bowman told Boston.com on Thursday that at first, it was difficult to understand what was happening as her family was confronted.
"When it registered, we were very saddened and disheartened as a family," she said.
The concerns she and her husband raised during the interaction with the farm's staff were never acknowledged, she said. They sent the letter to Danvers officials on Wednesday posting the statement online later in the day.
"It just wasn't right. Period," Bowman said of why she and her husband shared their experience. "My daughters witnessed an ugliness, and it was profiling at its worst. And institutions, whether it is bad customer service or there is something more sinister around profiling our race or assuming that we had some type of criminal intent based on the way we look — none of it's right. Regardless of what motivated them to do that. And the story needed to be told."
'We're very disappointed that this happened'
So far, the family has received an outpouring of support.
Bowman said she believes the response is because when people see her family, they see themselves, regardless of skin color.
"This could legitimately happen to anyone; however, how it's handled may be different because of what we look like and the family that we're in," she said. "But people joke around with us and say we're as apple pie American family as they come. I think people see themselves in us and recognize that the slight difference is that we're an African American family and that possibly had a significant influence on the cops being called and the way we were handled."
Bowman said she still hasn't heard from the farm's owners, but that Danvers officials are in touch about speaking next week.
"We still have to have conversations, but I think it's a good first step that they responded to us and heard our concerns in a way that did not happen the day that the incident took place," she said.
Danvers Town Manager Steve Bartha told Boston.com that since receiving the letter from Bowman and Myers he has spoken with the town's chief of police, James Lovell.
"The events that are described in the letter are corroborated in the police report," he said.
Bartha said the police officer who was called to the scene by the business was already working a traffic detail on the nearby road, a task the department provides because of the car and pedestrian traffic to the farm.
"The chair of the Select Board, the chair of the Human Rights and Inclusion Committee, the police chief, and I are all very concerned," Bartha said. "We're very disappointed that this happened. I cannot begin to fathom what it is like to be put in a situation or treated a certain way based on the color of my skin. And I want to be clear, I've read the letter, I've read the police report, and I think that the facts are accurate.
"So it's disappointing," he added. "It's disappointing — whether they were treated differently or not doesn't really matter. They feel that way, and that's not OK. We want to focus on making sure that our police are all trained on de-escalation, that they are all trained each year on implicit bias."
The town manager said he is hoping Bowman will be able to sit down with himself and the police chief next week, to share more of her experience and any recommendations she might have for what the town can do differently.
In their letter, the Cambridge couple asked for three things: a written apology from the owners of Connors Farm, that the money they spent be refunded in the form of a donation to the Essex Country Community Foundation to support racial equity, and that both the farm and Danvers police commit to diversity, equity, and inclusion training.
Bartha said in the aftermath of the incident, he is focused on the interactions town employees have with the public. Because of controversy in Danvers last summer over the use of the thin blue line flag, de-escalation and implicit bias training are already in place.
But he said there is additional work underway to ensure Danvers remains a "welcoming place."
"We want to make sure we have a growth mindset, and we're doing what we can to make sure that people who live in Danvers, who come to Danvers, feel safe and respected," he said.
As for the police officer who responded to the incident, Bartha condemned the statement allegedly uttered about "playing the race card."
"That was 100 percent the wrong thing to say," the town manager said. "I don't think anybody is disputing that."
Bartha said the officer in question, a longtime member of the department, has been spoken to by the chief of police.
"I think we would like to sit with Ms. Bowman before we determine what kind of training is appropriate," he said. "My sense is that there's not a case for discipline here, but I think there's a case for training and education."
'An opportunity for us all to reflect'
A few days out from the incident, Bowman said she and her family are still processing what happened.
But they're also having to get on with the demands of their daily lives — including, for her daughter, returning to school on Thursday.
She and her husband are paying close attention to make sure the 7-year-old doesn't internalize what happened to her in any way — to make sure their daughter knows she has the right to be wherever she wants to be.
"We're just going to continue to have the talk with her," Bowman said. "We always talk about these issues because that's what African American families do. I wish it didn't have to happen in the way it did, as it relates to how we had the conversation with her. But I do believe it's something she's going to remember for a lifetime, when it comes to apple-picking season."
As for broader conversations going forward, Bowman said she hopes the incident can result in a moment of the community coming together to talk about the way people are treated — about diversity, equity, and inclusion — in a way that moves progress forward.
"I hope that this is an opportunity for us all to reflect and for people to really dig deep and understand what bias can look like at its worst," she said. "And for a business to really understand that as well — and also to understand the value of customer service. If that was not the intent, racial profiling — but that's questionable — but still at the end of the day, it's no way to treat a family that simply just wants to enjoy a fun day before school starts."
Newsletter Signup
Stay up to date on all the latest news from Boston.com