Local
'We're in a disaster': President of Greater Boston Food Bank calls for immediate action by city to address conditions around Mass. and Cass
"We're just sitting here having a tsunami bury us."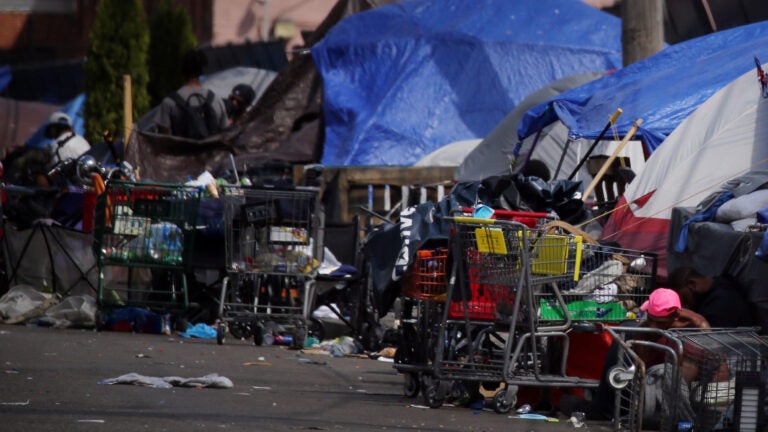 The leader of the Greater Boston Food Bank is calling on city officials to take decisive action and address the public health emergency in the area of Massachusetts Avenue and Melnea Cass Boulevard, which has become the epicenter of the opioid epidemic and crisis of homelessness in the region.
In speaking out about the issue, Catherine D'Amato, president and CEO of the nonprofit, is joining the chorus of business leaders, neighbors, and advocates who have been pressing for more to be done to address the worsening conditions on the city blocks, which have seen a drastic increase in the number of people living on the streets since July.
The impacts related to substance use, homelessness, and mental health in the stretch of city blocks surrounding Mass. Ave. and Melnea Cass Boulevard, an area dotted with shelters and supportive services sometimes referred to disparagingly as "Methadone Mile," are not new.
But the coronavirus pandemic exacerbated the crisis. Safety has become such an issue in the area that the city closed its "comfort station" on Atkinson Street, which was initially opened last year to address the surge in demand for basic services like bathrooms, handwashing stations, and outreach stations.
D'Amato told Boston.com it was around Aug. 1 of this year when things really started to get out of control on Atkinson and Topeka streets, with the number of tents and temporary shelters on the roads growing from a handful to around 200.
"There are so many more people — it is now a tent city," she said.
The neighborhood has seen fatal stabbings, robberies, and destruction of property, with garbage — including discarded needles and human waste — littering the streets.
"It's dangerous," D'Amato said.
The impacts on the food bank, which is based on South Bay Avenue around the corner from Atkinson and Topeka, have also been growing.
D'Amato said the nonprofit invested $500,000 on new security cameras, fences, and gates that lock at night to ensure the safety of the facility, which helps feed 600,000 people every month.
Another $500,000 is being used to hire more security guards for round-the-clock staffing.
That funding would otherwise be used to buy $1 million in meals, according to D'Amato.
"It's a lot of money," she said. "And we're not alone. Many Newmarket business members have had to invest in repairs due to property damage and due to concerns regarding the safety of their team. This is a very severe problem."
The CEO said normally the trucks transporting food to and from the food bank use Topeka Street to access the facility. But with so many people on the street now, the tractor-trailers are essentially blocked and are now having to use More Street, which is a private way.
"We have 23 to 40 trailer loads come a day — this a major charitable food distribution center," D'Amato said. "So if you cannot get the food down the street, you cannot get it into the building, therefore you cannot get orders met to get it out to the people and the organizations we serve. We've had agencies try to get down the street, and their cars have been — you can't go through a crowd of people."
People, under the influence of drugs, have fallen in front of cars attempting to navigate the crowded streets.
"I've had it happen myself," D'Amato said. "Someone's going to get killed. They have to be moved. They have to be moved to a safe place."
Due to safety concerns in the area, the nonprofit has also seen volunteers, who they rely on, stop coming in. The food bank has been providing Ubers and taxis to staff who rely on public transportation and are concerned about walking around the area.
It's a public health and safety crisis that D'Amato said needs more mitigation from the city.
"We need solutions, we need actions, we need a plan to make sure people have housing and that they're safe and that they have resources," she said. "But we also need police present. We need garbage picked up. We need these things to happen."
To the food bank leader, it appears the city has abandoned the Newmarket Square area.
"We're just sitting here having a tsunami bury us," she said.
D'Amato said it's time for "real action" — not just walkthroughs by politicians or the response of "we're working on it."
Acting Mayor Kim Janey, city councilors, and Suffolk District Attorney Rachael Rollins all have opportunities to lead on the issue, she said.
"This is the city's responsibility," D'Amato said. "The city has multiple areas for services — public health, department of public works, the police department — many entities that can step forward and be helpful. And that takes Mayor Janey calling us all together."
In response to a request for comment from Boston.com, a spokesperson for Janey released the following statement: "As the Janey administration prepares for a transition to new leadership, the City remains committed to prioritizing both public health and public safety in our response to the opioid crisis."
The remaining mayoral candidates who will face off in the general election in November — City Councilors Michelle Wu and Annissa Essaibi Geoge — both have put forward plans to address the crisis.
Asked about the situation faced by the Greater Boston Food Bank, both politicians referenced how they would tackle the situation if elected.
Wu said in a statement that the cost to the food bank "demonstrates how starkly government has failed to address the situation at Mass Ave and Melnea Cass Boulevard."
"As Mayor, I'll implement a citywide plan for homelessness and the opiate crisis, elevating this crisis directly to the mayor's office with accountability for expanding access to treatment, supportive housing, and a citywide approach," she said.
In her statement, Essaibi George emphasized that "no person, business, or neighborhood is untouched by the opioid epidemic."
"We need urgent leadership here to help those suffering find long-time recovery, repair the continuum of care, and mitigate the impact on surrounding organizations like the Greater Boston Food Bank, who are doing critical work for our families," she said. "That's why I've called to use $30 million of the federal funds to implement a public health surge at Mass and Cass and improve the quality of life for everyone, in every single part of our city."
D'Amato said if the situation isn't addressed, the food bank will have to begin exploring using other warehouses for staging or transporting products directly.
But even if adjustments are made, she said she still has to get 75 to 80 people into the Boston facility every day as essential workers.
The food bank can't just pick up and move, she said.
"I still need to get food into that building — I still need to get food out of that building," D'Amato said. "That building isn't going away; that's our three- to four-year problem. Nobody that I know has a spare 120,000-square-foot warehouse full of refrigeration."
For now, the nonprofit is working to adjust to the impacts. The coronavirus pandemic, which doubled demand, taught the organization how to pivot quickly while balancing tremendous need.
But no matter the steps and adjustments made by the food bank or the other private businesses in the area, D'Amato said it is public officials who must act to address the crisis.
"We're facing a disaster — we're in a disaster," she said. "We're going to have to deploy different solutions, we're going to have to raise money and spend money that we didn't have to before, and we're going to have to work with government to do our best to serve, to do what we do."
Newsletter Signup
Stay up to date on all the latest news from Boston.com