Local
Drama at the theater: 'Mamma Mia!' opening night canceled as stagehands strike
Stagehands at North Shore Music Theatre are back to work Thursday night after the theater owner agreed to come back to the table.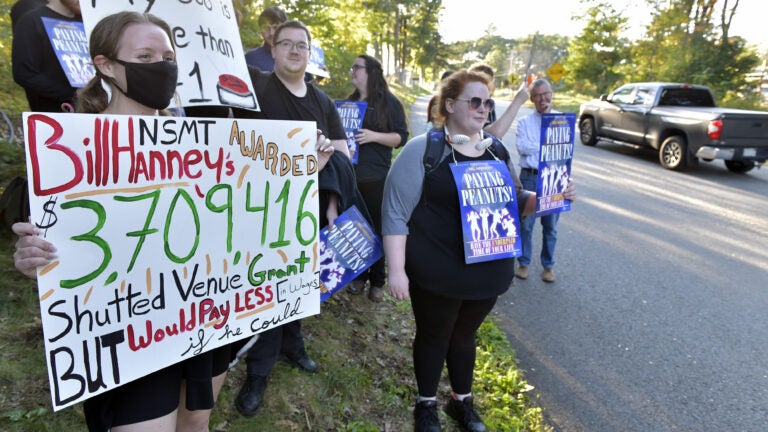 Calling for higher wages and good faith negotiations, stagehands walked out a few hours before curtain on the opening night of "Mamma Mia!" at the North Shore Music Theatre in Beverly. Wednesday's show was cancelled, but, after one night's strike, the owners came back with an interim offer and Thursday's show will go on.
The stagehands, members of the International Alliance of Theatrical Stage Employees (IATSE) Local 11, stood outside the theatre as patrons drove in, chanting, "no contract, no show," WBZ reported. Without technical support, owner and producer Bill Hanney was forced to cancel the show about 25 minutes before it was supposed to start.
The workers voted to authorize a strike last week, The Boston Globe reported, after negotiations stalled when the union said the company ignored its final base pay rate offer of $22/hour. According to the union, stagehands at the Beverly theater are paid 60% less than the area industry average.
"They pay the actors union rates, they pay the musicians union rates, but they don't want to pay us anywhere near the union rates," Myles McCann, a master carpenter at the theater, told the Globe. Musicians and actors also walked out in solidarity with the striking stagehands.
"It's heinous," Pat Hollenbeck, president of the Boston Musicians' Association, told the Globe. "They're just asking to be provided a livable wage."
Before actors and musicians joined the striking workers, Hanney vowed the show would go on.
"I'm going to do the show tonight if it's a cappella," Hanney told the Globe. "Everyone is going to come back — whatever it takes. This theater is not going to close because of one bunch of people who don't understand where they are."
Hanney disputed the union's claim of unfair wages, and described his theater to the Globe as a "steppingstone" to larger venues.
"The math doesn't work," Hanney said. "They are presenting us rates that go to big theaters in Boston, Providence, New York — they don't get what type of theater we have here."
However, on Thursday, the company came back to the union with an interim offer and agreed to return to the table and negotiate in good faith. The workers are negotiating for their first contract, and voted to join a union at the beginning of the pandemic seeking protections, Local 11 Business Manager Colleen Glynn told Boston.com on Thursday.
"It seems that Bill Hanney has undervalued these technicians that make the magic happen for over a decade," she said. "Now they know what it feels like to have the protection of a union, and the support. We're all about people helping people."
Glynn said the group is grateful for the solidarity shown by the actors and musicians in not crossing the picket line.
"The bargaining unit recognizes, at the end of the day, we all just want to go back to work with fair conditions and a contract, so the show will go on tonight," Glynn said. "We have a back-to-work agreement, and it's signed, and the curtain will go up this evening. …We showed Bill Hanney what the power of collective action looks like, and the importance of unions and how we stand together. We are thrilled to be back to work."
Newsletter Signup
Stay up to date on all the latest news from Boston.com