Boston Marathon 2021
Here's what happened with the lost buses at the Boston Marathon
"Everything else about the race was really well done...But maybe print out some directions for the bus drivers next time."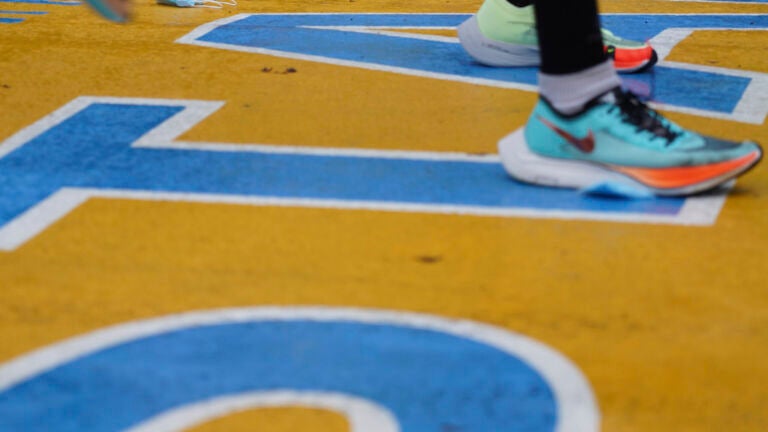 Things went pretty smoothly on Monday — for an unconventional Boston Marathon — but one notable hiccup was a number of buses that got lost on the way to the starting line.
A few buses shuttling runners from Boston to Hopkinton didn't make it to the designated drop-off spot near the start, The Boston Globe reported, and instead dropped people about a mile and a half away on a cross street blocked by police.
Police told the Globe at least eight buses got lost on the way to the starting line, and dozens of runners faced an uphill walk before their races began. Though buses tried to reroute, most runners returned to the blocked intersection at Cedar Street and Legacy Farms N and had to make the trek.
Additionally, some buses coordinated by the Boston Athletic Association got lost, but each made it to the start line on time. BAA spokesperson Chris Lotsbom told Boston.com that their busses, managed by Yankee Line, made 350 trips to Hopkinton to drop runners and three took one wrong exit.
"The buses were enabled with GPS tracking and radio communications which have allowed Yankee Line to confirm that only three buses approached the drop off location from a different Hopkinton exit, but were guided to the correct Pleasant Street drop off location for athletes," he said.
"In the months leading up to the race, the BAA encouraged all athletes to participate in the official transportation program. Yankee Line drivers are trained in advance of the Boston Marathon with training runs and route videos to ensure uniformity in routing."
With over 15,000 runners, there were other, privately operated buses taking runners to the start line on the morning of the race. The BAA doesn't track those routes, Lotsbom said, and it's not clear who operated the other buses.
North Carolina runners Jon Viventi and Jen Chu were each on a BAA bus that was delayed.
"Our bus made a wrong turn and got off the highway too early," Viventi told Boston.com. "Then we got back on the highway going east, and had to go a lot of miles in the wrong direction before we could get off again and turn around. Luckily, someone from my group was from Boston and able to give directions. We got there eventually, maybe an hour and twenty minutes after we left?"
Though the rolling start was forgiving, Viventi said they ended up passing people for a while because they'd started with a later wave. Chu also missed her estimated start window — she started around 10:15 a.m. — but said she didn't mind because they made it in the end.
"Our bus first took us to a parking lot where there were other school buses; however, they were all empty except for some drivers. A few volunteers in the lot stared at us with surprise so we realized we were definitely in the wrong spot," Chu told Boston.com. "Some other runners on the bus asked our driver to take us to the middle school nearby, where we saw lots of runners and buses. We thought that they were unloading runners there but it was actually another bus loading area… Our bus ended up following those buses to Hopkinton. The runner seated next to me had her phone and it told us we were about 5 miles away from where we were supposed to get dropped off. We made it though!"
In the end, Viventi and Chu praised the overall race organization and said they had a great experience. Viventi finished in 3,255 place overall with a 03:15:28 time, and Chu came in at 9,916 overall with a time of 04:02:39.
"Everything else about the race was really well done," Viventi said. "I would like for them to keep doing the rolling start. I have never experienced the athlete's village, but what we did sounds preferable to hanging out for hours at the start. But maybe print out some directions for the bus drivers next time."
"I also liked the rolling start but kind of missed the Athlete's Village because it's part of the Boston experience," Chu said. "Totally understand the precautions that the organizers took and appreciated all of their efforts! I love this race — the volunteers, organizers, spectators are all amazing!"
Newsletter Signup
Stay up to date on all the latest news from Boston.com