Local
Look at all the fake IDs state police seized on Nantucket this summer
There are 33 states represented among the hundreds of fake IDs collected.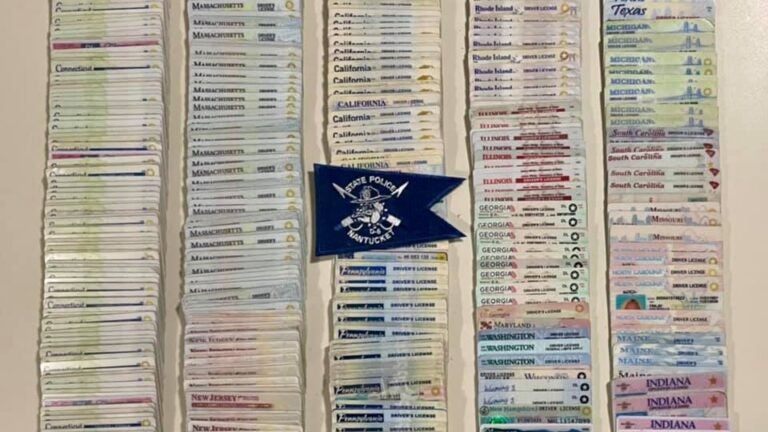 It was a busy summer on Nantucket, and state police have the fake IDs to show for it.
On Thursday, Massachusetts State Police shared a photo of more than 500 fake IDs turned into the Nantucket barracks over the summer of 2021. The fake licenses and identification cards are turned into the troopers after being confiscated at various bars and restaurants.
"THAT'S A LOT OF LAMINATE," state police posted on Facebook. "The IDs are turned over to the Troopers after being confiscated at various establishments or other locations. They were all destroyed. Have a Coke and a smile instead."
The IDs represent quite the tour of the United States: there are 33 states represented among the hundreds of IDs, with Connecticut and Massachusetts making an especially strong showing.
The crazy summer drove some bar owners to restrict access even further. Luke Tedeschi, who owns The Tavern restaurant and the Gazebo, a popular open-air bar, increased the age minimum at the Gazebo from 21 to 25. In July, he told Boston.com it was a last ditch attempt to curb underage drinking.
"What's worse than I've ever seen is how many underage people are attempting to come in," he told Boston.com. "Their IDs these days are very hard to detect, a lot of the good IDs will go through scanners we have."
Tedeschi said his bar turned in up to 20 fake IDs a day.
"Underage drinking brings an awful lot of liability to me as the owner, operator, and license holder, and I don't need to jeopardize my license to serve underage people, i.e. kids," he said. "I don't need the spring break-type attitude, it's driving out the people that can [drink] and are of age and that are much more responsible and respectful to not only my staff and other patrons."
State Police spokesperson Dave Procopio told Boston.com in July that troopers always receive fake IDs, but it was a summer unlike any other.
"Our Nantucket Barracks has had approximately 150 to 200 fake IDs turned in to us from the bars this summer," he said on July 15. "We have always had this problem to some extent, but nothing anywhere near like what we are seeing this year."
He also reminded would-be users that they can be criminally charged.
"Usually the people trying to use the fake IDs are gone before we arrive, but we will charge them criminally if they are still around," he said. "Defendants who have no criminal record are offered diversion by the court."
Newsletter Signup
Stay up to date on all the latest news from Boston.com