Local
Kim Janey's new Mass. and Cass plan targets tents in push to get homeless into shelters, treatment
"The goal of trying to get people into treatment or support is really to help people stabilize their lives, and ... you can't do that in a tent," said Marty Martinez, the city's chief of health and human services.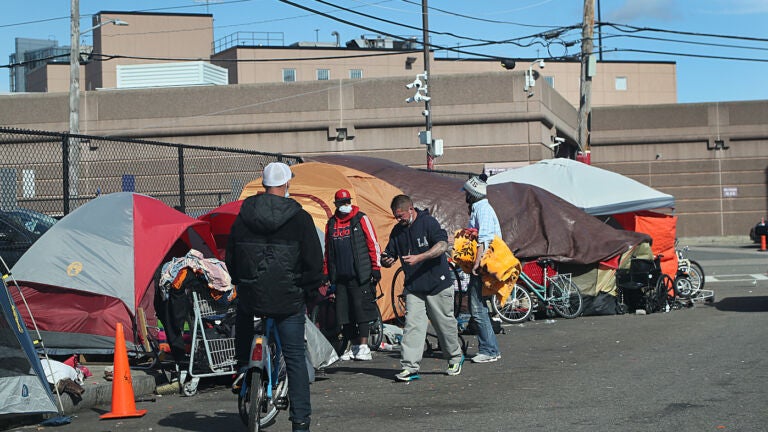 Acting Mayor Kim Janey's administration on Tuesday stepped up its efforts to combat substance abuse disorder, as the city declared addiction and homelessness a public health crisis, and Janey announced a new plan to address the intersection of those issues in the area dubbed Mass. and Cass.
Janey brought forth an executive order to create a "central coordinating team" of local and state officials who will map out shelter and addiction treatment programs available in the region for those in need.
Notably, the city officials will emphasize these options, Janey said, because tents and temporary structures, such as those planted around Massachusetts Avenue and Melnea Cass Boulevard — or Mass. and Cass — will no longer be tolerated in Boston.
"The new approach to tents and temporary shelters in our city will be guided by the principles we have always held: that public health must guide our work; that unsheltered individuals deserve respect and dignity; that they have a property interest and their belongings, and that we must offer people treatment, and shelter, and proper notice to remove their items," Janey said during a press conference at City Hall.
Individuals residing in tents will not be given notice to move unless there is shelter available for them elsewhere and only after the city offers short-term storage for personal items and provides notice in advance, according to the order.
City officials will be required to follow a revised Homeless Encampment Protocol outlining the process. City agencies will now prioritize enforcement of existing laws to "prevent the placement and maintenance of these encampments in the city," the order says.
For cases in which people refuse shelter, the city must complete those steps before authorities could potentially charge individuals with disorderly conduct, the order says. For individuals who "present a likelihood of serious harm to themselves or others" because of mental illness or substance use disorder, Boston police may petition for involuntary commitments, according to the mandate.
"Enforcement will be used, but only as a last resort," Janey said. "And even then, we are working with the District Attorney's Office and the courts to ensure that enforcement itself is a pathway to services, treatment, and shelter."
Expressing urgency, Janey said the move intends to address the dangerous situations the encampments can create for those who reside in them, including drug overdoses, sexual assaults, and human trafficking, among other problems, such as disease and violence.
Tents and similar housing also lack clean water and restrooms, Janey said.
The number of tents is growing, and the more that there are, the more difficult it becomes for city crews to provide treatment services and alternatives to those living on the street, Janey said.
"The goal of trying to get people into treatment or support is really to help people stabilize their lives, and … you can't do that in a tent. You can't do it in a tent on the street when you're being preyed on by others," said Marty Martinez, the city's chief of health and human services.
In tandem with Janey's executive order on Tuesday, the Boston Public Health Commission Executive Director Dr. Bisola Ojikutu also declared, through a temporary order, substance use disorder, unsheltered homelessness, and other related issues a public health crisis in Boston.
According to Janey, the city's Office of Recovery Services has had over 21,000 interactions with people on the street and has issued more than 6,000 referrals to services. The team reverses about four to five drug overdoses a day, she said.
Asked how many beds were available in city shelters on Tuesday for people facing homelessness and substance abuse disorder, Janey put that number around 170.
Martinez said, however, that while the city has not maxed out its available beds, the number does fluctuate daily. The coordinating team formed under the executive order first met Tuesday and plans to meet again on Thursday to better clarify the numbers, gaps in services, and potential solutions, he added.
Under the order, the Transportation Department will also enforce "road safety measures to improve road and sidewalk safety and access" in the Mass. and Cass area, while the Department of Public Works will continue to focus on cleaning streets and sidewalks.
Janey indicated addressing the issues at Mass. and Cass will take time, even with her administration's renewed focus.
"Folks are looking for a magic moment where poof, everything is gone," she said. "That is not how addiction works. It requires ongoing outreach to individuals. It requires work between the city, the state, and other partners to make sure that there are alternatives."
Read the executive order:
Newsletter Signup
Stay up to date on all the latest news from Boston.com