Local
'We have to take action now': Lawrence holds emergency meeting on school fights
Many community members showed up to the meeting between the city's school committee and city council.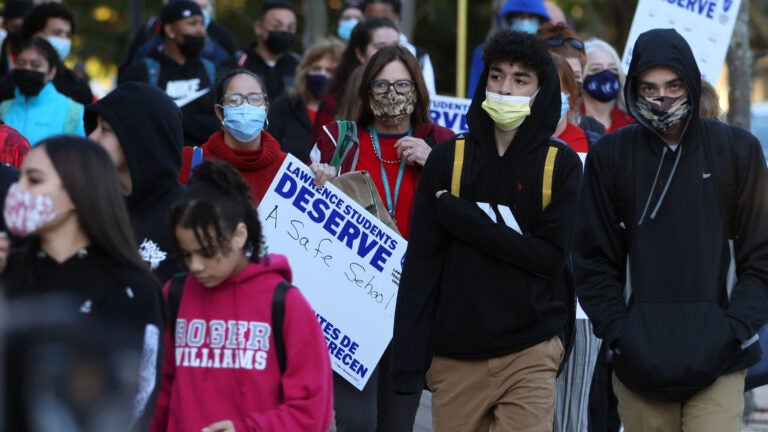 An emergency meeting was called between the Lawrence City Council and Lawrence School Committee Monday night to discuss the number of fights going on at the school.
And some called for Superintendent Cynthia Paris to resign from her position, according to WCVB.
The meeting was called due to the altercations between students that have also injured staff. Six fights broke out at the school last Tuesday, another one happened during dismissal last Wednesday. The latter resulted in the arrest of three students.
After the Tuesday fights, extra police were assigned to the school. A student said a girl had a shank during one of the altercations.
"We did not anticipate the intensity of the level of the emotional responses our students are experiencing," Paris said during a school board meeting last Wednesday, according to WCVB. "Children left middle schools and showed up in high school with very different demands and expectations, and very little preparation for that."
But Lawrence Mayor Kendrys Vasquez, who supported teachers that held a rally Monday, said it has to do with the decade-long state receivership of the district. He said control should be brought back locally.
"It does go beyond COVID," he said Tuesday, as reported by WCVB. "It's about structural changes that are necessary to ensure that we provide the best quality education and safe environment for our students and our educators."
Earlier in the day, over 100 people protested the ongoing violence, citing a shortage of staff as being partially responsible for the fights, according to The Boston Globe. The meeting included petitioning for the state receivership to end.
"We can't just ignore the problems students bring to school with them and jump right back to testing them without any effort to rebuild a school community," Lawrence Teachers' Union president Kimberly Barry said in a statement obtained by the newspaper.
Students also expressed their concerns during the meeting. Pedro Santos, who attends the high school, said he and others feel like "outcasts" and that they aren't being listened to when they speak with a teacher or administrator.
"When we talk to them we feel, 'Oh, this is a waste of time,'" he said. "For all this effort, they're not going to make a change for a lot of us. If we don't change our community, how are we going to change the kids? … This is for our youth. You got to think about everyone. We have to have empathy. … We have to take action now. Not tomorrow, not later, the present."
To address concerns, district authorities talked through some changes to make that would affect the current and long-term problems to help stop the fighting. This could include counseling, uniforms, or checking identifications, according to NBC10 Boston.
Another measure discussed was making sure there's a better working relationship between the school, city, and the community. Talks about the future of some school administrators were also proposed, the news station said.
Newsletter Signup
Stay up to date on all the latest news from Boston.com