Local
Doctors and researchers are concerned about the city's efforts to remove tents at Mass. and Cass. Here's why.
"Treating houseless people as blight to be swept away reveals how little our city cares about the dignity, health, and self-determination of our houseless community members."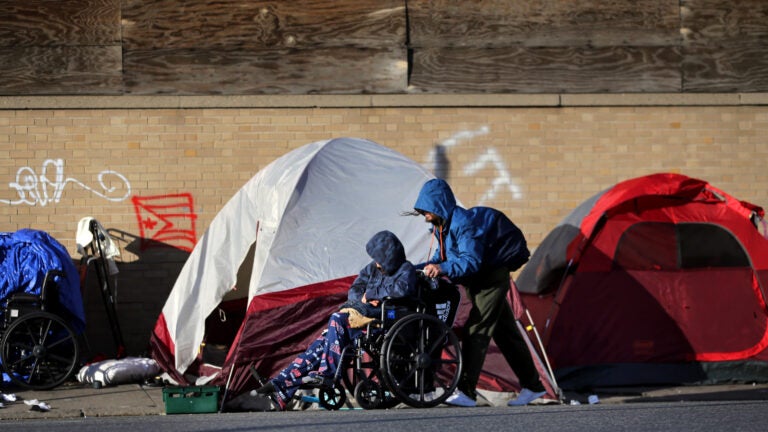 Boston Mayor Kim Janey announced new plans this week to address the crisis of addiction and homelessness around Mass. and Cass, but concerns are being raised that the city's renewed approach to removing encampments will only cause harm by criminalizing and displacing an already vulnerable population.
Announcing the city's new approach on Tuesday, Janey issued an executive order that creates a "central command structure" for dealing with encampments. The Boston Public Health Commission also declared addiction and homelessness a public health crisis in the city.
"Tents and temporary shelters will no longer be permitted in the city of Boston," Janey said during the press conference announcing the executive order.
Janey and city officials said the mandate is guided by public health and the understanding that unsheltered individuals deserve respect and dignity. Under the order, the city is mandating "intensive and persistent" outreach and engagement to people living in encampments, offering housing and treatment services as part of an effort to remove the hundreds of tents that have been put up around Mass. and Cass.
According to the mandate, people living in the tents in the area that has become the epicenter of the opioid crisis in Boston will not be given a notice to move unless a shelter bed or placement is available to them "at the time of removal," and the city must also offer short-term storage for personal belongings.
"The new approach to tents and temporary shelters in our city will be guided by the principles we have always held: that public health must guide our work; that unsheltered individuals deserve respect and dignity; that they have a property interest and their belongings, and that we must offer people treatment, and shelter, and proper notice to remove their items," Janey said.
But in cases where a person refuses the available services, the individual could be charged with disorderly conduct, according to the order. And when someone "[presents] a likelihood of serious harm to themselves or others" due to mental illness or substance use disorder, the mandate stipulates that Boston police may petition for involuntary commitment.
Those working in providing care for those struggling with addiction and researching legal approaches to substance use and homelessness are raising concerns that the steps the city is taking toward individuals at Mass. and Cass are not the right ones to help those struggling at the center of the crisis.
Instead, they argue the city's measures are likely to cause harm.
Dr. Mark Eisenberg, a primary care physician at MGH-Charlestown Health Care Center with specialties in infectious diseases and addiction medicine, told Boston.com that while he applauds the move to declare the situation at Mass. and Cass a public health emergency, he doesn't support the executive order.
Doing a "sweep" of the encampments will just criminalize and displace the people living there, he said.
"Forcing people into treatment by picking them up on open warrants or sectioning them has proven to be a failure and increases the risk of overdose," he said. "We need to stop criminalizing houselessness and drug use and offer a people-centered public health approach to this crisis."
Leo Beletsky, a professor of law and health sciences at Northeastern and the director of Health in Justice Action Lab at the university, has researched law enforcement and legal intervention approaches to acute substance use and police "cleanups" of encampments.
He told Boston.com that such operations result in people being only temporarily placed in treatment or housing, push the individuals into other areas, and lead to detention and incarceration for others.
"It's a cosmetic approach that is designed to create the appearance of doing something without actually doing something," he said. "Or more precisely, what you're doing is you're dispersing the problem rather than addressing it."
That's what Beletsky predicts will happen with the city's approach.
The researcher said he was troubled that city officials presented the mandate under the umbrella of public health.
"I think that rhetoric does not line up with what is actually outlined in the order," Beletsky said. "There's very little public health to be found in the order. Public health generally focuses on prevention and science-based approaches, interventions that are rooted in science, measures that are rooted in science. And there's very little of that here. The overall tone and the actual substance of the order is very much enforcement-focused and criminalization-focused, rather than public health."
'Clearly, public health thinking isn't carrying the day'
Both Beletsky and Eisenberg stressed the situation at Mass. and Cass has roots in crises that exist across Massachusetts, which are not being addressed in the city's approach.
"The current crisis is a result of three major factors: the lack of low income public housing; the contamination of the recreational drug supply with fentanyl due to our antiquated drug prohibition laws; and the lack of safe space for people to use drugs," Eisenberg said. "There exist proven public health interventions to address the crisis, including increasing the availability of supportive low threshold housing for the houseless, the provision of a safe recreational drug supply, and the opening of safe consumption spaces, which exist in more than 100 locations around the world."
Beletsky said a lack of affordable housing; a shortage of high quality, affordable treatment and recovery services; barriers for access to harm reduction services; and a scarcity of political will are what officials should be talking about to address the situation.
In the researcher's view, instead of addressing those problems, Janey's executive order offers actions that are "designed to be viewed as decisive and aggressive."
What Beletsky expects will happen with the city's new plan is the same outcomes that occurred after "Operation Clean Sweep" took place in 2019, when individuals had personal belongings, medications, and medical equipment destroyed.
Beletsky stressed that officials have to reassess the idea that there is a "perfect" recovery and housing infrastructure in place and that people living in encampments are "treatment resistant" and choosing to live in tents.
That idea is "completely, completely wrong," and one of the most troubling elements of the discussions around the issue for him, he said.
There are services that are not welcoming, facilities that don't allow people to be on medications for substance use, and oftentimes housing that is offered makes residency contingent on sobriety, he said.
"A lot of these measures that we have in place don't take to heart the science that exists that really is clear," Beletsky said. "What's clear is people need housing first. Then they're able to stabilize, and given that certainty and safety, they can pursue more healthy decisions, and they can find their way to more stability."
Dr. Miriam Komaromy, medical director for the Grayken Center for Addition at Boston Medical Center, is among the local providers who has been pressing forward the message that transitional housing is a key part of solving the crisis at Mass. and Cass.
This week, she told Boston.com in a statement a "coordinated and public-health-first approach" to address the underlying causes of homelessness and addiction continues to be required.
"The path forward must include housing options, including greater access to low barrier, transitional housing as part of a full range of solutions," she said. "We will continue to work with the city and state governments, as well our public health partners, to improve the lives of those struggling with addiction and homelessness at Massachusetts Avenue and Melnea Cass Boulevard and across the Commonwealth."
As it stands, the city's approach to encampments does not meet the needs of the individuals where they are, Beletsky said. Instead, it offers services with the threat that if the options are not pursued, a person could face charges and have their belongings forcibly removed.
The researcher said the language used in the order — even the idea of creating a "Command Center" — is militarized rhetoric. And he pointed out that the statistics provided by the city in the mandate, such as the number of arrests made or calls for service, are not public health measures and are provided without context for how the metrics hold up against comparable areas in Boston.
"Measuring the problem and measuring success in these terms clearly indicates that public health thinking is not really being applied here," he said. "I think it's a bit disingenuous to call this a public health measure, a public health plan. Because it is not … Clearly, public health thinking isn't carrying the day."
Involuntary commitment and incarceration is known to aggravate the risk of overdoses, so a public health perspective would not include those options on the table, Beletsky stressed.
'We really just need better housing options'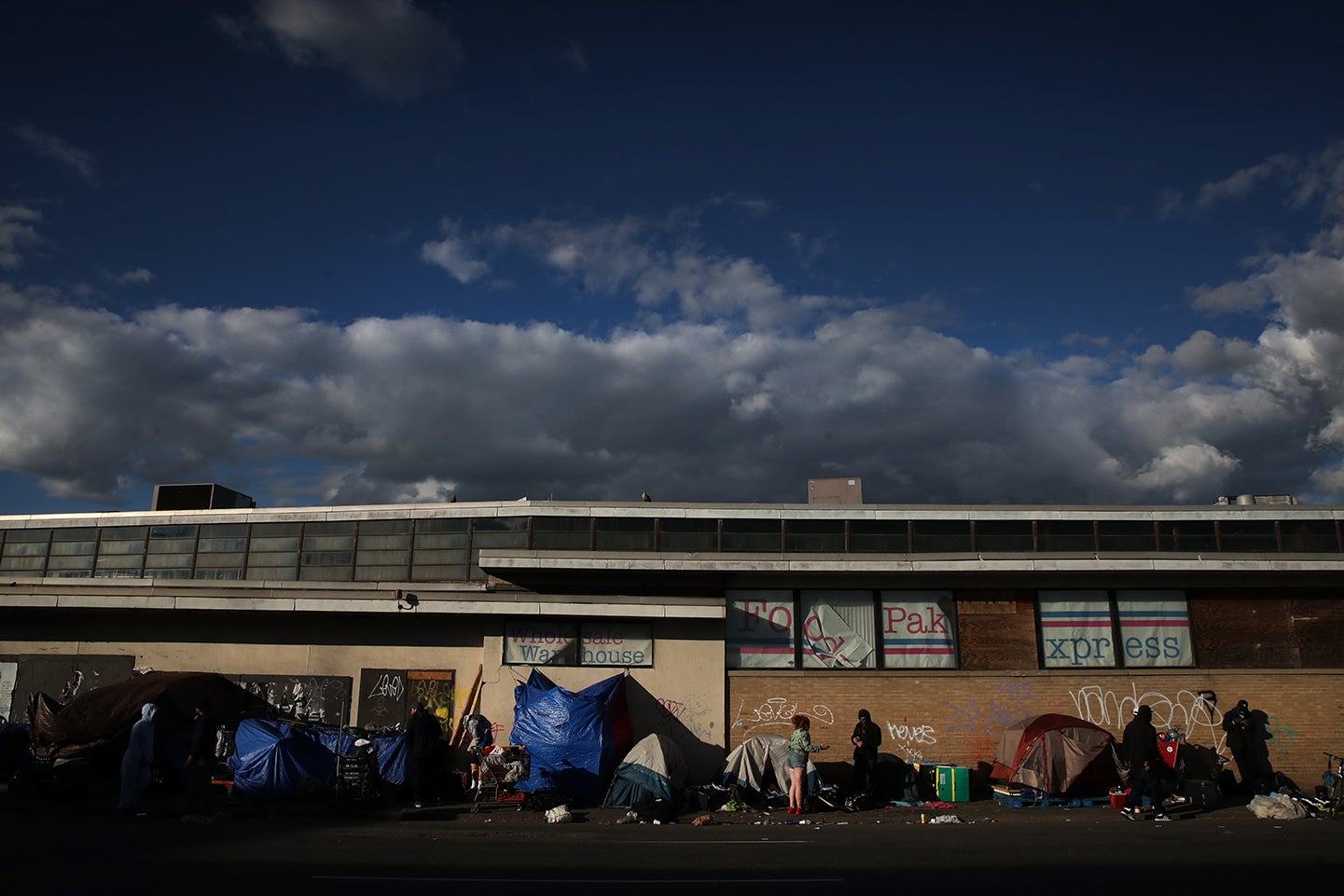 Eisenberg said while the living conditions at Mass. and Cass have been "sensationalized" in the media, the truth is that people staying there have been providing support and looking out for one another.
People living in the area supervise one another, in an effort to prevent overdoses, he said.
"If the city really cared about this population, installing portable toilets and showers would improve the quality of life immensely," the doctor said. "Dispersion of this community will only lead to social isolation and increase the risk of drug overdose. Treating houseless people as blight to be swept away reveals how little our city cares about the dignity, health, and self-determination of our houseless community members."
Beletsky agreed that instead of targeting encampments, in the short term, the city should be meeting the immediate needs of people in the area so they can be safer and care for themselves better, through providing an effort like an "integrated services hub."
In such a place, the researcher said individuals could be provided with services like safe consumption facilities and low barrier treatment.
"Do it in a way that doesn't impose ridiculous conditions and does not force them to be institutionalized," Beletsky said.
To address Mass. and Cass in the medium term, the researcher suggested a different focus on housing policy is needed locally and statewide, where shelters aren't thought of as a solution to homelessness.
Prevention should be the solution, he said. More needs to be done to make housing more affordable and more accessible.
Homeless shelter beds are not the real answer, he argues.
"Obviously we're meeting the world where it is and not where it should be, so as a stopgap yes, we probably need better and more shelters," Beletsky said. "But we really just need better housing options for people and to keep people in their homes."
And in the long term, the city needs to delve into the structural drivers behind Mass. and Cass and address them, he said.
"A public health approach would say, 'Let's figure out what the root causes are and address them,'" he said. "And that will prevent more people ending up in this area, and it will actually help to get people out of these situations."
Newsletter Signup
Stay up to date on all the latest news from Boston.com