Local
Friends row on after teammate's death, leaving one seat empty
"We're family — there is no other way to put it."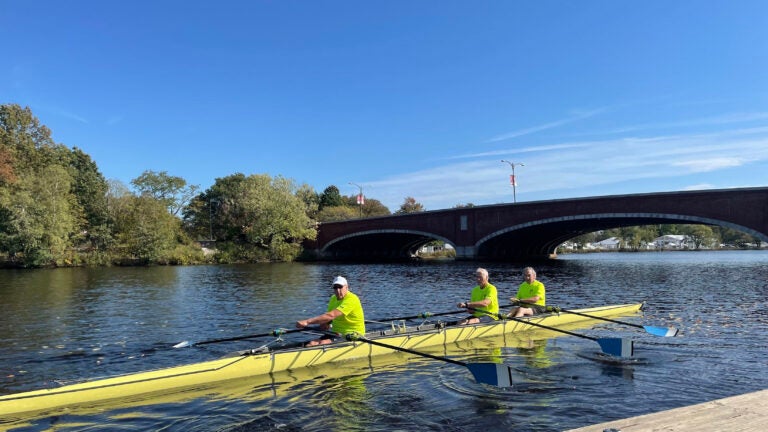 They called themselves the Four Horsemen.
For nearly 20 years, Charlie Hamlin, Fred Schoch, Roger Borggaard, and Chuck Pieper rowed together and became friends as they dominated races at the Head of the Charles Regatta in Boston, one of the world's premier rowing competitions.
The men started rowing as a team in their 50s. Tall and powerfully built, they were accomplished in the sport — particularly Hamlin, who represented the United States in the 1968 Olympics and at the World Rowing Championships in 1969 and 1970.
The nickname was meant to be a joke. But to other rowers, the sight of the Four Horsemen approaching the docks often signaled certain doom on the water.
Over the years, the men placed first repeatedly in their age group at the Head of the Charles, often competing in an eight-person boat with four other rowers. They also dominated in a four-person boat at national and international championship races.
"We started knocking it off," said Borggaard, 76. "We were always in the hunt."
On Sunday, the team returned to the Head of the Charles, but did not expect to win. Only three of the horsemen competed.
Hamlin, 74, died May 24, less than a year after he learned he had Alzheimer's disease.
Borggaard, Schoch and Pieper left one seat empty for Hamlin. In his place will be a plastic Viking hat they had given to him as a gift when he moved to Washington state in 2015.
Schoch said the men were calling it a "row by," similar to a "fly by" of the "missing man" formation done by military pilots to commemorate the dead.
"We're family — there is no other way to put it," said Schoch, who is 71 and executive director of the Head of the Charles Regatta. "We're really like brothers."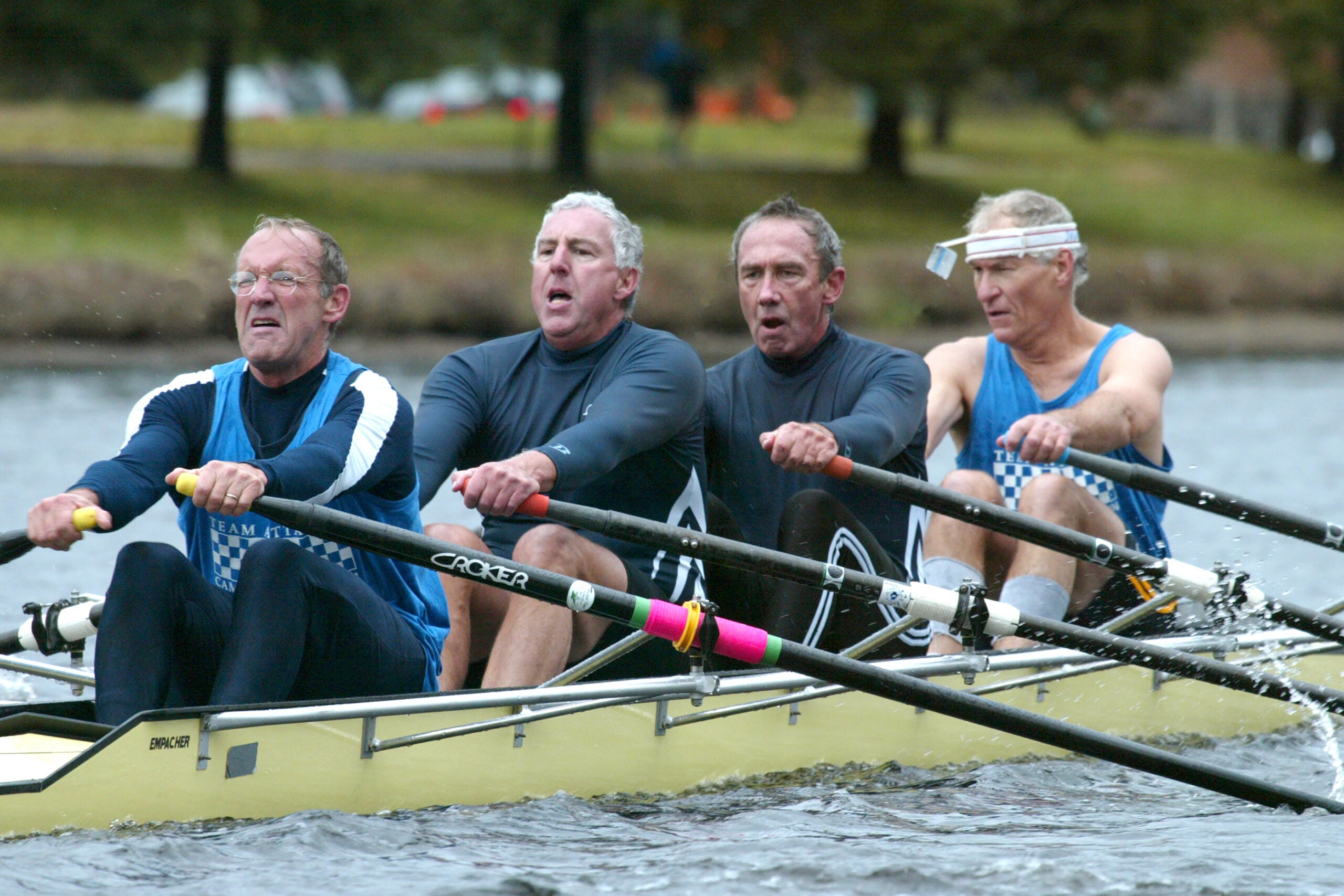 Hamlin grew up in Chaumont, New York, and spent summers sailing on Lake Ontario. He began rowing in 1966 during his first year at Harvard.
He raced in the Summer Olympics in Mexico City in 1968 and continued to row competitively as he went to Harvard Business School, where he met Pieper.
Both of them had married young and bonded over raising their families as they moved up in the business world.
After Hamlin divorced his first wife in 2000, he moved to England, where he joined the Upper Thames Rowing Club and raced all throughout Europe, racking up medals.
He returned to Boston around 2004 and reunited with Pieper. Soon, they teamed up with Borggaard and Schoch, who had met at the Cambridge Boat Club and had been rowing together.
The men would meet on the water every morning at 6. In the winter, they trained indoors. Hamlin started a business with Borggaard and Pieper, Cambridge Water Technology, a startup they eventually sold in 2012.
Off the water, Hamlin was quiet, eager to help, and prone to singing songs from musicals such as "The Music Man" and "Oklahoma!" When he was in a boat, he was fiercely competitive and would scream at his flagging teammates in the last stretch of the race, sometimes cursing.
"You'd be dog-tired and he'd scream: 'Let's go! Let it rip!'" recalled Borggaard. "Just energy coming out of him to make the rest of us get carried away with the moment and pull harder."
In 2015, Hamlin moved to Washington state with his second wife, Ellen Kennelly, an artist and rower whom he had met at the Cambridge Boat Club. But he returned every year to race in the Head of the Charles. In 2018, Hamlin had a heart attack while rowing in Lake Whatcom, north of Seattle. The doctors warned him to slow down, but he refused.
"There wasn't any hesitation," Hamlin told Row2K in 2018. "I'm not depressed. I'm not concerned. It happened. I made it through and back to life as normal."
In 2019, the foursome raced again in the regatta and came in first place among rowers 70 years and older. They did not know it at the time, but it was the last time they would compete together in the race.
In 2020, the regatta was canceled because of the pandemic. That same year, Hamlin and his wife realized that he was becoming more and more forgetful.
"He was doing so many things in life that it was very normal for him to rush out the door without his computer," said Kennelly, 58.
But then the signs that something was wrong became more apparent.
He had started struggling with numbers, an alarming development for a former account executive. He could not remember how to strap down a boat.
When doctors told Hamlin he had Alzheimer's around Labor Day last year, he began to think about how he wanted to spend the rest of his life, Kennelly said.
Because of the pandemic, he was unable to visit his friends overseas, but he was determined to spend time with his two sons and grandchildren — and his best friends in New England.
In April, Hamlin returned to Boston for one last row on the Charles. As they prepared to launch into the river, someone handed Hamlin an oar.
Schoch recalled the confused look on Hamlin's face.
"What am I supposed to do with this?" Hamlin said.
It was a horrifying moment that forced his friends to realize how quickly the disease had progressed.
Thankfully, the moment passed quickly, Schoch said.
"As soon as he got in the boat he knew what to do," he said. "He fell in right away once he had his mates to follow."
This article originally appeared in The New York Times.