Charlie Baker
How a new law expands access to free meals in Mass. schools
"No child should be involved in debt collection or made to feel uncomfortable when they go to eat lunch at school."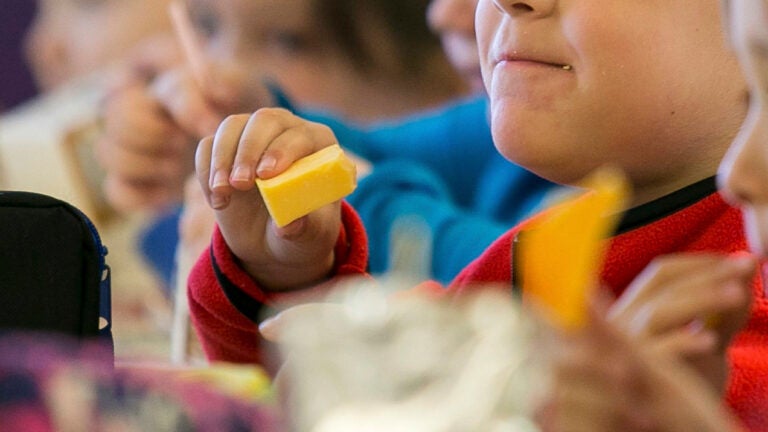 Thousands more Massachusetts students will have access to free meals, after state lawmakers signed a student nutrition bill.
On Monday, Governor Charlie Baker ceremonially signed a bill, An Act promoting student nutrition, officially approved 10 days ago, to increase access to free meals and prohibit schools from using punitive measures against students with meal debt. If the majority of students meet the low-income criteria, that school or district is required to implement free breakfast and lunch for all students.
"This bill will end the undue burden on students whose families have school meal debt by preventing children from being involved," Lt. Governor Karyn Polito said in a statement. "No child should be involved in debt collection or made to feel uncomfortable when they go to eat lunch at school."
Project Bread CEO Erin McAleer told NBC10 Boston that 10,000 students attend schools that will now need to enroll in the universal free meals program.
"We've known that school meals have always been critical," McAleer said. "For some kids, school meals account for over half of their daily calories, so it's absolutely essential that they can access them and that they're healthy and nutritious meals."
The legislation comes at the issue from a few directions. For example, districts that participate in the national school lunch program must attempt to maximize federal funding resources and savings for families. The Department of Elementary and Secondary Education is also required to help districts improve direct certification, and permits districts to certify students for free or reduced-price meals for up to four years.
"This legislation is another way we can ensure all children in the Commonwealth have access to healthy meals when they are in school," Baker said. "We are thankful to our partners in the Legislature for their leadership on this important issue so that no child goes hungry and can focus on their learning and education."
Districts also have to determine whether a student with unpaid meal debt is eligible for free or reduced-price meals within 30 days of notifying them of the debt, and permit the student to access meals within that window. Employees are prohibited from publicly identifying a student with meal debt, denying a student a meal, disposing of a student's meal, or serving an alternative meal because of the debt.
"School meals are critical to students' health and well-being," Secretary of Education James Peyser said. "This new law will expand access to free school meals to ensure thousands of additional students have access to healthy meals every day so they can learn and grow to their full potential."
Newsletter Signup
Stay up to date on all the latest news from Boston.com