Local
City begins 'general cleanup' around Mass. and Cass following executive order from Kim Janey
Residents of the encampments are being told "all items must be removed" from the public spaces.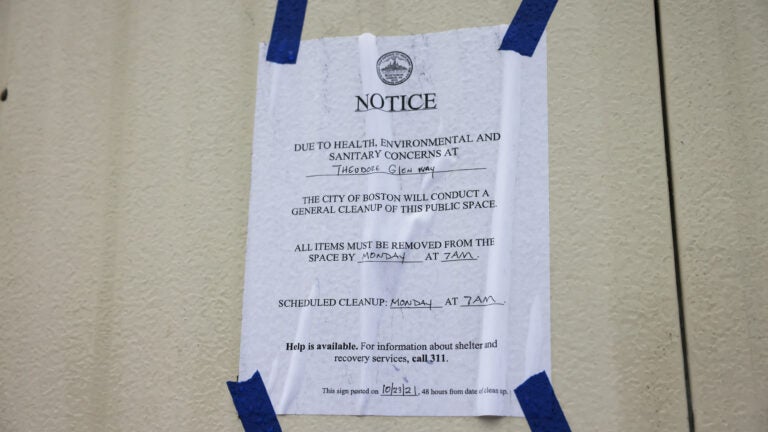 Boston officials on Monday began what they are calling a "general cleanup" of the streets around Mass. and Cass, following steps outlined last week in Acting Mayor Kim Janey's executive order aimed at clearing the hundreds of tents that have sprung up around the epicenter of the opioid epidemic and homelessness crisis in the city.
City notices posted on the streets around the area stated that "due to health, environmental and sanitary concerns" officials would "conduct a general cleanup of [the] public space."
Some notices informed people living in tents or unsheltered in the area that "all items must be removed from the space" by Monday at 7 a.m.
Other notices said the items had to be removed by 7 a.m. Tuesday.
On Monday morning, employees with the Boston Public Health Commission were doing outreach in the area, handing out bins for people to store their belongings, according to reporters at the scene.
Last week, the city declared homelessness and addiction a public health crisis in Boston, and Janey issued an executive order creating a "central command structure" for dealing with encampments.
"Tents and temporary shelters will no longer be permitted in the city of Boston," Janey said last week.
Following the executive order, the city is mandating "intensive and persistent" outreach and engagement to people living in encampments and offering housing and treatment services as part of the effort to remove the encampments around Mass. and Cass.
The city has said people living in the tents will not be given a notice to move unless a shelter bed or placement is available to them "at the time of removal," and the city must also offer short-term storage for personal belongings. But in cases where a person refuses the available services, the individual could be charged with disorderly conduct.
The city's stance on encampments has sparked criticism from doctors and researchers, who say Janey's order will only cause harm by criminalizing and displacing an already vulnerable population.
But city officials have insisted the effort will be guided by public health and respecting the dignity of the unsheltered individuals around Mass. and Cass. The executive order states that in addressing encampments, the city will:
-Treat individuals with dignity;

-recognize that unshleterd individuals have a property interest in their belongings;

-give people appropriate notice and the opportunity to remove their tent;

-offer individuals substance use and mental health treatment services; and,

-offer people alternative shelter.
In a statement Monday, a spokesperson for the mayor's office said implementation of those five steps are "proceeding as soon as possible."
"As stated in the executive order issued this past week, tents are not appropriate housing and are not permitted in public ways," the statement read. "The City regularly posts notices informing the public that tents must be removed. This information is also communicated directly by outreach workers who provide options for shelter and services."
According to the spokesperson, any tents or personal property that are "cleared" from public ways by the city will be stored for the owners free of charge.
"As procedures are developed to fully implement the public health executive order as soon as possible, the City will continue regular clean-ups and post notices where tents must be removed," the statement read. "This week, clean-ups will be conducted in areas targeted for scheduled building maintenance. No person will be asked to move their tent as part of this effort without first being offered shelter."
Cassie Hurd, executive director of the Material Aid and Advocacy Program, a nonprofit that supports homeless individuals, was on the ground providing support to unsheltered individuals while the city's effort was underway on Monday morning.
She told Boston.com that as of Monday afternoon no one had been moved by the city, but that tents were "scheduled to be cleared" and individuals were being told they had to move this morning.
One man told WCVB he was offered a room at the Pine Street Inn, but he felt safer staying put even after learning that he would be given a place to store his belongings.
"I'm not asking for a handout, I'm really not," he said. "I just can't afford what they're asking for rent right now."
If he can find a place in an area that's good for him, he said he'd make that decision for himself.
Newsletter Signup
Stay up to date on all the latest news from Boston.com