Local
After a year filled with controversy, this mayor finished a distant second in the primary. But she still says she can win in November.
Incumbent Gloucester Mayor Sefatia Romeo Theken will take on challenger Greg Verga in the upcoming vote.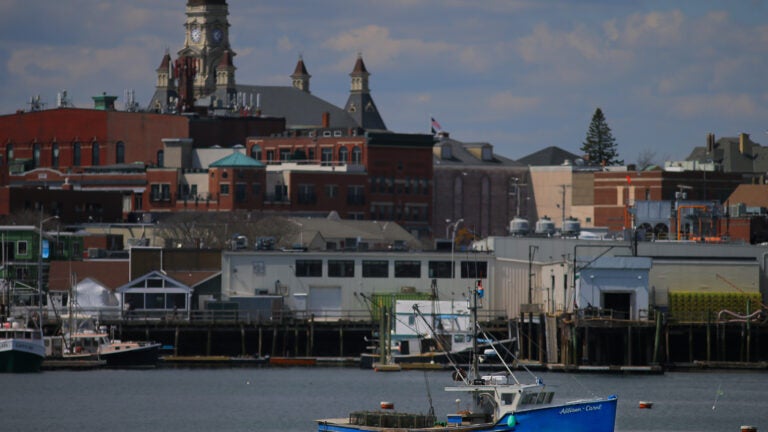 The previously popular mayor of one coastal Massachusetts city was coming off a year filled with accusations, resignations, and complaints filed against her by city employees when she placed a distant second in the mayoral primary last month.
No one would blame Gloucester Mayor Sefatia Romeo Theken if she were worried about her trajectory heading into the general election next week. But she said she wasn't surprised by the results.
Romeo Theken took on five challengers during the mid-September venture to the polls, with two candidates advancing on the ballot to the general election. Challenger Greg Verga, a local real estate agent and at-large city councilor, topped the ticket with 3,178 votes, while the mayor took in 1,831, according to city records. The rest of the candidates didn't come close to Verga or Romeo Theken.
Romeo Theken has held the position since she was first elected in 2015. Prior to that, she served as an at-large city councilor from 2001 until becoming mayor; much of that was as the council's vice president, according to her biography on the city's website.
The two are set to face off in a debate on Thursday, beginning at 7 p.m. at the Lanesville Community Center with streaming via 1623 studios, according to the Gloucester Daily Times.
'I'm glad I got on the ballot'
The preliminary race came after a year marred by the pandemic, and for Romeo Theken, a formal complaint lodged against her this past spring. An independent investigation noted that Romeo Theken didn't break the law, but that her behavior went against city rules of conduct, according to the Gloucester Daily Times.
In his complaint, city harbormaster T.J. Ciarametaro called the mayor a "toxic leader," according to the newspaper. Another employee in the harbormaster department resigned in July.
The city's Health Department also accused Romeo Theken of trying to help people who weren't eligible for the COVID-19 vaccine in the spring get it before they were supposed to, the newspaper reported. On June 30, both Karin Carroll, the city's public health director, and Public Health Nurse Kelley Hiland resigned from their positions.
And in another dust-up, this one in July, the city's Community Development Grants administrator, Jaimie Corlis, filed a complaint against the mayor citing Facebook posts she made on the city's official mayoral page regarding ongoing personnel issues.
Romeo Theken isn't so sure those events played heavily into her primary performance, however.
The mayor said she believes that many of the people who would have voted for her were out of town on the day of the primary. She says some also told her they thought they had to vote for two people – that disqualifies the ballot – and others thought Romeo Theken would automatically be on the ballot since she currently holds the position.
"That's OK," she said in a phone interview with Boston.com recently. "I'm glad I got on the ballot because that would've been really bad, but I have a lot of things to offer."
Romeo Theken sent a letter to city employees on June 18, 2020, in which she apologized, and spoke of the tragedy of her husband taking his own life in 1997, explaining that her grief came surging back in late May 2020.
"I want you to understand one thing, you all have done a remarkable job keeping Gloucester alive and running effectively, proactively," she wrote. "I failed you in my tone, my approach these past few weeks."
She also said she was proud to work with them.
"Thank you for always having my back, and for doing the best job in a crazy time we live in," Rome Theken wrote.
In an email to Boston.com, Romeo Theken said she feels voters should give her another term because she wants to finish the things she and her team have started. She wants to create more affordable workforce housing, and increase the amount of waterfront jobs.
"I'm stronger in continuing this process because I've been here, in the community, hands on for the past 6 years," she wrote.
Verga decides to run for mayor instead of city council
For challenger Greg Verga, he said he initially pulled papers for city councilor at-large. It wasn't until late June that he decided on his mayoral run and pulled papers for the position.
"It sounds like political BS but I wasn't planning on running for mayor," he told Boston.com in a recent phone interview. He noted that it was the investigation into Romeo Theken's behavior and other incidents that motivated him to run. He also said it may be time for someone new to sit in the corner office.
"People are ready for a change," he said was the sense he got when talking to some residents during the door-knocking portion of his campaign. "They're not happy with the direction we're going. They want to bring back a sense of professionalism [and] transparency to city government."
Verga said he was motivated by his two young grandchildren, ages 5 and 2 1/2.
"Every action taken today is going to have an effect, positively or negatively, on the next generation," he said. "It was time for me to take my action."
If elected, Verga said he wants to work on housing, noting that his experience as a real estate agent provides some insight. He noted that the city's housing production plan expires in June 2022; it was created in 2017, and the city has already taken up some of the ideas in it to increase the city's housing inventory, including allowing second or third units by right, or apartments above garages.
"It's not an easy fix, because if it were, it would've been done," he said.
On his campaign, Verga said he planned to work as if he'd lost by 25 points. Recently, he was endorsed by former mayor Carolyn Kirk, according to Politico. Kirk is currently the executive director of MassTeach Collaborative. Prior to that, she vacated her position as mayor to work as the deputy secretary of Housing and Economic Development under Gov. Charlie Baker's administration, leading to Romeo Theken's appointment as mayor in 2015 by City Council.
"I'm just really excited about where we go from here — I'm just so grateful for the support," Verga said.
Newsletter Signup
Stay up to date on all the latest news from Boston.com