Local News
Experts in public health, housing, and addiction rebuke Boston officials over actions at Mass. and Cass. 
"Sweeps only serve to increase harm, and potentially death."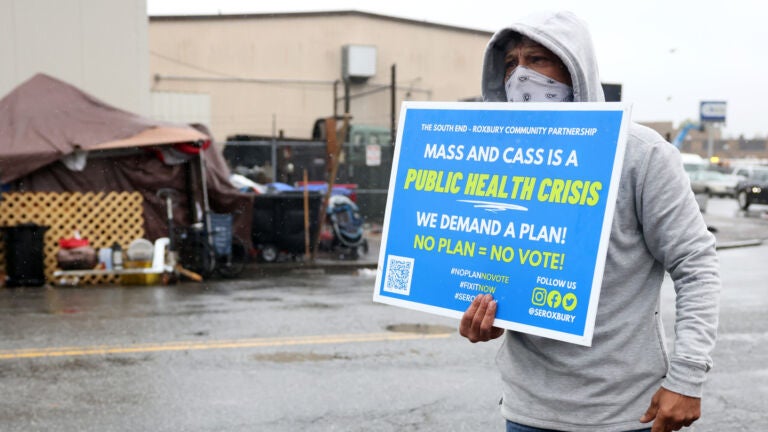 Leaders and advocates working in public health, housing, and addiction are denouncing the steps Boston officials are taking to handle the humanitarian crisis in the area of the city known as Mass. and Cass.
This week, city officials began what they described as a "general cleanup" of the area, posting notices on some streets that all belongings needed to be removed. Unhoused individuals living in the encampments were approached by city employees offering free storage for their belongings and placement in shelters.
The move follows after Acting Mayor Kim Janey announced last week that "tents and temporary shelters will no longer be permitted" in Boston, issuing an executive order outlining the city's approach to removing the encampments that have emerged as the epicenter of the opioid epidemic and homelessness crisis in the state. The city is mandating "intensive and persistent" outreach and engagement to people living in encampments, offering housing and treatment services as part of the effort. Officials have stressed that an individual's tent will not be removed without notice and that they must first have been offered a bed in a shelter or treatment program.
But the order also stipulates that in cases where a person refuses the available services, they could be charged with disorderly conduct.
Critics of the proposal have said the city's plan is not leading with public health measures and will instead criminalize and harm a population that is already vulnerable.
City officials told The Boston Globe that the push to move tents on Monday was necessitated by lighting work that is scheduled to be performed in the area for a local business.
The mayor's office said in a statement that any tents or personal property that are "cleared" by the city will be stored for the owners free of charge.
"As procedures are developed to fully implement the public health executive order as soon as possible, the City will continue regular clean-ups and post notices where tents must be removed," the statement read. "This week, clean-ups will be conducted in areas targeted for scheduled building maintenance. No person will be asked to move their tent as part of this effort without first being offered shelter."
In a press release sent out late Monday by the ACLU of Massachusetts, addiction doctors, public health leaders, and housing advocates condemned the cleanup actions undertaken at Mass. and Cass earlier in the day.
They urged that instead of removing tents and dispersing the population the city should meet the "basic needs" of the unhoused individuals by offering trash receptacles and waste removal, bathrooms, and access to clean water and showers.
Dr. Todd Kerensky, president of the Massachusetts Society of Addiction Medicine, said in a statement it has been established that "evidence-based, medical treatments" work when it comes to substance use disorders, reducing risks of infection, overdose, and incarceration.
"At this moment, we should invest in a sustained public health response to the developments in and around Massachusetts Avenue and Melnea Cass Boulevard," he said. "The solutions should include expanded access to low-barrier treatment options and more robust harm reduction services flanked by access to shelter. Having a substance use disorder is not a crime. Criminalization or coercive 'therapy' increases harm and will not provide the results our community desperately needs."
Dr. Sarah Wakeman, medical director for substance use disorder at Mass General Brigham, said that compulsory detention or ultimatums are not among the interventions shown to be effective in dealing with the humanitarian crisis at Mass. and Cass.
"We have evidence from other countries that compulsory addiction treatment is less effective than voluntary treatment and concerning data from Massachusetts showing higher rates of fatal overdose after involuntary treatment," she said in a statement. "What is effective and desperately needed is access to voluntary, welcoming, and evidence-based addiction treatment, proven harm reduction strategies, immediate access to non-congregate shelter for example in hotels or motels, and longer-term access to low threshold housing without the systemic barriers that currently exist, like those posed by criminal records."
Wakeman said Massachusetts officials more than demonstrated during the coronavirus pandemic that they were capable of moving quickly to provide shelter to unhoused individuals and provide care.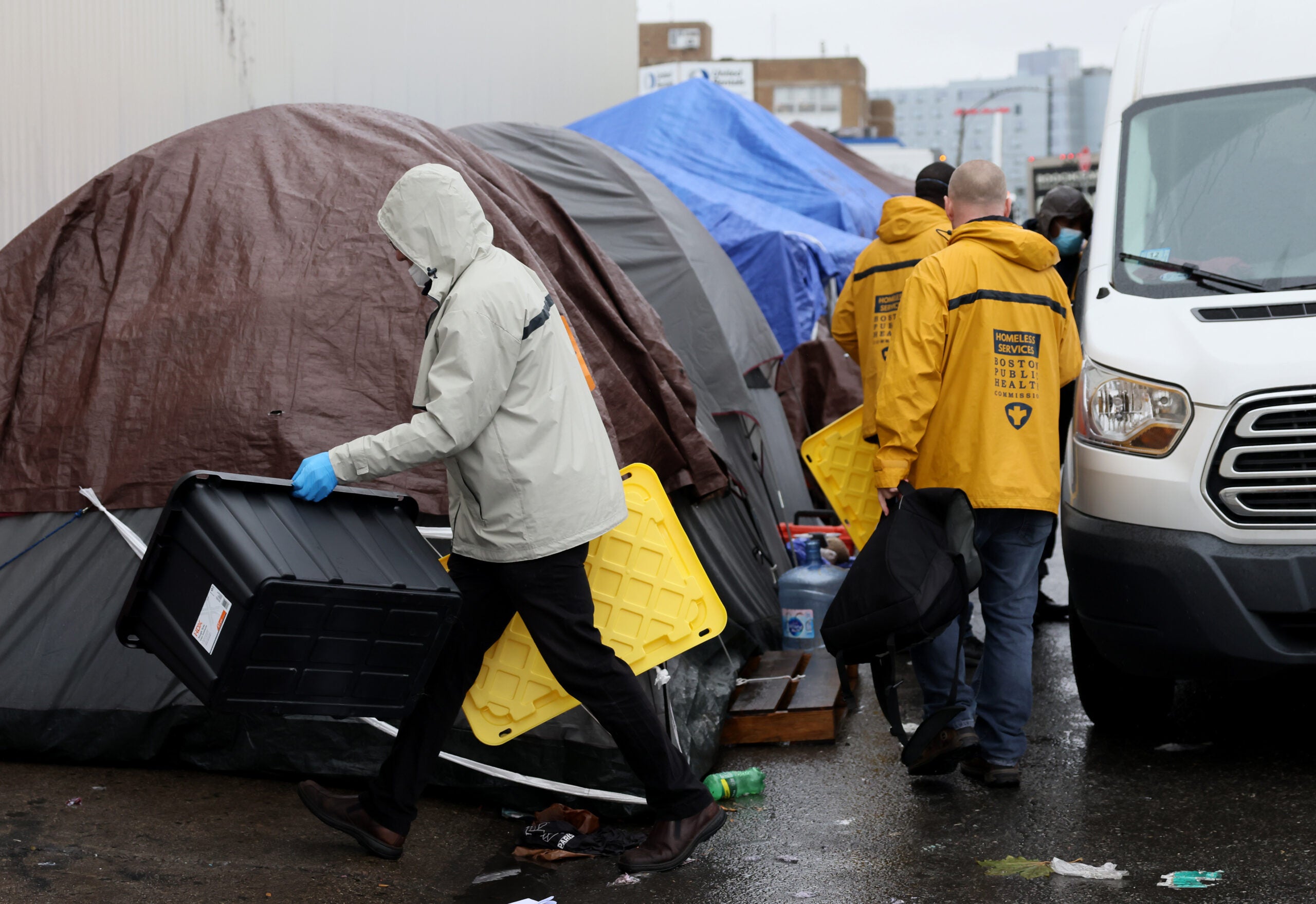 The doctor said there is "no reason" why the same can't be done for the crisis at Mass. and Cass, which has been exacerbated by the pandemic.
"Our state has always been a leader in health care and public health; why would we invest money, political capital, and energy into interventions shown to be ineffective and harmful when we could instead fund, collaborate, and innovate in humane and helpful interventions that would actually save lives?" she said.
Cassie Hurd, executive director of Material Aid and Advocacy Program, stressed in a statement that the individuals living unhoused on Topeka, Atkinson, and Southampton streets have created a community to keep one another safe "in the absence" of shelter or housing options that meet their needs.
"Sweeps and the forced removal of unhoused community members out of the Mass. and Cass area will remove much of the stability, safety, and access to support—peer and professional, as well as medical care and life-saving medication people have," she said. "In being pushed to less safe places, people experience an increased risk of fatal overdose. In short, sweeps only serve to increase harm, and potentially death."
The city's focus on encampments isn't the only initiative to address the crisis at Mass. and Cass that is drawing condemnation from doctors and advocates working in public health and harm reduction.
Suffolk County Sheriff Steve Tompkins is moving forward with an effort that would commit individuals living in the hundreds of tents and makeshift shelters at Mass. and Cass in order to provide them temporary housing on several floors of his South Bay correctional campus, where they could receive mental health and substance use treatment.
Tompkins told WBUR that under his proposal, people living at Mass. and Cass with outstanding warrants would be brought to the jail to be processed in what he is calling "stabilization court." Judges calling into the court remotely would determine whether the individual would be eligible to be sent to the jail's new treatment facility.
The sheriff told the radio station people would be offered voluntary treatment instead of harsher penalties, arguing individuals would not be involuntarily committed.
"If you ask me, we'll be going by Thanksgiving," Tompkins told WBUR. "We have no choice. I refuse to walk out of here and see somebody dead, and I don't want that on our doorstop. I'm not having it."
But experts and advocates are raising concerns about the legal grounds of the sheriff's plan and what will determine whether an individual is sent to jail or the new facility.
"Whether you call it Section 35 or you call it something else, it sounds a lot like involuntary treatment," Lizz Matos, executive director of Prisoners' Legal Services of Massachusetts, told WBUR.
Matos was among a handful of advocates and experts who wrote a letter to local and state leaders raising concerns about Tompkins's proposal earlier this month.
"Focusing on and investing in involuntary treatment is hard to justify when so many people desperately want to engage in voluntary health care, social service, and substance use disorder care and yet aren't able to access the resources they so desperately need," the group wrote. "Correctional settings are not an appropriate place to provide ethical or effective treatment and across the Commonwealth we have made great strides in reducing the criminalization of substance use disorder, mental illness, and houselessness. Expanding a model of involuntary treatment in a correctional setting is not only regressive, but also opens the door to so many of our most vulnerable community members losing their civil liberties."
On Monday, Dr. Danna Mauch, president and CEO of the Massachusetts Association for Mental Health, said the state is on its way to "correcting" the "discriminatory inequity of criminalizing substance use conditions in treating some men committed under Section 35 to treatment in correctional facilities."
The state is being sued over committing men to correctional facilities under Section 35, and according to WBUR, Massachusetts stopped sending involuntarily committed women to jails and prisons for addiction treatment after a similar lawsuit
"The proposal to respond to the needs of people with substance use and mental health conditions now found at Mass. and Cass with involuntary treatment in a retrofitted jail facility is regressive and contradicts our current state policy direction and the preference even in the state's commitment law, Chapter 123, for first offering voluntary treatment," Mauch said. "If our administration and/or the legislature contemplates investment in solving the needs of people at Mass and Cass, let these be made in therapeutic services delivered in public health settings."
Newsletter Signup
Stay up to date on all the latest news from Boston.com