Local
New England's first center-running bus lane is opening in Boston this weekend
"We're exceptionally proud of this."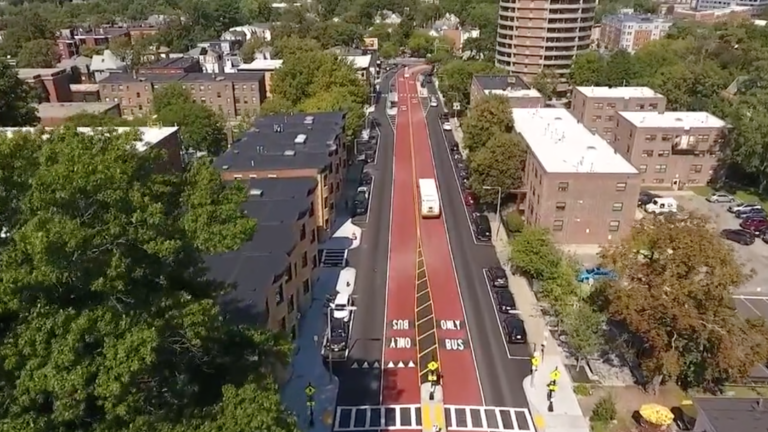 A "groundbreaking" new type of bus lane is opening in Boston this weekend.
Officials are planning to begin service on a new "center-running" bus lane Saturday from Franklin Park to Jackson Square in Jamaica Plain along Columbus Avenue.
A partnership between the MBTA and the City of Boston, the bus lane — located in the middle of the street with raised platform islands for boarding — is the first of its kind in New England. And according to MBTA General Manager Steve Poftak, it will provide bus riders a "straight shot" along the mile-long stretch.
"We're exceptionally proud of this," Poftak said during an MBTA board meeting Wednesday. "It's going to provide a significant improvement to the three bus routes that currently run here. We look forward to opening it shortly."
MBTA officials say it will be a significant improvement upon the bus lanes local residents are used to seeing.
In recent years, the Boston area has seen a growing number of dedicated bus lanes that run in the right outside lane — adjacent to the curb, parking, or a bike lane — with general-use vehicle lanes in the middle.
However, those do not always provide a frictionless trip for bus riders.
By switching which vehicles have to manage the conflicts with parking and double-parked vehicles, the MBTA says that center-running bus lanes provide faster and more reliable service than curbside or parking-adjacent bus lanes.
For riders on the MBTA's 22, 29, and 44 buses, the new Columbus Avenue bus lane is projected to save four to seven minutes along the oft-congested stretch from Franklin Park to Jackson Square, despite being less than a mile long.
According to Poftak, another project to extend the center-running Columbus Avenue bus lane another mile to Ruggles station is also "in the works."
MBTA officials point to other benefits, too.
The project features eight new bus stops with raised platforms for more accessible "near-level" boarding, as well as covered shelters and digital displays.
Located on islands in the middle of the streets, the new stops are safer, according to MBTA officials, with cars passing behind the platforms and narrowed streets inducing slower speeds. Additionally, the MBTA says those changes will make streets feel more like a "neighborhood" street rather than a high-speed road.
The new lanes are also part of the MBTA's effort to redesign its bus network to prioritize communities that disproportionately rely on public transit and provide more frequent all-day service, especially along popular corridors.
"It's an important commitment to the Roxbury and Jamaica Plain neighborhoods," Poftak said. "It's a commitment to our bus customers. And it is symbolic of what we want to get done with with our bus system."
Newsletter Signup
Stay up to date on all the latest news from Boston.com