Local
Map: More than 52,543 in Mass. still without power following nor'easter
Officials expect to fully restore power to all residents by Saturday night.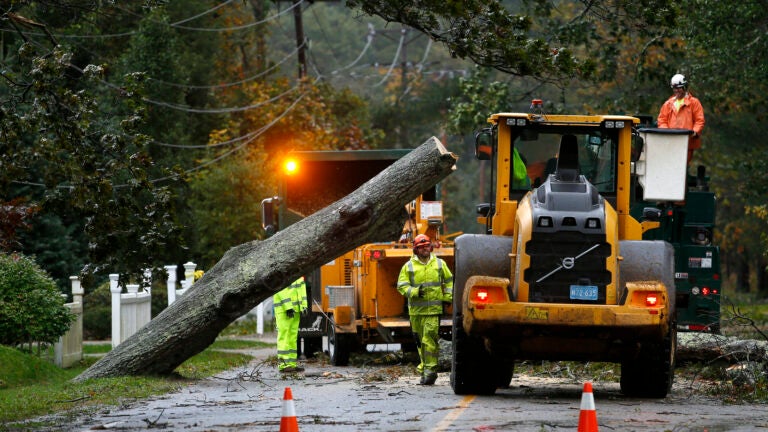 More than 52,000 customers on the South Shore and Cape Cod are still without power as of 10:45 a.m. Saturday morning, days after a powerful autumn nor'easter walloped Massachusetts with dangerous wind gusts and heavy rain, leaving flooding, downed trees, and other significant damage in its wake.
Despite more stormy weather expected Saturday, Eversource and National Grid crews expect to restore power to all affected residents by the end of the day.
Dangerous wind gusts from the coastal storm knocked out power to hundreds of thousands in the state overnight Tuesday into Wednesday morning. By 9:30 a.m. Wednesday, the Massachusetts Emergency Management Agency was reporting 493,730 customers without power, with the bulk of the outages on Cape Cod and the South Shore.
But by Saturday, crews are making progress getting power up and running, with the number of outages dropping to 52,543 by 10:45 a.m., according to MEMA.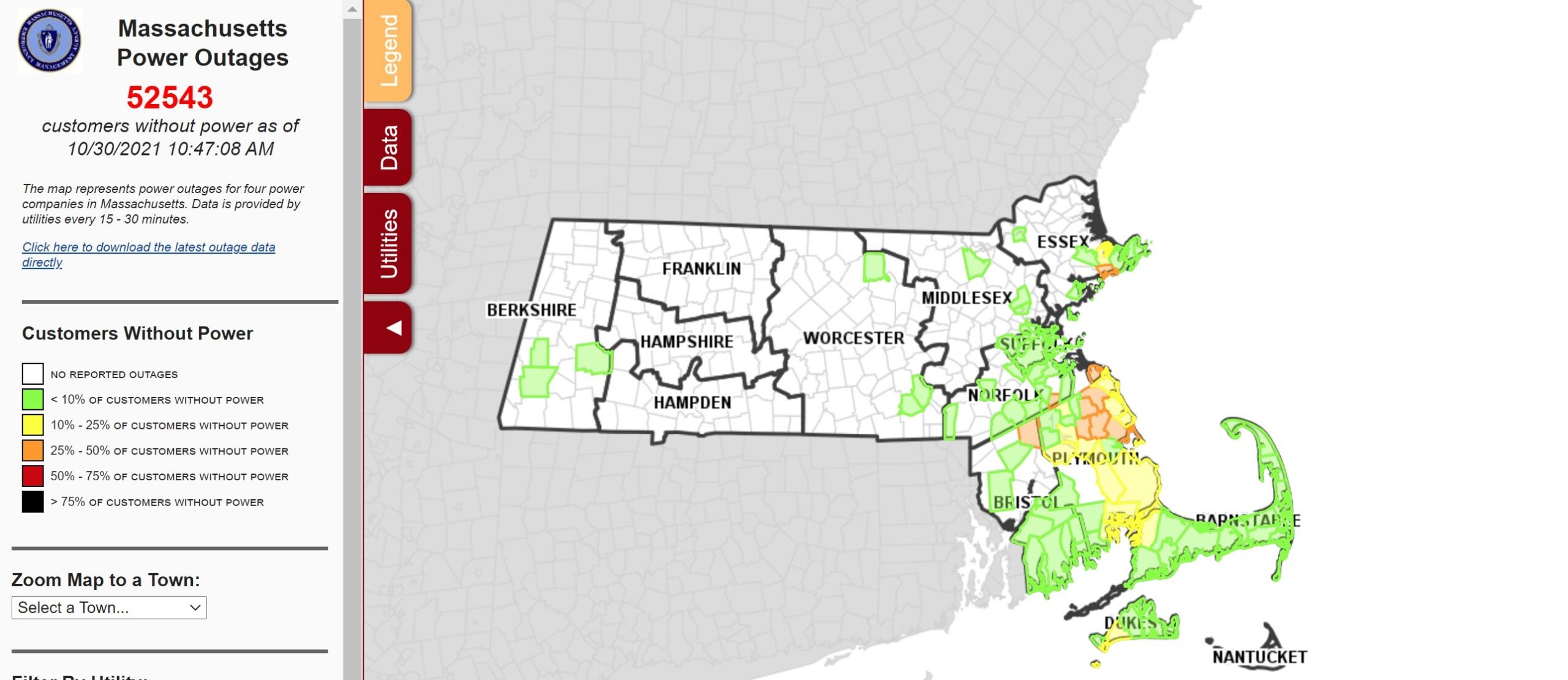 Eversource reported Saturday morning that about a quarter of customers are still without power in Carver, Plympton, Bourne, and Wareham. In Duxbury, 31% of customers were still in the dark Saturday.
The Duxbury Fire Department on Saturday morning expressed exasperation, tweeting: "We are fielding many calls & visits from residents about power restoration times. DXFD has no control over power restoration times. We would ask for your patience with our firefighters who have responded to 264 calls since this major storm hit," and used the hashtag #patience.
State officials had warned that restoring power after the storm would be a "multi-day" effort.
Joe Nolan, president and CEO of Eversource, gave an update on the situation Friday night, saying, "this is one of the largest efforts that Eversource has been involved in, in quite some time."
As the region prepared for rainy weather Saturday, Eversource said on Twitter, "Our crews are working across the Cape and South Shore to continue repairing damage from the nor'easter before more stormy weather arrives. We'll continue working around the clock until everyone has their power back. Always stay far away from downed wires and report them to 911."
"We have over 1,600 crews here from across the country as far away as Canada that are helping in the restoration effort," Nolan said Friday evening, while also thanking customers for their patience. "This is a very, very difficult time for our customers… without electricity. We understand that. We appreciate it. We are not going to sleep until every customer is on."
Nolan said he's been impressed by the outpouring of support from customers, with some baking cupcakes for crews working to restore power in Plymouth.
He made note of the progress in getting schools and nursing and critical facilities power restored.
"It is going very, very smoothly and I'm grateful to our dedicated 9,300 employees and the several thousand that came and assisted us," he said before thanking local vendors and motels for helping to shelter about 7,000 people and providing 30,000 meals to those in need.
Eversource said on Friday it was shifting resources to the hardest-hit communities, including Duxbury and Dennis.
"Residents who are not able to stay in their homes without power should seek other options such as staying with family or friends, hotels, or check w/ local officials for other shelter options," MEMA said in a statement.
A number of schools across the Cape and South Shore remained closed on Friday due to the power outages, including in Plymouth, Barnstable, Bristol, and Norfolk. See a full list of closings here.
Parts of Cape Cod and the Islands saw wind gusts from the storm that topped 80 mph on Wednesday morning, with the strongest gust — 94 mph — recorded in Edgartown. Damage was especially pronounced on the South Shore and the Cape.
On Wednesday morning, the West Barnstable Fire Department blocked off Route 6A due to major ocean water flooding. WBZ reported that wind damage sparked a transformer fire in Brockton, more than 40 homes in Plymouth were blocked with six trees through or on top of the houses, and snapped utility poles had knocked out power to much of the town.
Gas stations across the South Shore saw long lines as people from the area and the Cape sought out fuel, sometimes hours from home, WHDH reports.
The devastation was evident across the South Shore: the top of a Quincy apartment building was ripped off by strong winds, a high school football field press box was splintered in Cohasset, and in Milton, a tree fell onto a home just above a room where a child was sleeping (no one was hurt), according to WBZ.
"Something extreme happened in order to cause this much damage," James Marathas, executive director of the Quincy Housing Authority, told WHDH.
Flooding began on Monday in parts of the South Shore, and big waves were crashing over the beachside road in Revere on Wednesday morning. Waves were still hitting Scituate roads when Gov. Charlie Baker visited to assess the storm damage Wednesday morning.
Boston also saw some damage: a tree in Beacon Hill ripped up the brick sidewalk when it was uprooted by strong winds, and sidewalks were also broken by downed trees in Dorchester.
Trees also took out some power lines on the North shore.
Newsletter Signup
Stay up to date on all the latest news from Boston.com