Local News
Tent removals begin at Mass. and Cass as temporary court holds session at Suffolk County jail 
"We want to ensure the safety and wellbeing of people who use substances, have mental health needs, or are unsheltered."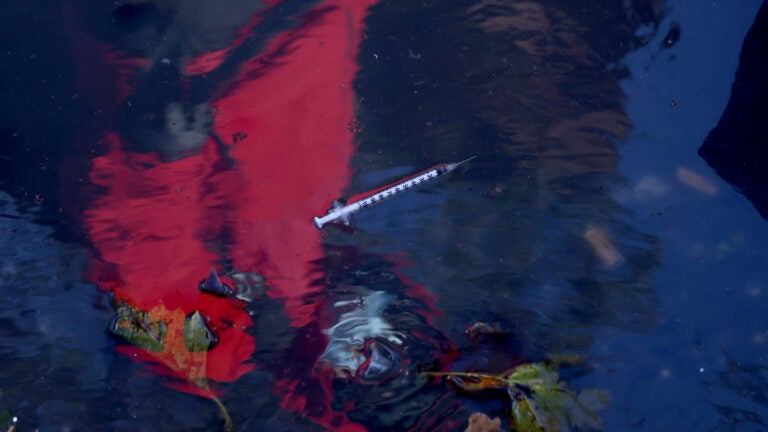 Tent removals began on Monday at encampments near the intersection of Massachusetts Avenue and Melnea Cass Boulevard in Boston, with city officials following the revamped protocols instituted by Acting Mayor Kim Janey's administration last week.
The dismantling of the temporary shelters, which Janey announced in October would no longer be permitted in the city, came the same day that a temporary remote virtual court session began operating at the nearby Suffolk County jail.
The new court was set up as part of a proposal from Sheriff Steve Tompkins aimed specifically at people with outstanding warrants from the area of the city known as "Mass. and Cass."
Tompkins told WBUR last month that the individuals will be processed in what he called a "stabilization court" with judges determining whether the person would be eligible to be sent to the jail's new treatment facility. The sheriff told the radio station people would be offered voluntary treatment instead of harsher penalties.
Both operations by the city and the sheriff have garnered pushback from doctors, advocates, and researchers, who have been raising concerns that the efforts criminalize a vulnerable population and that involuntary commitments for treatment will cause more harm.
On Monday, demonstrators gathered outside the jail to protest the new court as individuals were escorted inside.
Nearby, individuals living in encampments near 112 Southampton St. and 121 Atkinson St. packed up belongings, responding to notices that were posted by the city on Friday warning that tents had to be removed by 8 a.m. on Monday.
The city dictated the removal of some tents last week, but officials said that action was due to scheduled maintenance at nearby properties.
On Friday, Janey administration officials said work was moving forward "with urgency" to implement the steps outlined in the mayor's executive order aimed at clearing encampments around Mass. and Cass, the epicenter of the overlapping crises of the opioid epidemic, mental health, and homelessness in the city. The Boston Public Health Commission declared the homelessness and addiction a public health crisis, and Janey said tents will no longer be tolerated in the city.
City officials have stressed that individuals must be given at least 48 hours notice that tents must be removed, and that no one will be required to remove their temporary shelter unless they have been offered a bed in a shelter or another service like a treatment facility.
Marty Martinez, chief of Health and Human Services, said the goal of the city's approach to the encampments is to give "the right resources and services" in order to get individuals out of their temporary shelters.
A recent survey of the tents in the Mass. and Cass area indicated that about 350 people were in the area, according to Martinez. It was estimated that about 85 percent of individuals reported sleeping on the street the night before the survey was conducted.
On average, there are about 80 to 90 shelter beds available on a daily basis, Martinez said. But he said the number fluctuates and officials are working to open up more spots, particularly beds in low threshold settings.
He said the steps for removing the tents are being aligned with the day-to-day coordination of resources that are available each day.
"We want to ensure the safety and wellbeing of people who use substances, have mental health needs, or are unsheltered," he said Friday. "And especially folks who are living in places that are not meant for human habitation. These encampments, from the city's end, present significant public health, infectious disease, public safety, sanitation and fire safety challenges for folks living in them. For the unsheltered individuals who are there, they are the most at risk from the challenges temporary shelters create. And we want to ensure that we are focused on their safety and their wellbeing and getting them the resources needed."
Individuals who have been offered placement and refuse to remove their shelter could be charged with disorderly conduct. Under Janey's order, Boston police may also petition for involuntary commitments for people who "present a likelihood of serious harm to themselves or others" because of mental illness or substance use disorder.
Stephanie Garrett-Stearns, Janey's chief communications officer, said last week that the special court in the Suffolk County jail, which she called the "Community Response Session," is another element that was called for in the mayor's executive order.
The session, set up by the Massachusetts Trial Court, was moved forward separate from the city's encampment protocols, but in parallel, she said.
"It is not our expectation that the unsheltered, vulnerable individuals that we are looking to help and support are the primary subject of this new Community Response Session," she said. "That session is really designed to target individuals charged with serious offenses who are preying upon the more vulnerable in this part of our city. So while the timing is concurrent, these two efforts are really designed to address two different types of populations."
According to reports at the scene on Monday, Boston employees were handing out containers for individuals around Mass. and Cass to store their belongings for free.
Several individuals told GBH they did not plan on taking available shelter beds. Some accepted the free storage, departing the area afterwards.
One man told the station he was incarcerated for 10 years and has lived on Mass. and Cass for five. If he had an apartment or a place to live, it would be a big step for his recovery, he said.
"I don't want to go back to jail, and shelters are jail," he said. "People working there don't know how to treat addicts, and people here don't treat us like human beings. Treat me like an animal, I'll do what an animal does."
Newsletter Signup
Stay up to date on all the latest news from Boston.com