Local News
'It was clear the facility was not ready for this mission': Advocates condemn court sessions in Suffolk County jail for people arrested at Mass. and Cass
"This is such a highly vulnerable population, they really need to be in a health care setting. Not in a carceral setting. And certainly not in a 'jail court,' which is really what this is."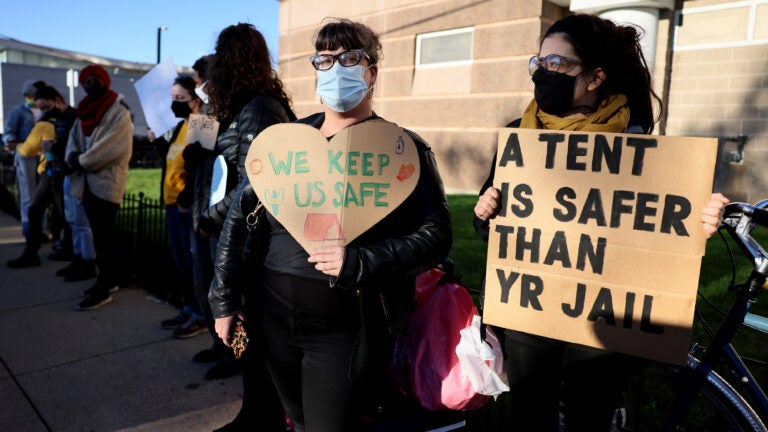 Advocates are raising concerns about the operation of the new court at the Suffolk County jail, which held its first sessions this week.
The court was established with the purpose of processing individuals arrested in the area of Mass. and Cass and addressing what officials have said is a public health and public safety crisis created by the more than one hundred tents there. Boston officials have said the goal of the court, which they call a "Community Response Session," is to deal with serious criminal offenders spending time in and around the encampment, which has become the epicenter of the city's opioid, homelessness, and mental health crises.
The sessions, which were held on Monday, Tuesday, and Wednesday, are moving forward in parallel with the city's implementation of Acting Mayor Kim Janey's encampment protocols, which resulted in the removal of tents in the area at the start of the week.
But in the first week of the court's operation, most of the individuals who were arrested and brought before a judge in the virtual sessions have had open warrants for low level, non-violent crimes.
On Monday, three men were brought into the court on charges ranging from drug possession to larceny to breaking and entering, according to The Boston Globe. All three asked to be sent to a facility for addiction treatment, but Judge Paul Treseler only granted the request for one of them.
During the session on Tuesday, one woman, who was facing an open warrant for charges including drug possession and trespassing, was ordered to go to a medical detox program in Boston, WBUR reports. But Treseler issued a warrant for her arrest later in the day when she failed to show up at the facility. Attorneys said the woman did not understand that going to detox was the condition for her release.
According to WBUR, a second woman brought in on Tuesday, for charges of leaving the scene with property damage, was ordered to treatment while a third individual was ordered held for a warrant out of Hingham for drug possession. Three other individuals were brought into the court on Wednesday.
One of the men from Monday's session — who was ordered sent to Fitchburg to deal with his warrant there, despite requests for him to be sent to treatment by both his attorney and prosecutors — is being held in the Worcester County jail, where there is an outbreak of COVID-19, according to GBH and WBUR.
Robert McGovern, communications director for the Committee for Public Counsel Services, said in a statement on Wednesday that there were numerous problems with the first sessions in the Suffolk County jail.
"This court session was ostensibly created to give medically-compromised people immediate access to medical attention," he said. "On the first couple of days, it was clear the facility was not ready for this mission. Booking of the individuals took hours."
In addition, McGovern said the facility was "largely inaccessible" to the press and public.
"Several defendants were held despite available treatment for them," he said. "One of them might have gotten to the open bed had he been processed at the physical courthouse. Overall, defendants had slower and worse experiences in this session than they would have had at a physical courthouse. With medically compromised people, time is valuable and these errors and delays cannot continue."
Suffolk County Sheriff Steve Tompkins told Boston.com on Tuesday the sessions are operating as he imagined they would when he proposed establishing the special court in conjunction with a treatment facility he is creating on the South Bay campus, which he hopes will offer temporary housing and care to up to 100 individuals from Mass. and Cass. The treatment facility at the Suffolk County jail is not yet operational, but Tompkins said the aim is to open it around Thanksgiving.
The sheriff said that on the first day of the court session there were "some things" that had to be addressed.
"It went pretty well," he said. "And so as often with first days, when you start a new initiative, you've got some flies in the ointment that you have to iron out. And we did yesterday. That's all been resolved."
When asked about the three men who were brought in on Monday, Tompkins said that in talks about establishing the court, there had always been the understanding that if there was a warrant from an outside municipality, the individual would be sent to that court to answer for the warrant.
Tompkins said going forward he believes more people brought into the court will be offered treatment, but that what happens to the individuals is under the jurisdiction of the court.
"I have nothing to do with that end of this initiative," he said. "I think we're up and running, and it will get better as we go along."
Asked for clarification about what improvement he expected to see, Tompkins said he was referring to technical aspects of the virtual court's operation, including improving audio and video.
Individuals arrested on open warrants are physically brought into the room at the jail with attorneys in attendance, while the judge presides remotely.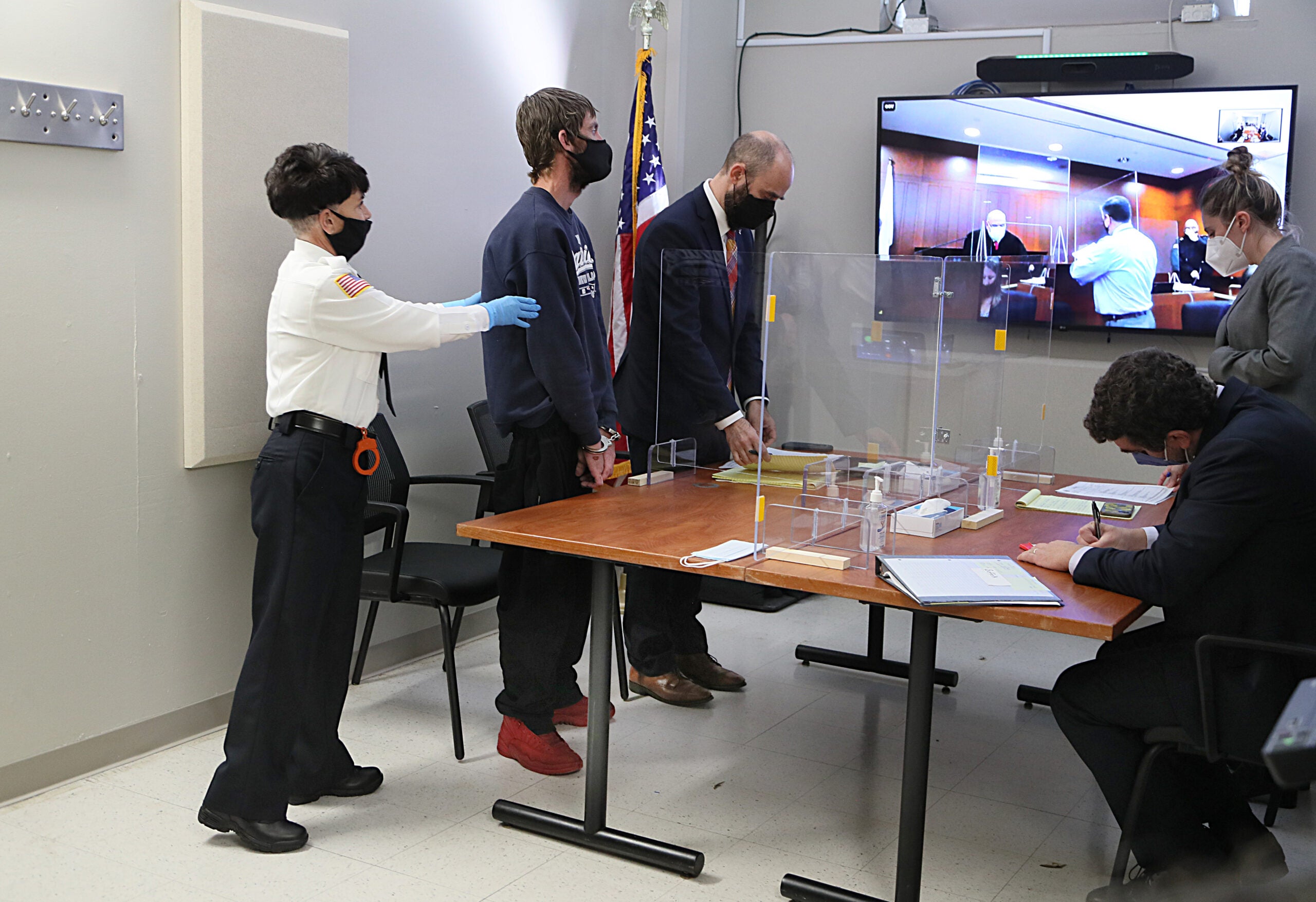 Stephanie Garrett-Stearns, Janey's chief communications officer, said last week that the court in the Suffolk County jail is designed to address a different population than the individuals city officials are working to get out of tents and into shelter or treatment beds with the encampment protocols.
"It is not our expectation that the unsheltered, vulnerable individuals that we are looking to help and support are the primary subject of this new Community Response Session," she said. "That session is really designed to target individuals charged with serious offenses who are preying upon the more vulnerable in this part of our city."
McGovern said that the stated goals for the temporary court can be achieved at a physical, existing courthouse, which would also provide "increased safety while protecting client rights."
Lizz Matos, executive director of Prisoners' Legal Services of Massachusetts, agreed with McGovern that the sessions in the jail are "definitely worse" than what would be occurring in a typical court setting.
She said many of the details of the court's operation remain "very murky."
"There are a lot of questions — more questions than answers still about this court," she said.
Matos said on Tuesday that the narrative by officials that the court is focused on the violence and harm done to people at Mass. and Cass is not reflected in who was arrested and brought in during the first session.
"It calls into question what the real motivation is here," she said. "Are we centering the needs of people, who, quite frankly, have been neglected for many years? We lack the systems that we really need in place and have lacked the will to fund what really needs to be funded in order to address these problems in a systemic and sustainable way. Just pretending like there's a sudden urgency in addressing that problem with a solution that is not a solution."
Many of the warrants people are being brought in on are for problems that occur with unhoused people because legal notices for them are being sent to their last address, where they no longer live, Matos said.
"That is a problem … Massachusetts has made significant strides in the criminal justice system to reduce our footprint of incarceration," she said. "And this is definitely going in the wrong direction. There's no doubt about that. It's really hard to make an argument that this is a step away from mass incarceration, using incarceration to deal with a social problem."
Matos is part of a coalition of advocates and medical professionals, the Public Health & Human Rights for Mass. and Cass Coalition, pushing officials, including Mayor-elect Michelle Wu, to invest in community-based treatment and address the needs of the individuals at Mass. and Cass with evidence-based public health measures. The coalition has proposed its own six-point policy plan for how to address the humanitarian crisis, starting with establishing non-congregate shelters and low-threshold housing, ending efforts to remove tents, meeting the basic sanitation needs of individuals at Mass. and Cass, and increasing voluntary treatment options.
A primary concern for Matos and other advocates is that the acute health needs of the population being brought into the sessions at the Suffolk County jail are not being adequately addressed with the setup of the temporary court.
She pointed out that the two people held on Monday had to detox while they were being transferred to other locations.
"We know that around 10% of the folks who are living in that area are infected with HIV and have a number of other comorbidities," she said. "It is not a population where you cannot have a very clear plan in terms of who is providing care to the population. People may be in withdrawal, they may be detoxing, they may overdose. There's a lot of things that can happen in that setting."
And if individuals are incarcerated, rather than being sent to treatment, Matos said there are worries about the ability of jails to provide comprehensive care to people struggling with addiction or other health needs.
"This is such a highly vulnerable population, they really need to be in a health care setting, not in a carceral setting," she said. "And certainly not in a 'jail court,' which is really what this is."
Matos also raised concerns that the court is operating out of the Suffolk County jail while Boston police and the district attorney's office are investigating the deaths of four people in the sheriff's custody since July.
"To be pushing a solution or really rushing into something like this in the midst of that seems, at the very least, to be a lack of prudence and just ill-advised," she said. "If this were happening in another setting, there would be public outcry about this … So I think the real underlying issue here is, do we value the lives of the folks who are living at Mass. and Cass as full human beings and as important as anybody else? And if we do, then I think we need to be much more cautious and much more intentional about trying to resolve this problem in a way that is really evidence based and follows health care professionals."
Matos stressed that the setting of the court in the jail itself isn't meaningless.
Having to walk into a jail to deal with your legal issues has an impact on an individual, she said, adding that it's not how the justice system should work.
"This is not the best that we can do, and it's certainly not how these resources, in my opinion, should be spent," she said. "I think it's worse optics-wise. It's worse in terms of not just optics, but how people are actually being impacted by the fact that this is happening in jail. I don't think that should get lost. Again, this is a highly volatile population that is primarily in the situation they're in, warrants or not, because they are unhoused and sick. And folks like that need to have their needs addressed in a way that is sustainable."
Newsletter Signup
Stay up to date on all the latest news from Boston.com