Local News
Boston Children's Hospital holds 2nd virtual annual toy drive program
"We just want the donors to know how grateful we are; it means so much to us because it means so much to families and patients."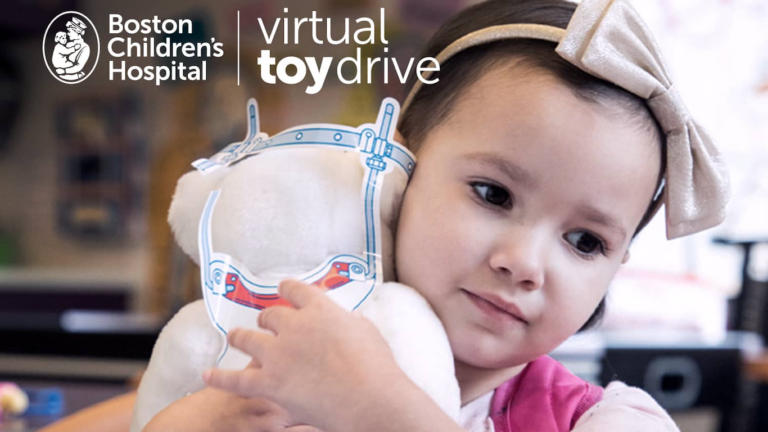 For the second time, Boston Children's Hospital is hosting their toy drive program virtually due to the COVID-19 pandemic, the hospital announced Oct. 18. The toy drive was switched to a virtual format last year after the pandemic broke out and visitors were not allowed into the hospital.
Donors, instead, are now able to create an online fundraiser that they can share with family and friends to raise money for the hospital through the virtual toy drive website. The money will then be used by staff at the hospital to shop for the pediatric patients and create several types of gift bags that parents and caregivers can pick out to give to their child.
The hospital hopes to raise $350,000 in donations this year.
"The virtual toy drive allows us to select toys and gifts that could be utilized by patients in the hospitals, and can even be geared toward teenagers, children with mental needs, children with sensory issues," Beth Donegan Driscoll, director of Child Life Services at Boston Children's Hospital, recently told Boston.com.
The virtual toy drive program was set up by Boston Children's Hospital in close collaboration with the hospital Trust, according to Drisoll.
The hospital recommends donors wrap up fundraising efforts by Dec. 1 so that staff can use those funds to buy and order gifts for the patients. The remaining donations and anything that is sent in following that date will be used by the hospital to stock playrooms with toys for the pediatric patients and other needs that may arise throughout the year.
Prior to the pandemic, donors would bring in their donations to the lobby of the hospital, and staff would set up a shop for parents and caregivers to browse and pick out gifts for their children, Driscoll said. Driscoll, who has worked at the hospital for 35 years, watched every holiday season as truckloads of toys came in and gifts were delivered even on the weekends.
This, however, caused slight issues as some years donations would be heavy on one type of item such as dolls or toy mobiles, which may have not be suitable or desirable for some of their patients, especially those who were older.
"[The virtual donations] can also make sure to have a balance of toys," Driscoll said. "This way we are able to order enough for all ages and patients."
The in-person format also created some challenges for those who had to sort through the toys that were getting delivered to the lobby. Driscoll said many days they would have staff downstairs from 8 a.m. all the way until 7 p.m. sorting through the donations. The virtual format gave back time to staff from Child Life Services, who were often pulled away from their actual jobs of being with patients to help out sorting gifts.
Driscoll says the hospital is incredibly fortunate for the donors, which include many who had experiences at the hospital as a patient and want to give back during the holidays.
"We just want the donors to know how grateful we are, it means so much to us because it means so much to families and patients," she said. "It was extremely impactful and extremely moving to see the stress of having to buy gifts alleviated from [families with patients at the hospital] … it was totally taken off their plate."
Driscoll says the most rewarding and exciting part of the toy drive in-person was when they got to connect with the donors who came in and hear their stories and experiences. But then due to pandemic restrictions, only select visitors were allowed to enter the hospital with patients. Hallways remained empty as did playrooms, and children were isolated in their rooms only able to participate in activities via Zoom.
Now, as the hospital and world begins to open up a little from the pandemic, the hospital is trying to think of what a hybrid toy drive program in the coming years would look like.
"Our goal is to provide as amazing of a holiday season as we can for the children," Driscoll said.
Newsletter Signup
Stay up to date on all the latest news from Boston.com