Local News
He resigned as a teacher in Braintree after being photographed at the Capitol riot. Now he's on the school committee.
"I'm not going to lie, we have a tough road ahead but nothing worth doing in life ever came easy!"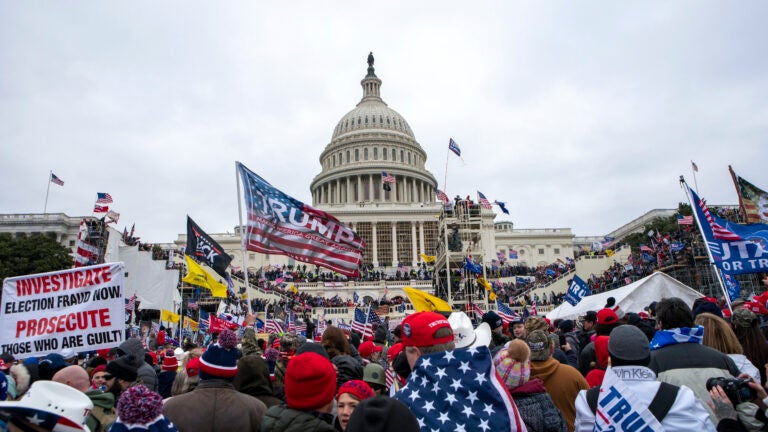 Matthew Lynch was a teacher in Braintree schools until he resigned after photos surfaced of him at the Jan. 6 insurrection attempt by supporters of former President Donald Trump at the Capitol.
Now, Lynch has been elected to the city's school committee.
Of the three people elected to the Braintree school board, Matthew Lynch was the second highest vote getter, garnering 2,319 votes.
The Patch news service reported that photos of Lynch at the riot were posted to various Facebook community groups, in some cases along with information on the FBI's tip line regarding the event.
Lynch told Patch that he had been contacted by the FBI twice since his participation in the Jan. 6 event, where five people died and about 140 police officers were injured.
Lynch hasn't said what the FBI interviews were like, and the FBI told Patch it cannot comment on investigations that are open.
In his resignation letter, which Lynch sent to Patch, he said "times change and situations evolve" and that he could "no longer be true to myself" if he continued teaching in the district.
"My military experience as an Intelligence Analyst has given me unique perspective on what is currently going on in both our country and our town and I fear we are heading on a real collision course," Lynch wrote in the letter, according to Patch. "I feel I need to make my voice heard in the town of Braintree but in doing so will have unintended side effects which will be completely unfair to my students."
Lynch was also accused of making transphobic remarks on social media while he was still teaching, which garnered complaints from teachers, students, and parents, Patch reported in a separate article.
"This type of person should not, and cannot, be in an academic environment and be teaching the children of Braintree," a former student wrote. "He does not belong in a position of power to students."
The majority of the 27 complaints against him were about the riot, but others referenced things Lynch allegedly said, or posted on social media. One complaint called him a "radical." Another complaint centered on alleged transphobic remarks, including phrases like "gender blender" and mentions of humans "identifying" as animals.
Lynch isn't the only person present at the Jan. 6 riot who was elected to public office this November. He's actually one of at least seven, according to The Washington Post. The other winners are scattered across the country – New Jersey had two who attended the Jan. 6 rally elected. Another is in Idaho.
Boston.com reached out to Lynch for comment, but had not heard back as of publication time.
Lynch did, however, post about his victory on his Facebook page.
"​​I'm not going to lie, we have a tough road ahead but nothing worth doing in life ever came easy!" he wrote in a post Thursday morning. "Its time we stop using kids as shields and we start protecting them. So thanks again for all the support, we are just getting started!! Remember to lean on each other through these hard times because iron sharpens iron."
Newsletter Signup
Stay up to date on all the latest news from Boston.com