Local
ACLU files lawsuit to stop city from continuing 'large-scale evictions' at Mass. and Cass
"We can't sweep or arrest our way out of the intersecting crises at Mass. and Cass."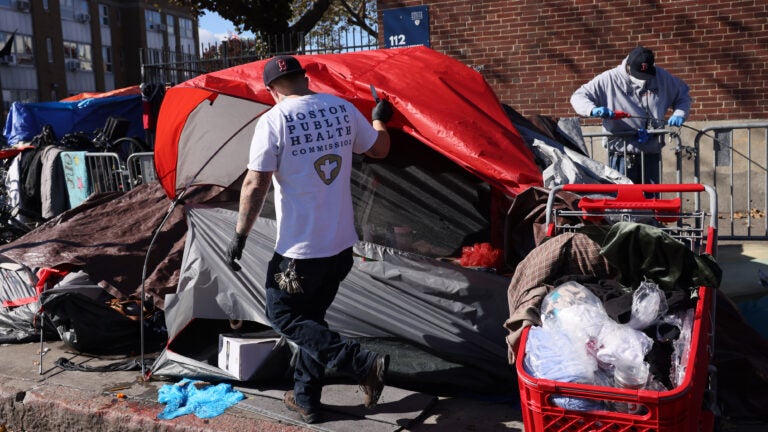 The ACLU of Massachusetts is suing the City of Boston, seeking to stop what the organization calls "large-scale evictions" of people living in an encampment in the area of Massachusetts Avenue and Melnea Cass Boulevard.
The lawsuit was filed Thursday night by the nonprofit organization on behalf of three people experiencing homelessness who are or were until recently living at Mass. and Cass. It alleges the individuals were "driven out" from their temporary shelters under the threat of arrest by the city, without being offered "viable" alternative shelter options. The lawsuit also states in the process of removing the individuals from the area, the city seized and destroyed their personal belongings.
Boston officials began removing tents at Mass. and Cass on Monday, implementing encampment protocols mandated in an executive order issued by Acting Mayor Kim Janey last month.
Janey and city officials have stressed that under the protocols, individuals at Mass. and Cass must be given at least 48 hours notice that tents must be removed. They also have said that no one will be required to remove their structure unless they have been offered a bed in a shelter or treatment facility, since the stated goal of the effort is to get more people connected with resources and services.
But under the executive order, people who have been offered placement and refuse to remove their shelter may be charged with disorderly conduct. Boston police may also petition for involuntary commitments for people who "present a likelihood of serious harm to themselves or others" because of mental illness or substance use disorder.
City officials have said that under the encampment protocols, individuals at Mass. and Cass are being offered free storage for their belongings. After a site is cleared, the city has also said that notices will be posted to inform people where temporarily stored items can be retrieved.
The city's approach has been met with widespread condemnation from doctors and advocates, who say the push to remove the encampment will only cause harm by displacing and criminalizing a vulnerable population.
The ACLU said the three plaintiffs in their lawsuit, and others living at Mass. and Cass, live outdoors because there isn't another option for temporary housing available to them and staying at shelters is not feasible due to their disabilities, medical conditions, or family composition.
"The unsheltered homeless often raise tents or create other simple structures to protect themselves from the elements, gain some privacy, and enable sleeping," the lawsuit states. "Plaintiffs and those similarly situated face or have already experienced displacement under the City policies challenged in this action, and are terrified about losing their liberty, their worldly possessions and any place to be, if the City is allowed to continue to force them—under threat of arrest and criminal prosecution—to relinquish their current living spaces without providing alternatives adequate to meet their housing and medical needs."
Asked about the lawsuit during a press conference on Friday, Janey said she would "not respond specifically to ongoing litigation."
But she said the city would comply with the courts.
"Our approach has been a public health approach where we first provide notice, we certainly provide storage, and we are working hard to identify beds," she said. "And we are not asking anyone to remove their property, their belongings, to move off the streets without first identifying a place for them to go that is appropriate. Whether that is treatment, whether that is a low threshold bed. We are working hard to match the individual needs of the people who are living on the streets, living in tents, with the appropriate treatment and shelter options available."
Janey said that this week city workers referred 60 unsheltered individuals into treatment, city shelters, transitional housing, or back to "stable homes."
The city also removed more than two dozen tents from the Mass. and Cass area, she said.
"We will continue to use a public health approach and treat every individual with dignity," Janey said. "This work is urgent, but should not be confused with sweeps conducted in years passed. No person is required to remove or store their tent before appropriate shelter, housing, including low threshold housing and beds or treatment, is available. We are continuing our work with the state and county officials across the commonwealth to identify more low threshold beds and to help individuals who are suffering with substance use disorder or homelessness."
Parallel to the city's effort to disperse the encampment, which has become the epicenter of the crises of addiction, homelessness, and mental health in the region, a special court session was established this week in the Suffolk County jail to process individuals from Mass. and Cass with open warrants. That effort has also drawn condemnation from advocates.
The ACLU, which is part of a coalition that released a plan for addressing the humanitarian crisis this week, said the city must identify "viable alternative housing options" for individuals before pushing them away from Mass. and Cass.
"We can't sweep or arrest our way out of the intersecting crises at Mass. and Cass," Carol Rose, executive director of the ACLU of Massachusetts, said in a statement. "This plan is harmful and unconstitutional because it forces people to disperse with no safe place to sleep, while disconnecting them from the medical care they are able to receive at Mass. and Cass. Indeed, it's inconsistent with City assurances, public safety, and the law."
Read the complaint filed by the ACLU below:
Geddes Complaint by dialynn dwyer on Scribd
Newsletter Signup
Stay up to date on all the latest news from Boston.com