Local
'There are changes and improvements that are needed': Michelle Wu addresses city's tent strategy, special court sessions for Mass. and Cass
The mayor-elect told reporters on Thursday she is seeking more information on how individuals are being detained for the court sessions at the Suffolk County jail.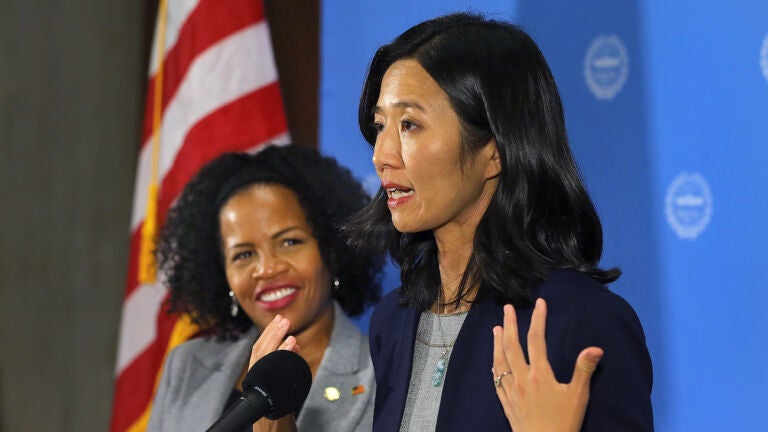 Mayor-elect Michelle Wu said this week that one of her top priorities when she takes office on Nov. 16 is to address the humanitarian crisis in the area of Massachusetts Avenue and Melnea Cass Boulevard.
Speaking to reporters on Thursday, the incoming mayor said she plans to make some changes to how the city is handling the encampment in the area, WBUR reports.
Wu's comments came after she was briefed at City Hall on the crisis of hundreds of people who have set up tents around Mass. and Cass and are struggling with mental health, substance use, and homelessness.
"From what I can tell, there are changes and improvements that are needed in terms of how we could better connect every individual to services and housing," Wu said, according to GBH.
But the mayor-elect said she couldn't yet commit to any specific policy changes.
Last month, Acting Mayor Kim Janey issued an executive order aimed at getting individuals living in the encampments into shelters or treatment beds and removing the temporary shelters, which she and officials said are creating a public health and public safety crisis.
City officials have stressed that under the encampment protocols rolled out by the Janey administration, individuals at Mass. and Cass must be given at least 48 hours notice that tents must be removed. They also have said that no one will be required to remove their structure unless they have been offered a bed in a shelter or treatment facility.
But under the mandate, people who have been offered placement and refuse to remove their shelter may be charged with disorderly conduct. Boston police may also petition for involuntary commitments for people who "present a likelihood of serious harm to themselves or others" because of mental illness or substance use disorder.
Janey's plan has been met with widespread condemnation from doctors and advocates, who say the approach will only cause harm by displacing and criminalizing a vulnerable population. The ACLU has filed a lawsuit against the city to stop what the organization is calling "large-scale evictions" of unhoused individuals in the area.
Wu has previously said she supports Janey's executive order, and on Thursday she told reporters she doesn't plan to make significant changes to the process established by her predecessor, according to WBUR.
She said earlier this week that one of the first hires she plans to make as mayor is a cabinet-level position focused on Mass. and Cass, which will be focused on "clear action, leadership, and coordination" of the city agencies and nonprofits responding to the area.
"I want to be clear that in terms of support and what will happen next, we need to ensure that we are leading with a public health lens," Wu told WBUR's "Morning Edition" on Friday. "So I support the emphasis on avoiding any sort of criminalization of people who are seeking treatment and in need of services, and moving quickly so that we are connecting residents with those resources."
Wu told the station the city needs to establish more "low-threshold, stable, supportive housing." She said that could be done through using city-owned buildings quickly retrofitted for a new purpose or by using vacant hotel rooms that could be repurposed with wrap-around services.
"When we can get support for someone into transitional housing, off the streets, it is then much more likely that people can connect with stable housing," she said. "What we're facing right now is a countdown against the clock every day that goes by. We are closer to winter and freezing temperatures. So we need to act quickly to establish those connections to treatment and to housing. We cannot have a criminalization of these crises — opiates, mental health, and homelessness. It only destabilizes everyone in the community and perpetuates the inequities that brought us here in the first place."
Speaking to reporters on Thursday, Wu said she is concerned by reports that a woman who was arrested this week and brought into the special court sessions at the Suffolk County jail was taken into custody while she was waiting in line for her scheduled dose at a methadone clinic.
The mayor-elect said she is seeking more information about how people are being detained for the special court in the jail.
She said the purpose of the court, which Boston officials are calling a "Community Response Session," should be to help people get services and no one should be arrested while waiting for treatment, according WBUR.
"That would be unacceptable," Wu said. "There is a clear understanding from the folks who were at the table today that this is not something that should ever happen."
Boston officials have said the purpose of the special court, which began holding sessions this week at the Suffolk County jail, is to process individuals with open warrants arrested in the area of Mass. and Cass. The goal, officials said, is for the court to deal with serious criminal offenders spending time in and around the encampment and preying on individuals in the area.
But so far, the individuals arrested and brought into the court have had warrants for low-level, nonviolent crimes.
Wu said her administration plans to look into the scope of the court sessions, particularly how they may address outstanding warrants from jurisdictions outside Boston, according to WBUR.
Many of the individuals living at Mass. and Cass are not from Boston. During the sessions at the court this week, Boston Municipal Court Judge Paul Treseler ordered four of the nine people brought in to remain in custody rather than being sent to treatment in order to address warrants from other municipalities, according to WBUR.
Asked on Friday if it's possible for the court to be effective in addressing the crisis at Mass. and Cass, Wu told "Morning Edition" that changes in the criminal justice system are needed to ensure diversion to treatment and the root causes — such as a lack of stable housing and trauma — are being recognized.
"We need to keep tweaking and pushing for the court system to move in the right direction," she said. "But from the city's perspective, I'll move right away for leadership and accountability when it comes to coordinating our services, establishing that stable housing, and doing so quickly before it gets cold outside."
Newsletter Signup
Stay up to date on all the latest news from Boston.com