Local
'We're not trying to hurt anybody': Suffolk County Sheriff Steve Tompkins pushes back against critics of his proposal to address Mass. and Cass
 "They don't fully understand what we're trying to do."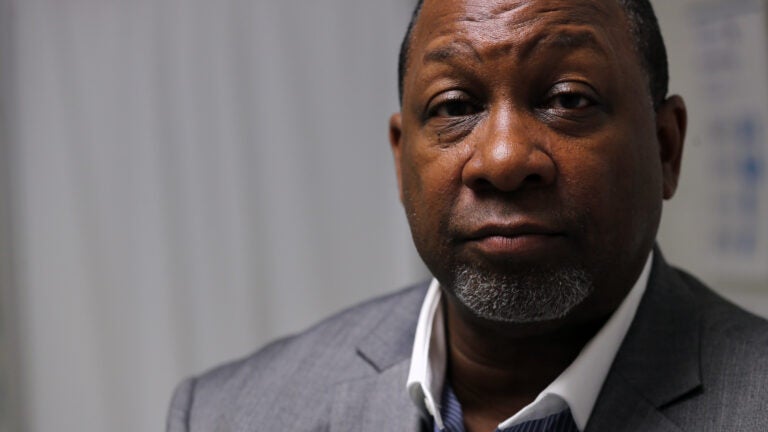 Suffolk County Sheriff Steve Tompkins is pressing ahead despite growing pushback against his plan to open a treatment facility on his South Bay correctional campus where people in the area of Mass. and Cass with open warrants could be directed by the special court sessions operating at the jail.
Tompkins told Boston.com in a recent interview that his hope is the facility will be up and running around Thanksgiving.
The special court sessions held inside the Suffolk County jail began operating last week and resumed Monday. Officials have said the goal of the "Community Response Session" is to bring in serious criminal offenders spending time in and around the encampment at Mass. and Cass, which has become the epicenter of the city's opioid, homelessness, and mental health crises.
But the individuals processed in the first three sessions of the court had open warrants for low-level, non-violent offenses. Four of the nine people processed during the first week were ordered to remain in custody to deal with warrants from other communities by Boston Municipal Court Judge Paul Treseler, rather than being directed to treatment facilities.
Lawyers and advocates have roundly criticized the court sessions being held in the jail as being more harmful than adjudicating cases in a typical court.
Tompkins told Boston.com that while some issues arose in the first days of the court the sessions are going as he anticipated. He expects that as they continue, more individuals will be sent to treatment.
When his facility is ready, men directed by the judge to treatment instead of jail or harsher punishments in the virtual court will be brought to what Tompkins called "Building 8," a standalone structure on the South Bay campus that previously was used to hold Immigration and Customs Enforcement (ICE) detainees. There, individuals will be housed in a setup that Tompkins likened to a "college dormitory-type of situation," where larger rooms can sleep between three and six people.
Tompkins said he plans to start with one person per room, potentially going up to three people in each space. He said he has space for up to 100 people in the facility, which will only house men since the state currently prohibits women from being committed for treatment in facilities housed in a correctional facility.
Individuals would be held in the facility for 90 days.
The sheriff stressed that the goal of his proposal is to "get people off the street" and away from the encampment where there have been five murders this year.
"Get them off the street for a whole host of reasons — the drug usage, the defication, fornication, human trafficking, and the impending cold weather," he said. "So not having people living on the street in squalor — that's what they were living in. The garbage is untenable; the rats are as big as cats … People can't live like that. When you have open air drug usage and the rest — as I say, defecation, fornication — when that becomes normalized, society has to do something about that."
Tompkins said seeing the crisis on his "front door step" day-in and day-out is what pushed him to put forward his proposal in September to establish the special court and treatment facility in his jail.
"What I've said is look, bring them in, they'll have a bed, they'll have a shower, food, clothing, medical attention, case work, we'll try family reunification and get them reconnected to their families if that's at all possible," he said. "And then work with external organizations that deal with housing and mental health and substance abuse so that at the end of the 90 days, let's be able to hand them off to another entity, an external entity, that can continue that care."
The sheriff said his goal is to get people "whole" as best he can.
"Neighbors are supposed to help neighbors," he said. "And that's what we're trying to do. We're not trying to hurt anybody."
The sheriff's department will be involved with some of the case work for individuals brought in through the court, but Wellpath, the jail's medical provider, and MassHealth (Medicaid) will take on the "lion's share" of the medical care provided at the treatment facility, he said.
But advocates, addiction doctors, and public health leaders have pushed back against Tompkins's proposal and the court sessions, saying that the efforts criminalize individuals struggling with mental health, addiction, and homelessness.
"Compulsory addiction treatment is less effective than voluntary treatment," Dr. Sarah Wakeman, the medical director for the Mass General Hospital Substance Use Disorder Initiative, said during a press conference last month. "Concerning data shows higher rates of fatal overdose after involuntary treatment. It violates the autonomy and trust of the very people we should be trying to serve, and correctional settings are not where we should be siting medical and addiction treatment services."
Instead, a group, which calls itself the The Public Health & Human Rights for Mass. and Cass Coalition, has called for local officials to lead with public health measures and for Boston to end efforts to dismantle the encampment at Mass. and Cass.
Last week, in a separate but parallel measure to the special court sessions, Boston officials began implementing encampment protocols issued by Acting Mayor Kim Janey's administration and aimed at getting individuals at Mass. and Cass into shelters or treatment and clearing tents from the area. The ACLU is suing the city to stop what the organization called "large-scale evictions" of homeless individuals in the area.
Advocates say the "sweeps" of Mass. and Cass by the city, the court sessions at the Suffolk County jail, and the proposal from Tompkins will only cause harm and displace a vulnerable population in need of services and support. In particular, concerns have been raised about individuals being involuntarily committed to treatment, as Wakeman referenced.
But Tompkins has pushed back against those concerns that individuals will be involuntarily committed to his facility.
"They don't fully understand what we're trying to do," he said.
Currently the state is being sued over committing men to correctional facilities for treatment under Section 35, the state law that allows a person to request a court order to civilly commit an individual for involuntary treatment for alcohol or substance use disorder. Massachusetts stopped sending involuntarily committed women to jails and prisons for addiction treatment after a similar lawsuit.
Tompkins said he will only take in individuals who are already touching the legal system, meaning they will have open warrants or be individuals sought by the courts or police.
Even though he supports the use of Section 35, the sheriff said he doesn't foresee the state law being involved in the treatment facility he is proposing.
"I really don't want to be a part of that, I don't want what we're trying to accomplish here with helping people to get skewed by the Section 35 discussion … For the purposes of what we're trying to get accomplished right now, I said to the courts and the DA that we are looking at people who are touching the legal system," he said. "I think that's the best way to go here."
Lizz Matos, executive director of Prisoners' Legal Services of Massachusetts, a nonprofit that provides legal representation and advocacy for civil matters related to the treatment of prisoners in prisons and jails, said the exact role of Section 35 — in both Tompkins's proposal and the special court sessions — remains unclear.
"It seemed very clear in the beginning that the objective, on the part of the sheriff, was to expand Section 35 and to have those services available in his jail, to be able to section people … But there's some backtracking from that," she said.
Officials, including Tompkins, have been saying that involuntary commitment is not the intent of the court or the treatment facility in the jail.
But Matos said the "rhetoric" around the commitments remains confusing, and there is concern that individuals are being sectioned under Section 35 or Section 12 (a similar law but relating to mental illness) when other alternatives should be considered, she said.
"No one is really focusing energy on what is perhaps a better evidence-based approach to this problem and really having to invest quickly in that, not just financial resources, but human energy and creativity into figuring out how to do a better job with this," she said. "And not view incarceration as a tool and pretend that it's inevitable when it's most certainly not a long-term solution to this problem."
Matos emphasized that the evidence around sectioning people, particularly to jail or prison, is not good, since people who are involuntarily committed are prone to overdoses.
"We're challenging the constitutionality of this practice," Matos said of Section 35. "This is not a time that we should be utilizing this process to section people."
Additionally, Matos raised concerns that the court is operating out of the Suffolk County jail and Tompkins's facility is moving forward at the same time that Boston police and the district attorney's office are investigating the deaths of four people in the sheriff's custody since July.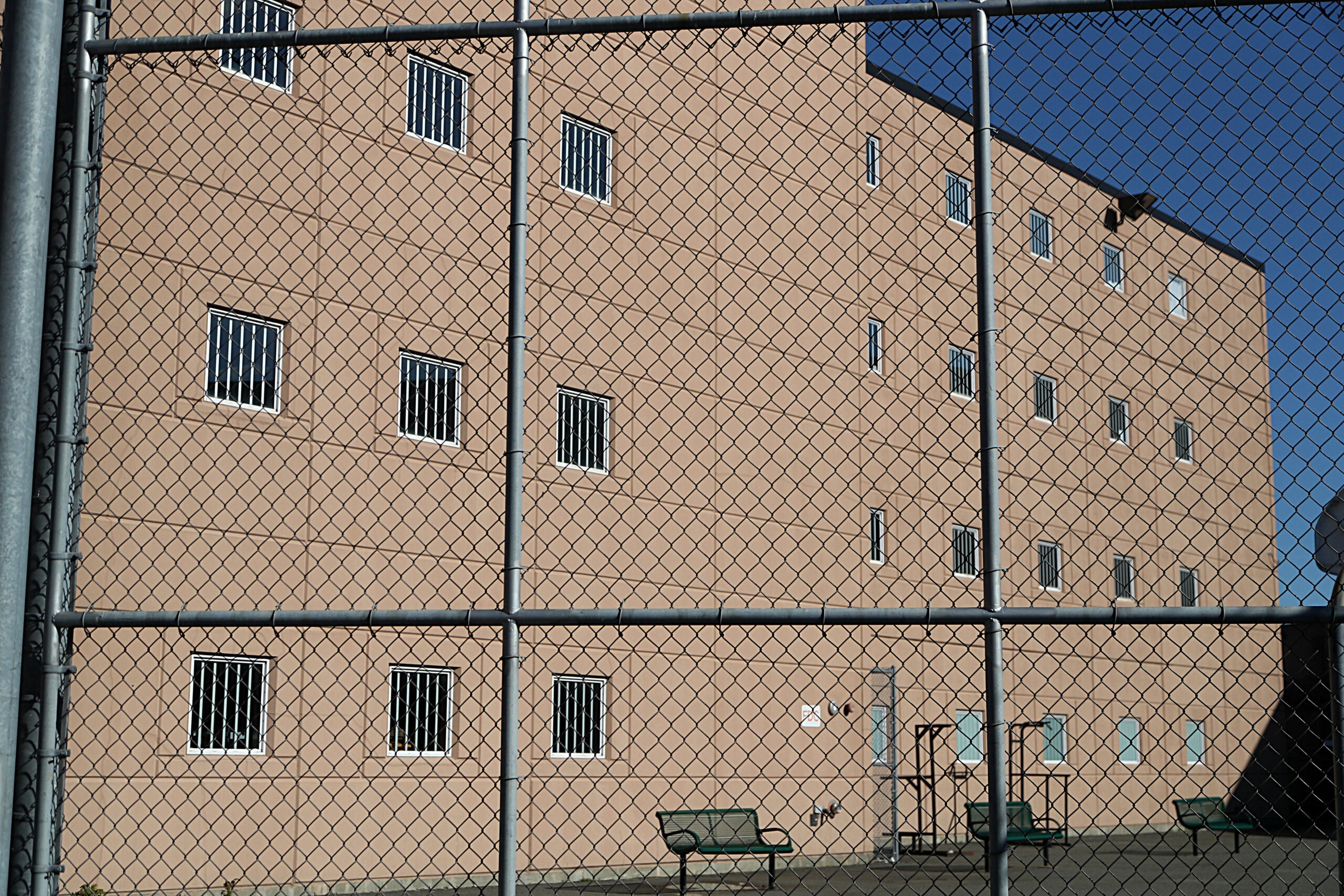 Addressing arguments that his proposal criminalizes individuals struggling with addiction or homelessness, Tompkins said that isn't the case.
"We're trying to save lives of the few that are already engaged with the legal system," he said. "So it's not as if I'm saying bring in people who have nothing to do with the legal system that the cops aren't already looking for. I'm saying don't bring those people to me, right? I'm saying bring the people who are already touching the legal system. So I don't understand the argument."
The sheriff said he "wholeheartedly" endorses the idea that people should be given care in facilities external to carceral settings. Already, he said he believes too many people end up in his custody who would be better served in a detox or mental health facility.
But the sheriff said that in the absence of available beds elsewhere and another proposal, he is offering space for 100 people.
"I think it's better than having people live on the streets," he said. "I don't understand the criminalization discussion, and I don't understand the thing about, 'Well, we shouldn't utilize this building that is clean, that is safe, that is secure, that offers food, shelter, clothing, showers, and mental health case work and substance abuse case work.' I don't get it. I just don't get it."
Tompkins said he doesn't know how long his facility will be running, once it opens.
But he expects it depends on how long efforts are underway to move people off of Mass. and Cass.
However long the facility is needed, Tompkins said he's willing to "go the distance" and serve as the "holding area" for people to be given "some attention and some of the services that they need while at the same time trying to reunify them with family and external partners."
"If it's weeks or months, years, I'm game," he said. "I'm OK with that."
Newsletter Signup
Stay up to date on all the latest news from Boston.com