Local
Boston's fare-free bus pilot will run a month longer than expected. Michelle Wu plans keep it going.
"She will be working with City and MBTA staff to continue fare-free service on the 28 and expand it to other bus routes."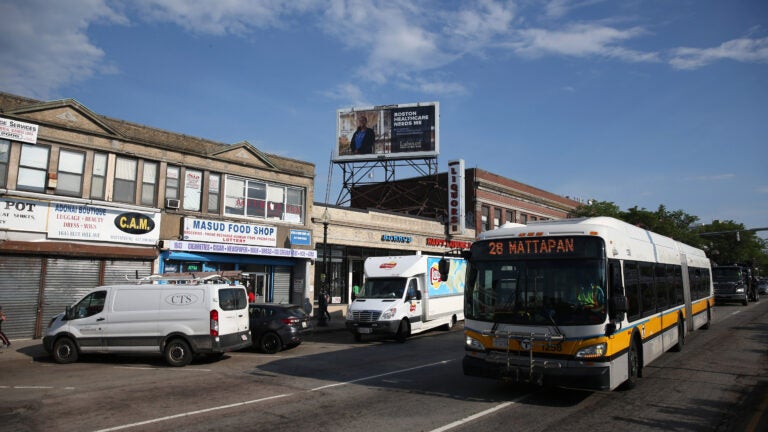 Boston's experiment allowing riders to take the MBTA's 28 bus for free has been extended through the end of the year.
And with Mayor-elect Michelle Wu, the region's most high-profile fare-free transit advocate, taking office next week, that might just be the start.
Acting Mayor Kim Janey's office announced Tuesday that the three-month pilot program, initially scheduled to end Nov. 29, would get an additional monthlong extension through Dec. 31, using the funds included in the city's annual budget. According to Janey, the extension of service on the route — which mostly serves low-income riders from Mattapan, Dorchester, and Roxbury — was part of her administration's work to "build a more equitable City."
In addition to providing some relief to low-income riders, Wu has long argued fare-free transit would yield other benefits as well, such as encouraging more people to use the more environmentally sustainable mode of transportation and improving service through faster boarding times.
And after the announcement, her transition team said she's "eager to apply the lessons learned from this pilot program to expand fare-free transit across Boston," and make pilots like the 28 a permanent fixture of the MBTA system.
"She will be working with City and MBTA staff to continue fare-free service on the 28 and expand it to other bus routes," a spokesperson for Wu's transition said in a statement.
Janey's administration had committed $500,000 to offset lost fare revenue from the 28 pilot, manage the program, and study its impacts.
The results, they say, were a "success"
Since the start of the pilot in August, Janey's office says Route 28 ridership rose from around 47,000 weekly rides — or about 70 percent of its pre-pandemic ridership — to more than 70,000 weekly rides, making it the most popular bus route in the MBTA system. While overall bus ridership has also increased during that period as more residents return to in-person work amid the COVID-19 pandemic, no route saw as dramatic of a jump as the 28, which is now close to 100 percent of its normal ridership. Janey's office says a comparison of the trends on comparable routes suggests the increase is a direct outcome of the fare-free pilot.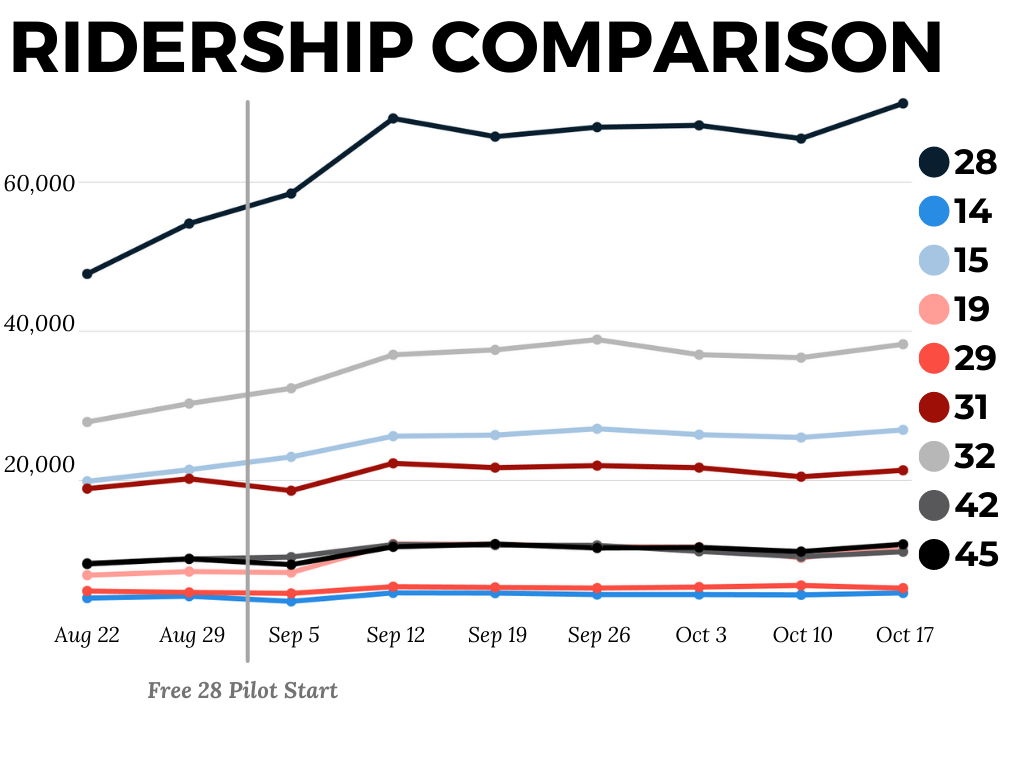 The big outstanding question is how to pay for permanent fare-free service.
Wu's transition team declined to provide specifics about whether the mayor-elect would be financing the continuation of fare-free bus service with city funds.
This past summer, Wu's office proposed expanding the fare-free service with two-year fare-free pilot projects on select bus routes, beginning with the 28, 66, and 116 buses. Based on a ridership analysis done in partnership with Northeastern University's Dukakis Center for Urban and Regional Policy, her office estimated that free service on those three routes would save riders — and cost the MBTA — about $1,010,600 a year in fares.
Of course, the limited pilot programs — which do not include free transfers to other MBTA buses or subway lines — are just the first step in Wu's vision for a fare-free public transit system in Boston.
MBTA officials and outside experts have generally pegged the cost of eliminating fares on all MBTA buses at around $100 million, though some say limiting it to local Boston buses would cost around a third of that in fares.
At that level, Wu has pointed to potential sources of state and federal funding, such as a bill proposed by Sen. Ed Markey and Rep. Ayanna Pressley to create a $5 billion grant program for transit agencies that eliminate fares. That proposal was not included in the recently passed infrastructure package, though Markey's office notes that Massachusetts is estimated to get at least $2.5 billion in transit funding for things like maintenance, route expansion, and emissions reduction that, theoretically, could indirectly free up other money for fare-free programs.
Additionally, the House's draft of the soon-to-be-debated budget reconciliation bill includes a $9.9 billion grant program for affordable housing and mobility that counts "the provision of fare-free or reduced fare-service" among the eligible uses of funding.
Massachusetts also has the millionaires tax ballot question approaching in 2022, which advocates say could provide a much-needed stream of revenue to the MBTA.
State House leaders, however, have been reluctant to embrace Wu's vision — if not openly opposed. In an interview with WCVB over the weekend, Gov. Charlie Baker said he was against state funding for fare-free MBTA service and indicated he would only support it "if the city of Boston is willing to pay." Leaders of the Democrat-controlled House and Senate also did not express support.
Newsletter Signup
Stay up to date on all the latest news from Boston.com