Local News
Jumping worms spotted in Mass. again. Should you be worried about your garden?
The invasive species is known for thrashing around wildly, often jumping or flipping over.
If you see a worm thrashing around in your garden, take note: it could be an invasive species.
The invasive Asian jumping worm has been spotted in Concord, Massachusetts, in the Hugh Cargill Community Garden as well as personal gardens. Since the worms spread easily through transported soils, mulch, and compost, the town is warning nearby areas to keep an eye out.
The jumping worm sounds a little creepier than it is: the species is known for thrashing around wildly, often jumping or flipping over, and sometimes casting off the tip of the tail.
The jumping worm is an invasive species that originated in Asia and can alter soil qualities, making soil inhospitable to some plants and animals, according to Cornell University's JWORM Working Group.
"They do this by consuming the upper organic layer of soil, which leaches nutrients and erodes the ground," the group wrote. "This makes it hard for many plants (including garden plants) to grow and threatens even the most well-tended lawns. What's worse — humans spread worms without realizing it, carrying jumping worm egg cases (cocoons) in soil, mulch, potted plants, landscaping equipment, and even the treads of shoes and tires."
Though jumping worms have a seasonal life cycle and can't survive the cold winter, their egg cocoons can. The eggs, which are about the size of a poppy seed, hatch in the spring and are usually visible by May if you're looking for them.
Since native earthworms are excellent for soil and garden health, it's important to be able to recognize the jumping worm, and other invasive species, to know which worms to leave alone.
According to the working group, jumping worms are most often confused with another invasive species, the nightcrawler (what is it with these names?). Adult jumping worms have a "smooth milky-white collar close to the head," whereas nightcrawlers have a "raised pink-red collar more central" on the worm's body.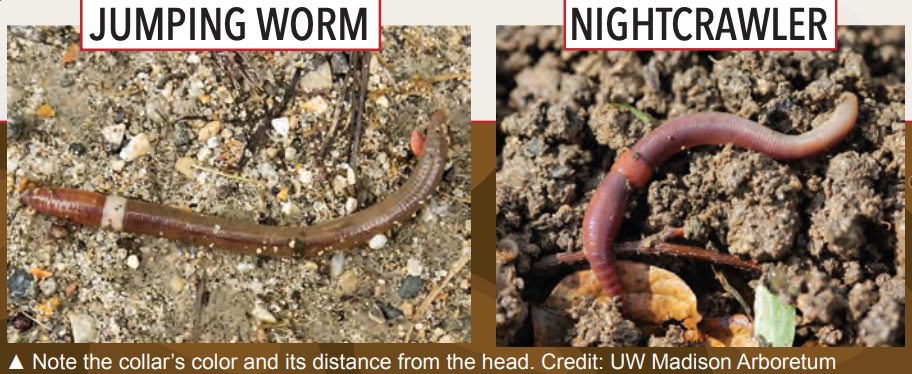 Jumping worms are being spotted more and more in the Northeast, and in September there were several reports around Massachusetts.
"If you find you have jumping worms, don't share your mulch or compost," Amy Pulley, proprietor of Wing and a Prayer nursery in Cummington, told the Daily Hampshire Gazette. "If you wish to share plants, wash the roots carefully and replant in sterile potting soil before selling or giving them away."
So, what can you do? Check your plants and soil, clean your boots and gear, and learn how to recognize invasive worm species!
Newsletter Signup
Stay up to date on all the latest news from Boston.com